What is a decentralized exchange and how does it work?
Decentralized exchanges, or DEXs, have become one of the top trends in the emerging DeFi market in the past few years. Platforms such as Uniswap and PancakeSwap have become especially popular in the market.
DEX are exchanges that do not require a third party to operate. There is no single company on a decentralized exchange that holds funds, or other information about users, trades, or other data.
It is worth noting that most of the working DEXs are not 100% decentralized. Information about trades and requests for the purchase / sale of coins is still stored on the servers of crypto-exchanges, but the currency holders themselves are always responsible for storing private keys.
Decentralized sites are open to all users. Users only need to connect their wallets. In this case, all funds will remain in your wallet and the trading platform will not have access to them. Moreover, you do not need to provide the platform with personal information about yourself (phone number, name, mailbox, etc.).
Most DEX platforms operate as cryptocurrency exchanges or token exchange platforms. But some DEX projects also offer other services that help cryptocurrency owners make money.
There are two main ways to make money on DEX:
Farming or providing liquidity for a certain period at interest. Percentages vary depending on the exchange and the digital coin, but some sites promise rewards of up to 100% per annum.
Staking. The main alternative to farming. Users transfer their funds to maintain the blockchain, and in return receive a certain amount of tokens as a reward.

Still, the vast majority of DEX exchanges operate as platforms for exchanging tokens between users.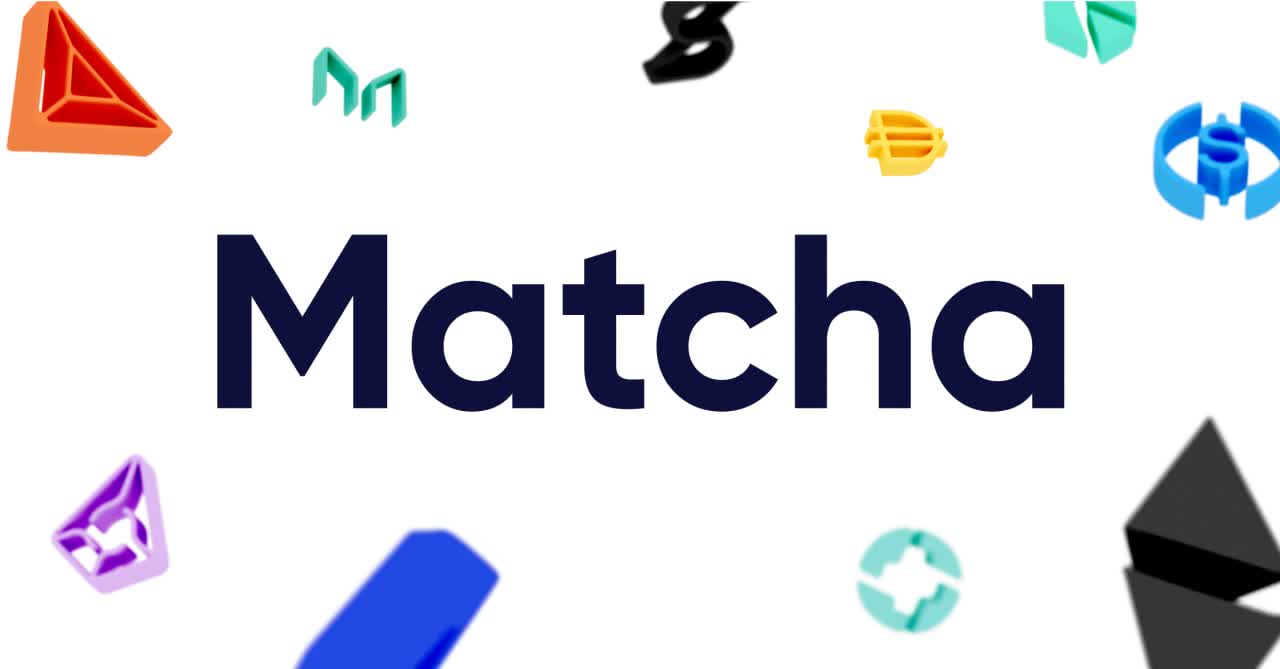 What is Matcha?
With the emergence of many DEX platforms, many users are faced with the problem of choosing the most convenient and profitable exchange for them. This problem gave impetus to the development of a new niche in DEX.
What is Matcha? Matcha is primarily a DEX liquidity aggregator. This platform collects liquidity from several decentralized exchanges. It analyzes it, highlighting the lowest prices for the exchange and redirects the transactions of its clients between these exchanges so that they make the exchange at the best prices.
Matcha currently provides users with access to over 30 liquidity sources on Ethereum, Binance Smart Chain, and Polygon. The list of exchanges that Matcha works with includes such well-known platforms as Uniswap, 0x and Balancer.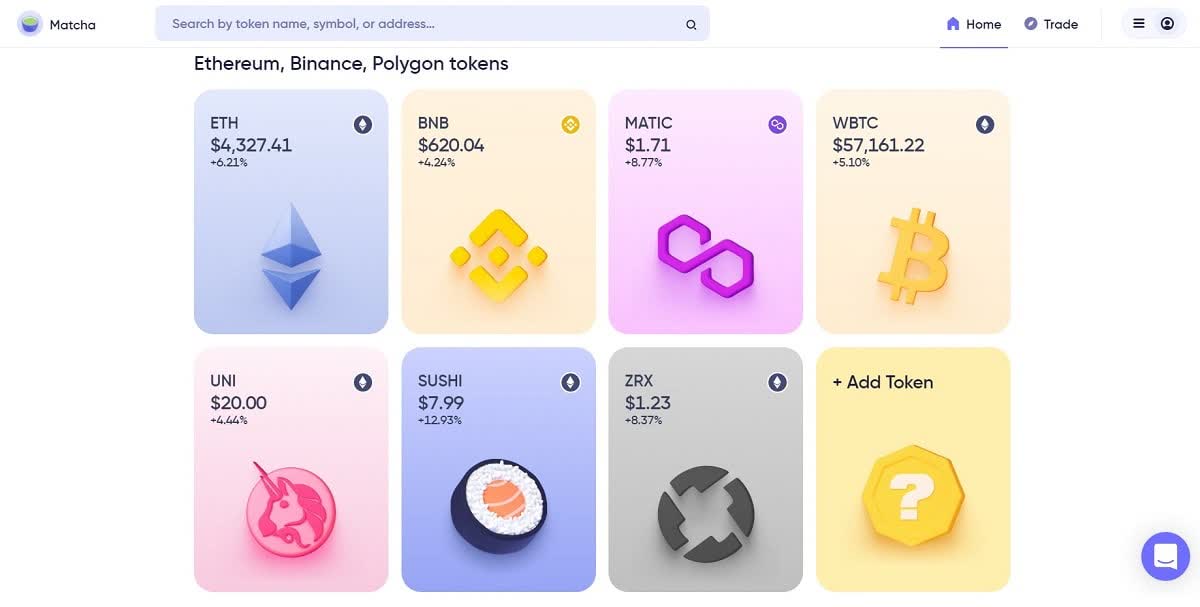 Available assets and Types of orders
At the moment, Matcha provides users with access to about 20 tokens. At the same time, trading opportunities for different instruments may differ. For some instruments, only simple buy or sell orders are available, but for some cryptocurrency pairs, limit orders are also available.
The set of available functions is displayed after choosing a cryptocurrency pair.
Supported wallets
How to trade on Matcha? The first step is to create a cryptocurrency wallet. The Matcha trading platform currently supports the following wallets:
MetaMask.
Coinbase Wallet.
WalletConnect.
Bitski.
Perhaps in the future, their list will be expanded.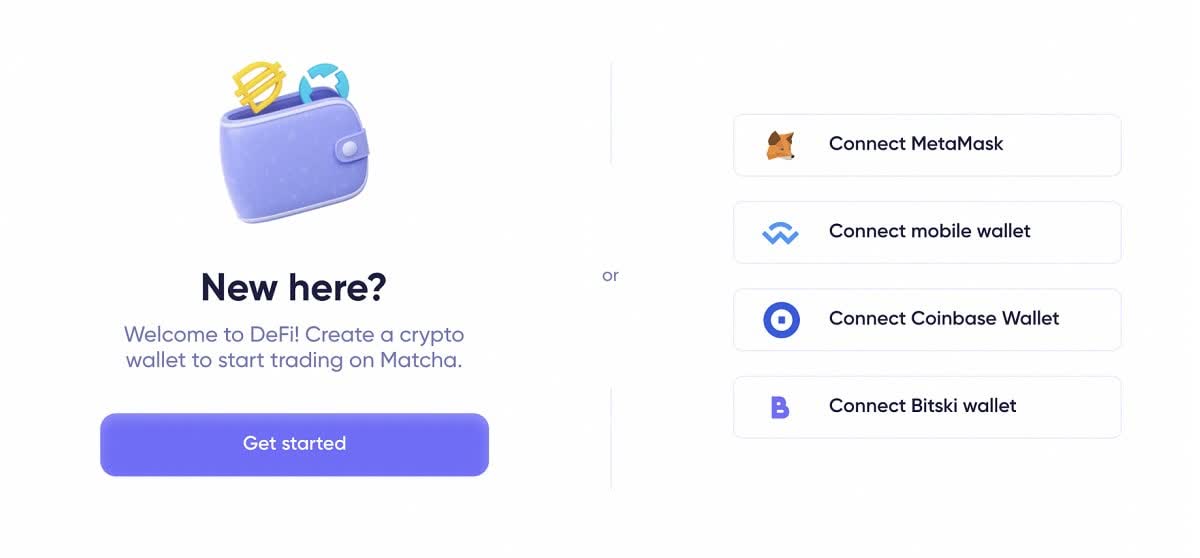 Matcha fees
The platform is completely free to use, but traders will still have to pay for Ethereum gas expenses and commission for using the 0x protocol. The only exceptions are limit orders.
Unlike other decentralized exchanges that operate exclusively on-chain, such as Kyber, Oasis, and EtherDelta, the 0x protocol does not store orders on-chain. All orders are stored off-chain, and only transactions are settled in the chain. This unique feature of the flexible 0x protocol architecture allows Matcha to offer customers free limit orders.
Matcha's features
The Matcha trading platform is a project of the 0x team. They are actively working on the development of the project and recently launched a beta version of gas-free trading.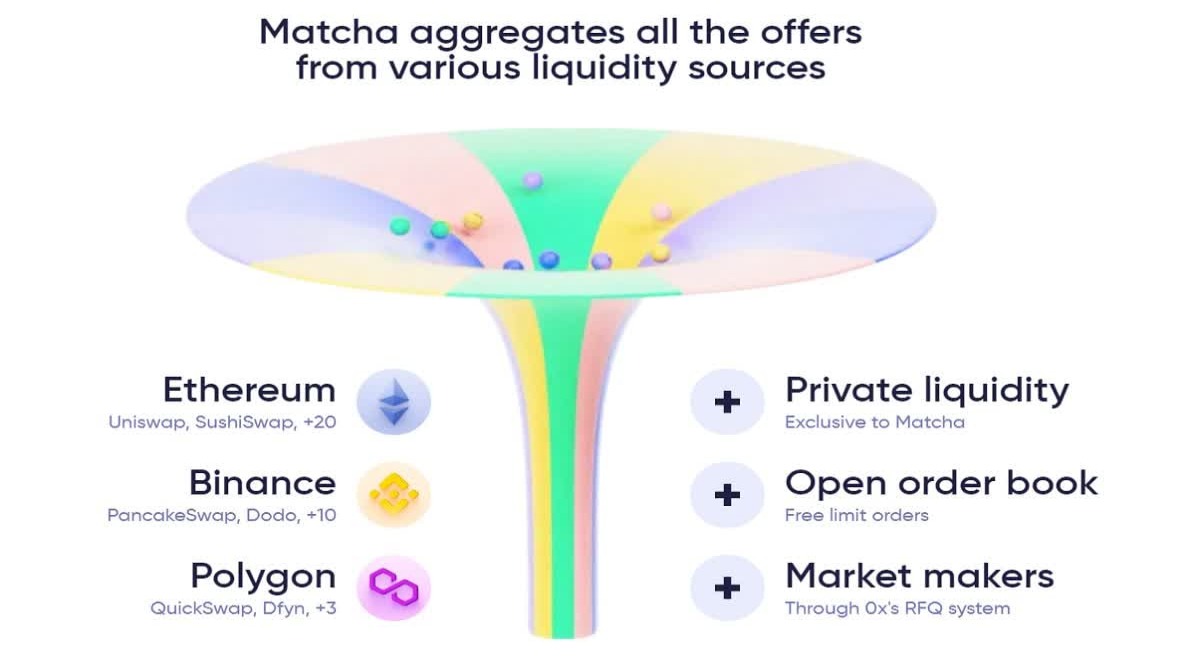 Benefits of Matcha
Compared to other DEX platforms, the Matcha platform has a more user-friendly interface. Even users who did not know what is Matcha before will be able to quickly figure out how the platform works.
Many DEXs have problems with this. They are difficult to understand and master for inexperienced users.
How to start trading on Matcha in the Philippines?
How to trade on Matcha in the Philippines? Step one, create a cryptocurrency wallet that is supported by the Matcha platform.
Step two, connect the wallet to the Matcha platform.
That's it, after that you can use all the functions of the trading platform.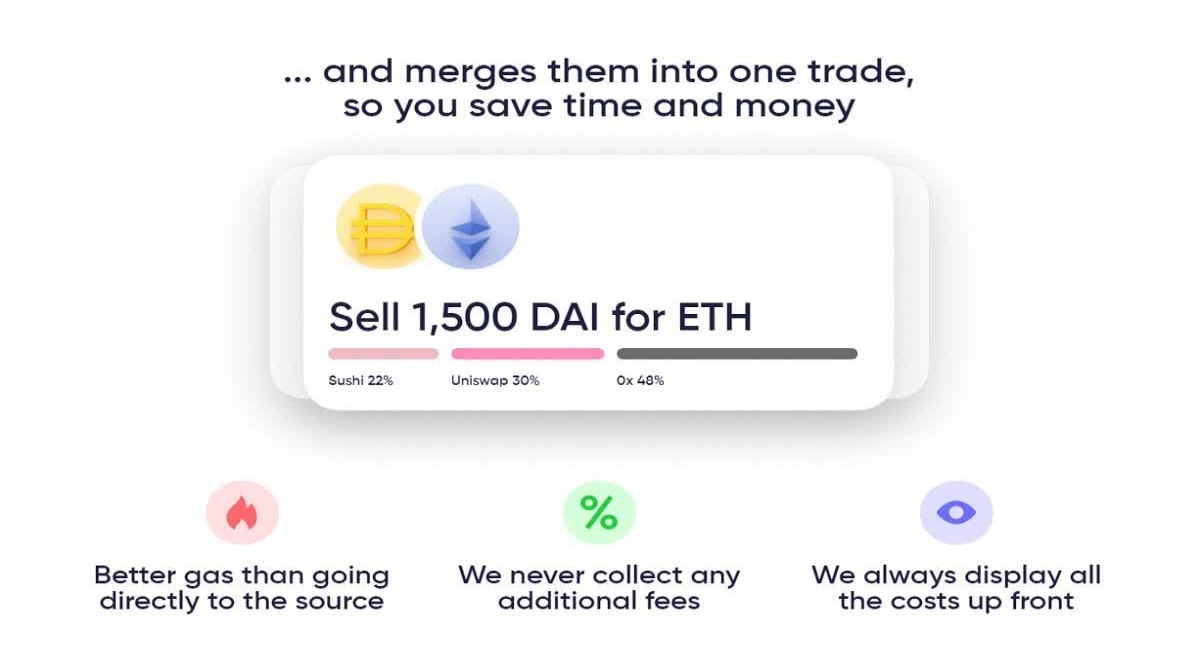 Connect wallet to Matcha
All DEXs have a very simple registration procedure. Matcha is no exception. To become a user of the platform, you only need to connect a cryptocurrency wallet.
The connection process is as simple as possible. Even a beginner can do it. On the main page of the Matcha project, you need to click the "connect wallet" button and select the wallet that you have from the list. By clicking on the connect button, the connection will be completed within a few seconds and you will be able to use the platform.
MetaMask
MetaMask is a wallet for storing ERC-20 tokens based on the Ethereum ecosystem and its own Ether token. The most popular wallet is in the form of an extension for the Google Chrome browser. There are versions for other browsers, as well as a mobile application.
The wallet has been around since 2016. Token holders prefer it to other wallets due to its peculiarity: MetaMask has the ability to interact with sites. The site sends a request for an operation to the wallet and the token holder only needs to give permission for the transaction or access to the wallet.
The wallet easily interacts with the MetaMask trading platform.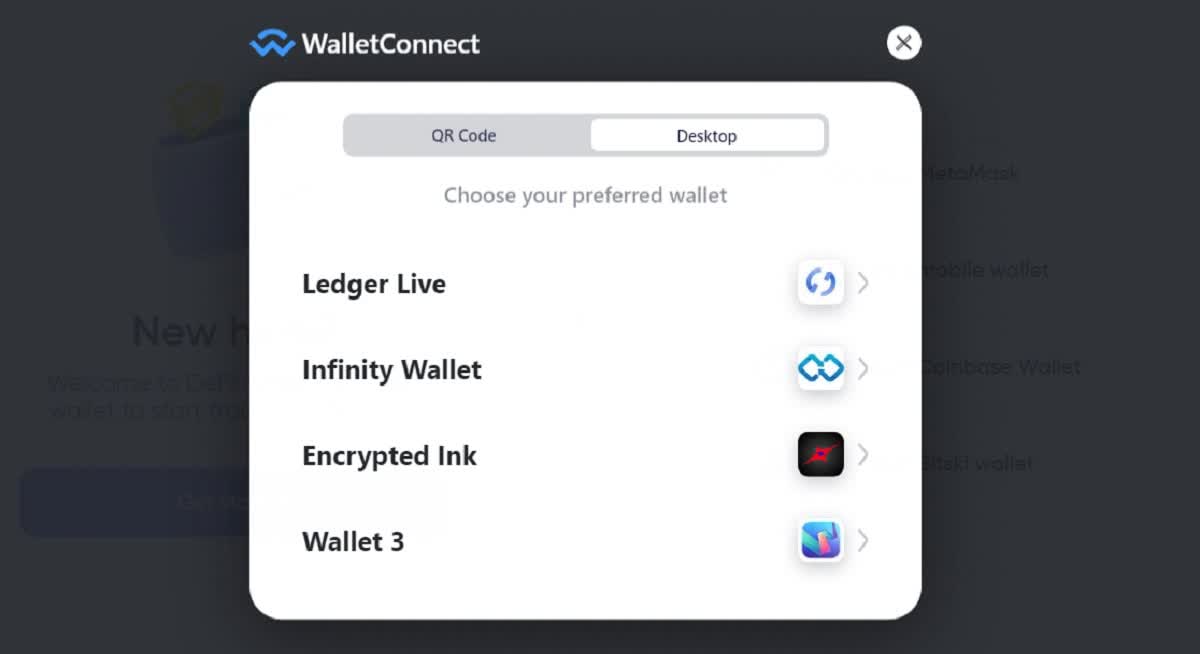 Coinbase Wallet
It is a popular wallet from the eponymous and popular cryptocurrency exchange Coinbase. According to the exchange's assurances, it has a fairly high reliability, so it is often used not only by Coinbase users.
This wallet also easily connects to Matcha.
WalletConnect
WalletConnect is a protocol that is supported by many cryptocurrency wallets. Using the protocol, you can easily connect, DEX from any browser without additional extensions.
This protocol easily connects to the Matcha trading platform.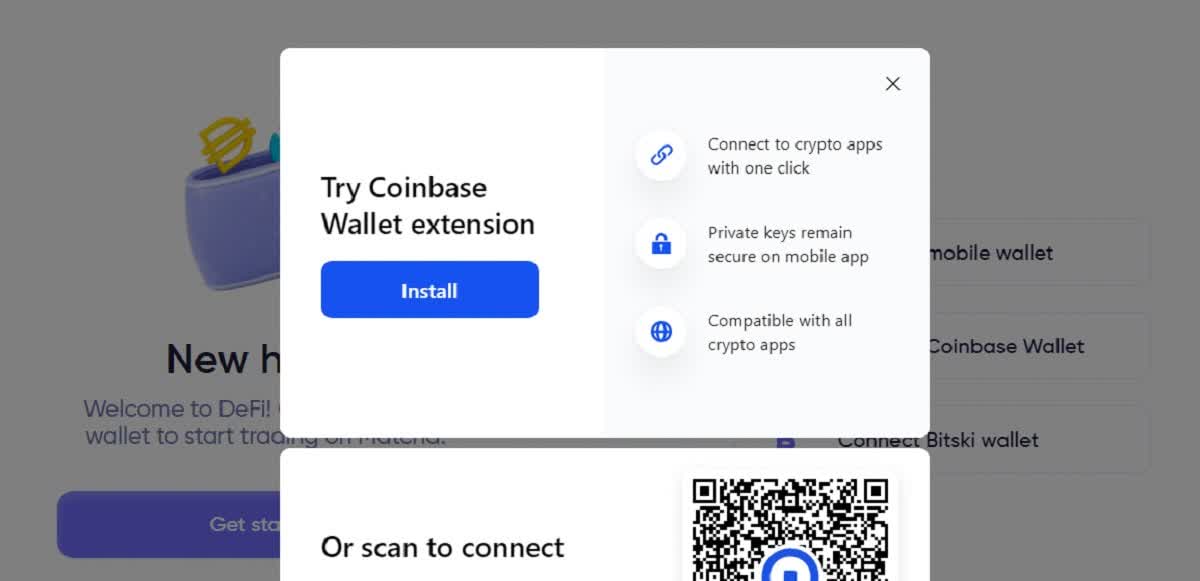 Bitski
The last wallet on our list is currently supported by the Matcha platform. It is an easy-to-use web wallet that is quite popular with users.
Find the trading pair to trade
Matcha does not offer a very wide selection of cryptocurrencies to exchange. The tokens that are most popular with traders are presented immediately on the main page. All other tokens available for exchange are presented in the "Trade" section.
Make a trade
How to trade on Matcha? Everything is very simple. Connect the cryptocurrency wallet to the exchange, go to the "Trade" section, select the currency pairs to exchange and the exchange direction and make the exchange.
Everything is very simple and intuitive. Even a novice user will be able to understand how to trade on Matcha within a few minutes.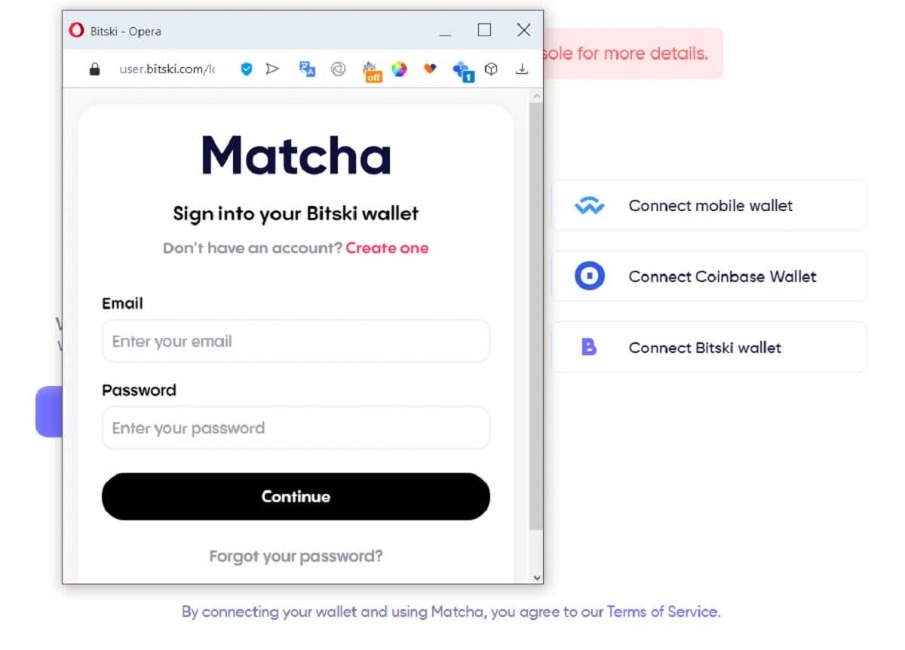 Alternatives to Matcha
We've dealt with what is Matcha and how to trade on Matcha in the Philippines. Let's take a look at what are the alternatives to Matcha?
Probably the most popular DEX aggregator is the 1inch platform. It offers similar functionality and according to the platform itself, they aggregate the liquidity of more than 50 trading exchanges. According to rough estimates, the daily turnover of the exchange is about $ 100 million.
Back in late 2020, the platform launched its own 1INCH token.
In June 2021, the platform launched the ability to place limit orders. As you can see, 1inch has similar functionality to Matcha.
There are other sites on the market with which Matcha has to compete, but 1inch is probably their main competitor.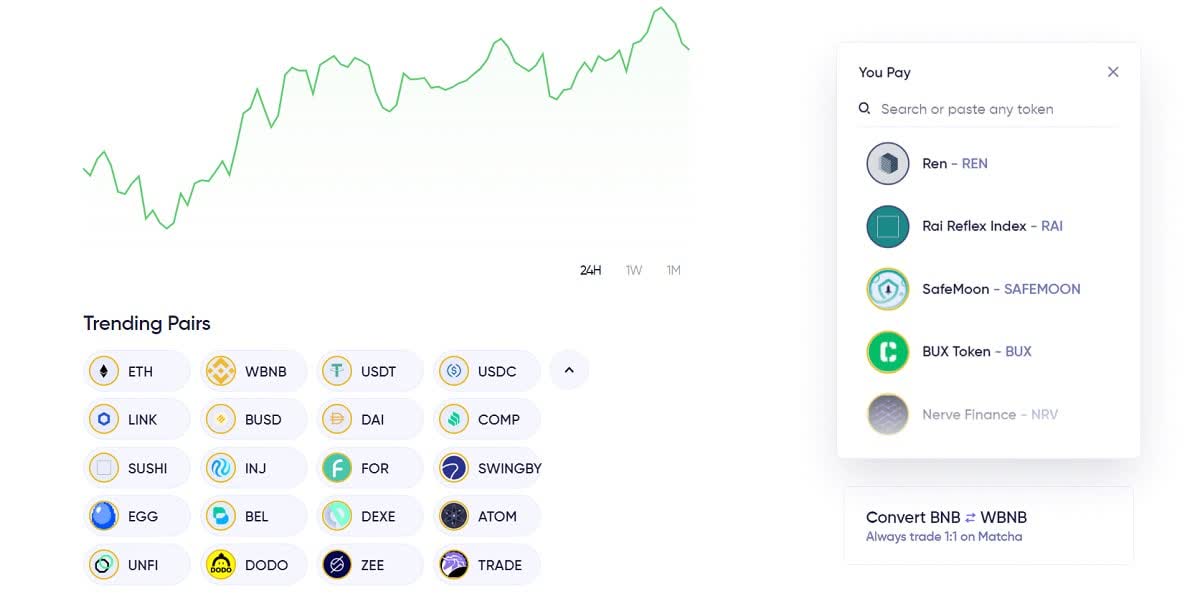 Matcha FAQ:
How does Matcha offer the best prices?
The platform collects liquidity from other exchanges. The user analyzes it and sends orders to the exchanges that offer the best price.
How is Matcha different from other exchanges?
Matcha is a liquidity aggregator that routes users' orders to other DEX exchanges.
What kinds of users and organization types does Matcha work with?
Matcha is a decentralized platform that is unregulated in the vast majority of countries. Therefore, it can be used by people from almost any country.
What languages ​​does Matcha support in their product?
So far, the platform only supports English.
What other applications or services does Matcha integrate with?
The liquidity aggregator works with over 30 exchanges.
What type of training does Matcha provide?
The platform is intuitive and does not provide additional training.
Why you can trust Matcha to securely swap your tokens?
During the entire time of working with the platform, your funds remain in your wallet. The platform does not have access to them.
How Matcha is safer to use than a centralized exchange?
DEX provide users with greater anonymity and security.
Where you can use Matcha to trade?
The platform is primarily designed for a profitable exchange of tokens.
What exchange networks does Matcha aggregate liquidity from?
Matcha supports:

• Ethereum.

• Binance Smart Chain.

• Polygon.

What Ethereum wallets are supported?
Matcha supports:

• MetaMask.

• Coinbase Wallet.

• WalletConnect.

• Bitski.

How do I link Coinbase wallet to Matcha?
Click the "Connect Coinbase" button.
How do you connect Matcha to ledger?
To do this, you need to use Metamask. Ledger does not directly connect to Matcha.
How does Matcha connect to Metamask?
Click the button "connect Metamask".
Is Matcha crypto safe?
The platform provides a fairly high level of security.
SIMPLE AND RELIABLE
MONEY WITHDRAWAL