In its over 100 years of existence, Coca-Cola has grown from a relief for headaches to become the largest global manufacturer of non-alcoholic beverages. Among investors, the company is also one of the most in-demand shares on the stock market, mainly due to long years of sustained growth and its consistently increasing dividend yield. If you've been considering making investments in the Coca-Cola company in the Philippines, this article will walk you through the necessary steps to buy shares in one of the world's most popular brands.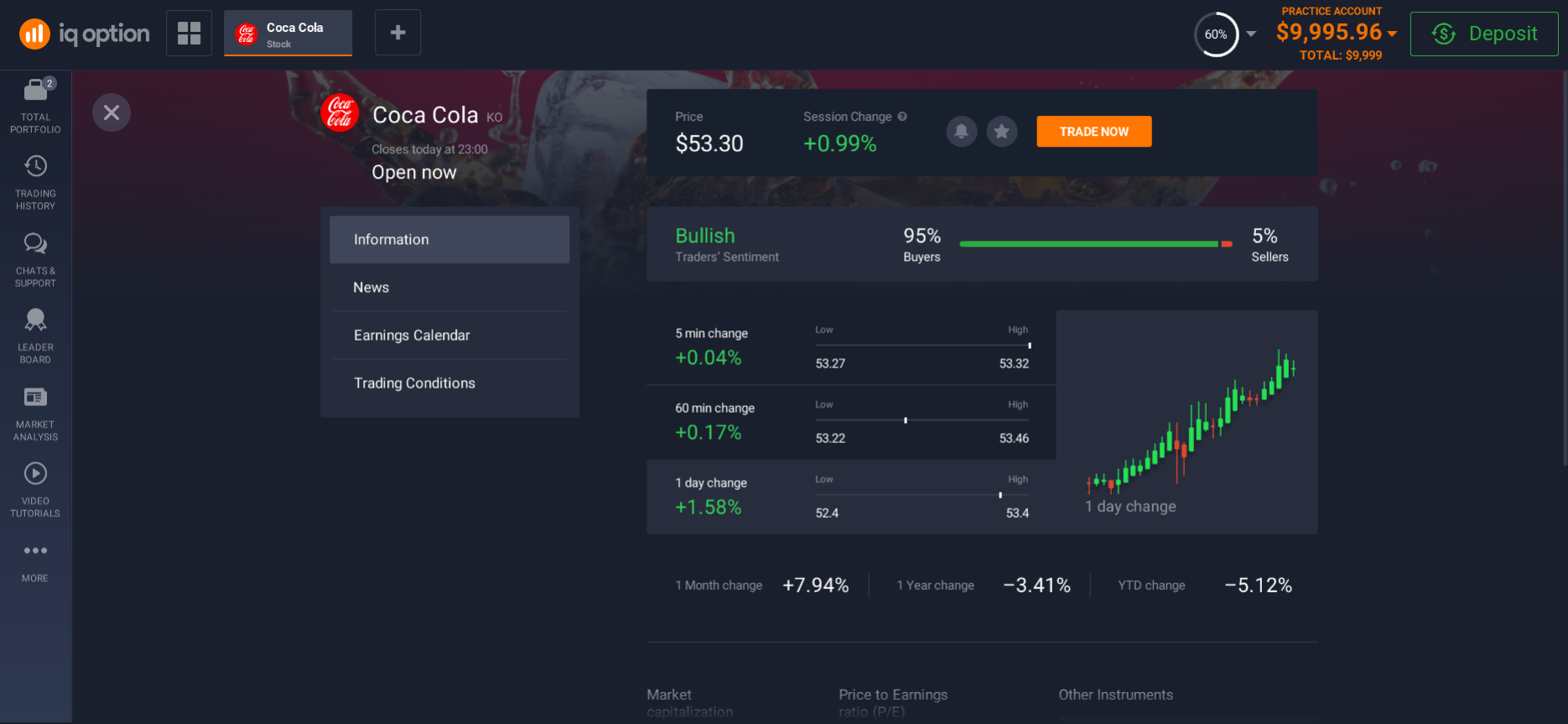 How to Buy Coca-Cola Stocks
For Coca-Cola, the journey to becoming the world's largest non-alcoholic beverage company began in 1886, when Dr. John Stith Pemberton created the beverage as a cure for headaches using caffeine, kola nuts, sugar, coca leaf extracts, and water. However, he would eventually sell it as a refreshment. Much later, Pemberton handed over the product's manufacturing and marketing operations to his bookkeeper, Frank M. Robinson.
It was Robinson who came up with the brand name Coca-Cola and also designed the beverage's logo. In 1889, Asa Griggs Candler acquired the company and incorporated it three years later as the Coca-Cola Company. In 1919, Ernest Woodruff bought Coca-Cola from Candler for $25 million. In the same year, Coca-Cola became a public company, with the price of a share set at $40 on the New York Stock Exchange (NYSE). Today, the company has a market capitalization of $209 billion.
Diversification and impressive acquisitions have played the most crucial role in the company's success. As much of its customer base began to shift from sugared beverages to healthier choices, Coca-Cola moved to manufacture its brand of coffees, bottled water, energy drinks, fruit juices alongside less sugary variants of its trademark products. The company has also acquired Monster Beverage, Inca Cola, Thums Up, and Minute Maid throughout its existence.
However, Coca-Cola is currently feeling the effects of a global pandemic, with sales affected by the shutdown of major restaurants and retail centers worldwide. Nonetheless, the brand has decades of success under its belt, and its fortunes should improve significantly when the coronavirus fades away.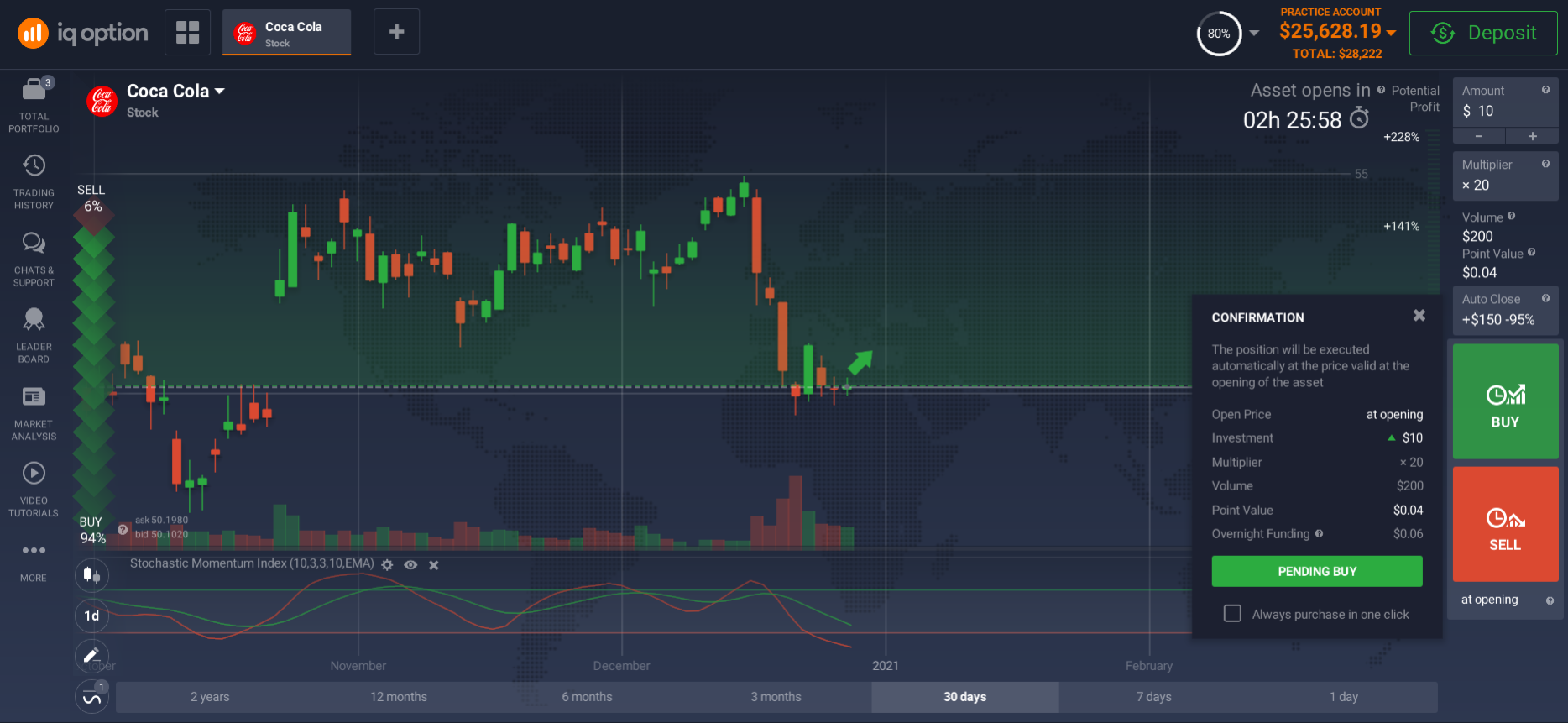 How to Invest In Coca-Cola Stocks
If you want to buy Coca-Cola stocks in the Philippines, we'd recommend you go through an international online broker. Online brokers are brokerage firms that allow investors to invest and trade in securities over the internet. Thus, they offer more convenient access to the financial market.
However, you cannot use any online broker to purchase Coca-Cola stocks. There are several crucial factors you must consider before choosing a broker. For one, the New York Stock Exchange (NYSE) is the primary exchange where you can have access to Coca-Cola stocks. As such, you'd need an online broker that has shares listed on NYSE.
Furthermore, since you'll be creating an account with your preferred broker and depositing money to trade securities, you need to take a look at how secure the platform is. This factor is crucial in determining the safety of your investments. Some of the specific points to note include government regulation, website encryption, and insurance protection.
If you're a beginner, you may also want to opt for a broker that gives you access to educational materials on securities trading, which you can leverage to ease your journey. Some other crucial factors to consider are the minimum deposit and account maintenance fees, the types of securities available, and your preferred investment strategy.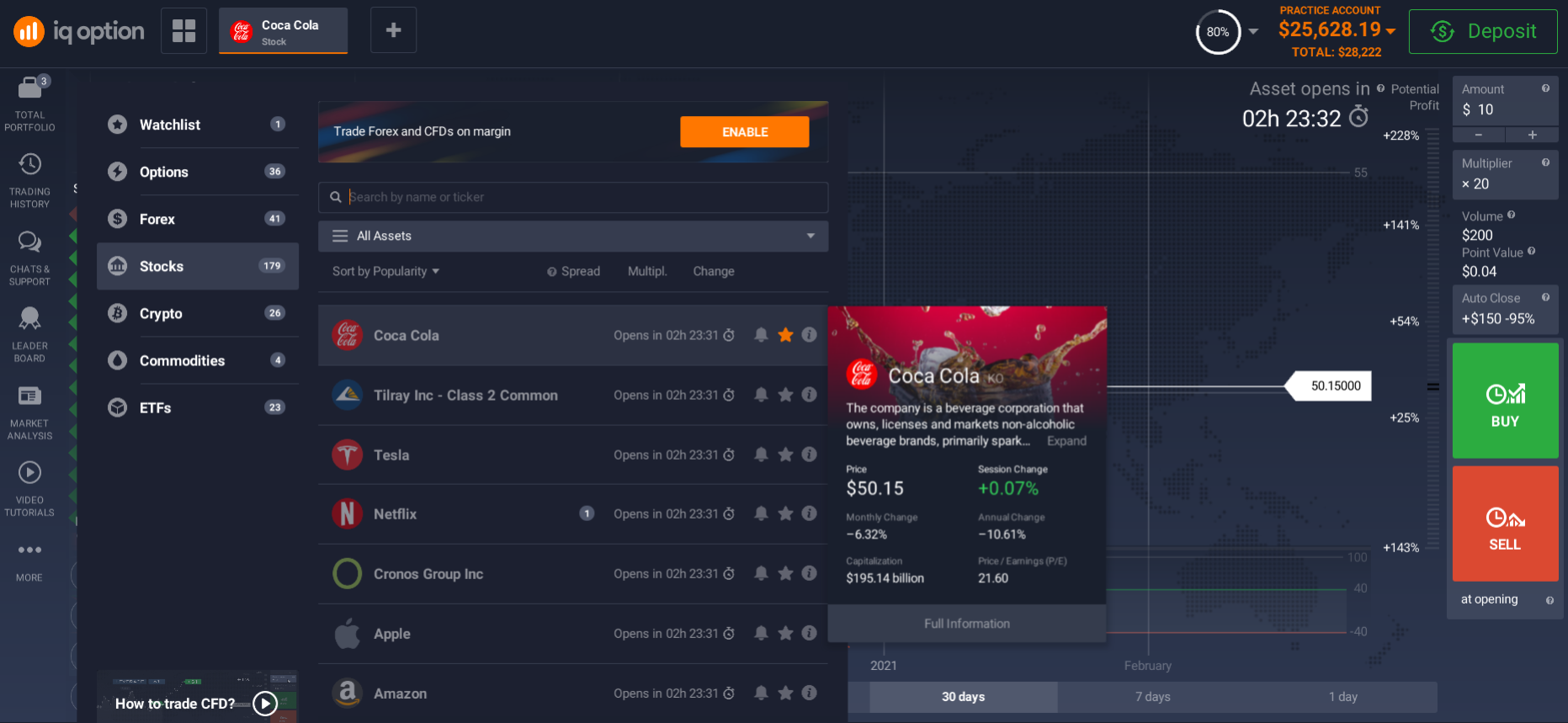 Coca-Cola Stock Investment Platform
Coca-Cola stock investment platforms are online brokers that enable investors to buy and sell Coca-Cola stocks. Generally, these brokerage platforms have access to securities on the New York Stock Exchange, the primary stock market that trades in Coca-Cola stocks. As an investor, buying Coca-Cola shares through these brokers is generally more convenient and cheaper.
Since you'll be doing most of the trading yourself, you also have more control over your investment decisions and strategy. Furthermore, regardless of your preferences, there are several international online brokers you can choose from, each with features and resources that match your needs. Quickly, let's look at how you can use these platforms to buy Coca-Cola stocks.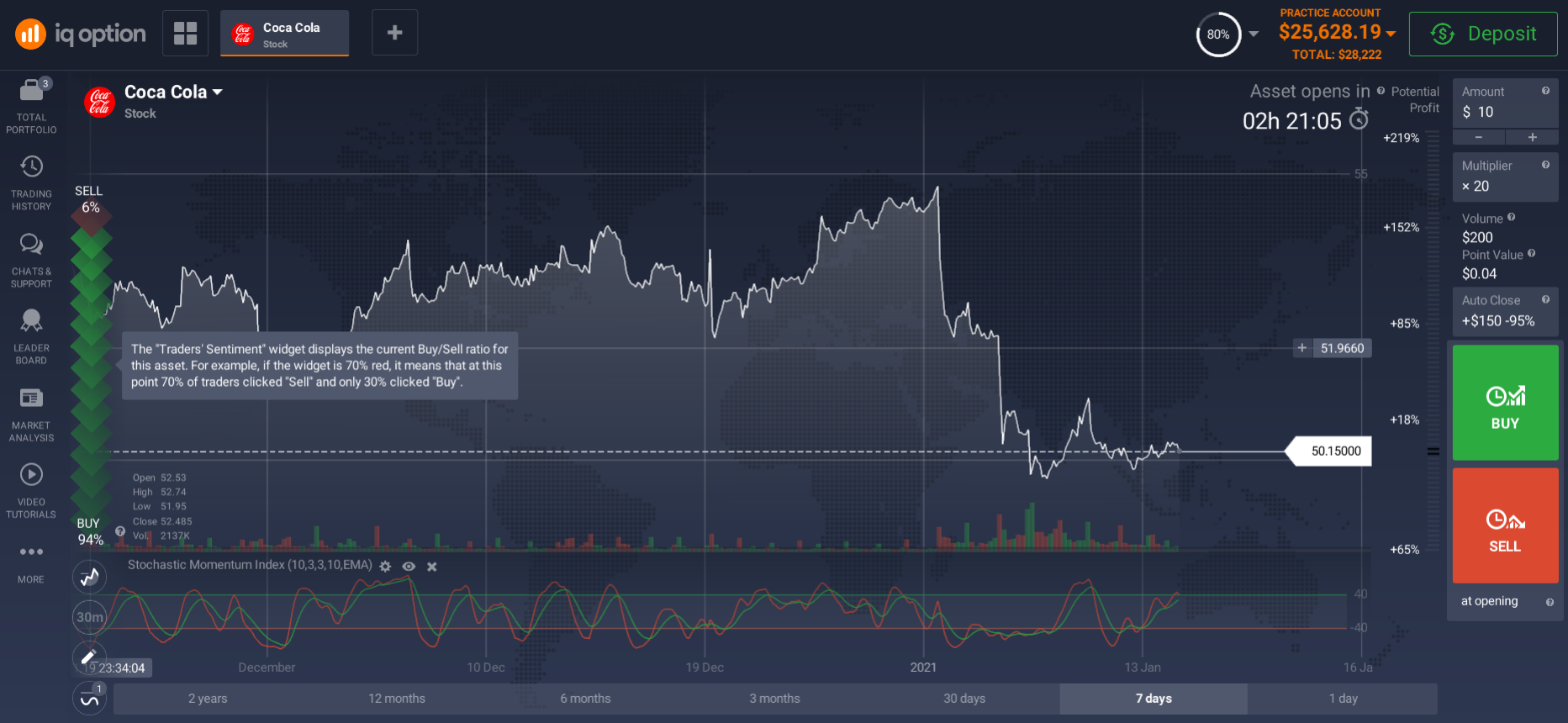 How to Start Investing In Coca-Cola Stocks
Online brokers are a convenient way to buy shares from any company. Briefly, here are the necessary steps to investing in Coca-Cola stocks using a brokerage platform:
To get started with an online broker, you'd first need to open a brokerage account. You'll carry out all your buy and sell orders using your account with the platform. With most brokerage platforms, this step is relatively straightforward and should only take a couple of minutes.
Once you've created an account with your broker, you'll need to fund it through a deposit. As expected, most brokers allow you to pay money into your account through debit cards, and e-wallets. Choose your preferred payment option and make the deposit.
Search for Coca-Cola Stocks and Place a Buy Order
After making the deposit, go ahead and search for Coca-Cola stocks. Coca-Cola securities trade on the New York Stock Exchange (NYSE) under the stock symbol KO. Use that ticker to search for the company's stock and place a buy order afterwards.
Typically, there are two types of buy orders you can place as an investor. They include a market order and a limit order. Generally, placing a market order means you'll buy the stock at whatever market price it goes for on the trading day of your transaction.
In contrast, a limit order allows you to set the minimum price you want to pay for a stock. Thus, the transaction will only go through when the share's market price falls to your set price. Commission fees for limit orders are generally higher than those for market orders. Once you place your order and the broker executes the deal, you're officially a shareholder in the Coca-Cola Company.
Briefly, let's look at the how-to of opening and funding a brokerage account.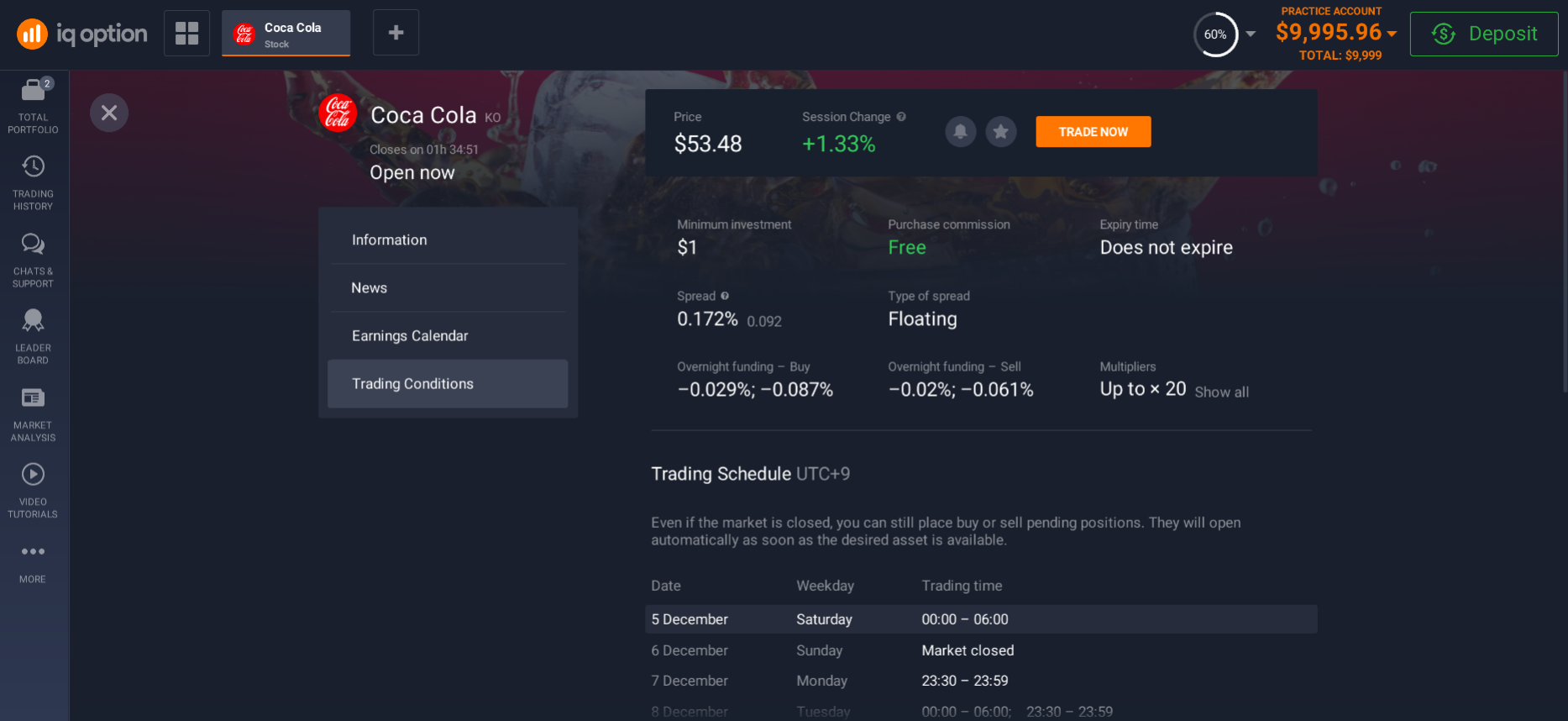 How to Register With an Online Brokerage Platform
For investors in the Philippines, registering with an online broker requires you to provide necessary personal details and identification documents. You'll need to fill in the basics like your name, home address, occupation, age, and nationality. You'll also have to submit valid government-issued means of identification, such as your tax identification number, social security system, passport, driver's license, and voter's ID.
For foreigners, a foreign passport and an Alien Certificate of Registration (ACR) are crucial requirements. Students may also need to submit a valid student's ID.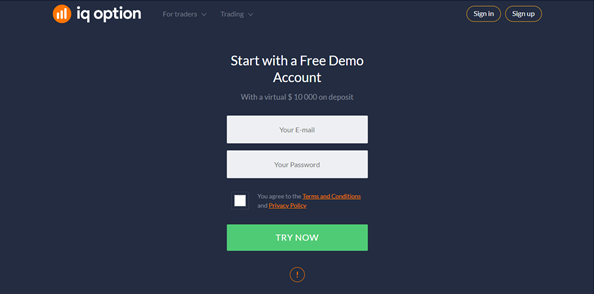 How to Open a Demo Account
Most online brokers have demo accounts for beginner investors to help them get used to the stock market and its volatile conditions. Trading with these accounts also carries zero risks, as the funds are artificial, and investment losses don't have any real-time effect. However, while practicing with a demo account can help you try out your investment strategy, it doesn't guarantee success in the stock market.
How to Create a Real Account
Trading with a real account on an online stock brokerage platform involves using actual funds in real-time stock market situations. To create a real account, you'll have to provide the necessary details required by your broker and submit your application form. Once you've registered with the platform, you can begin trading securities.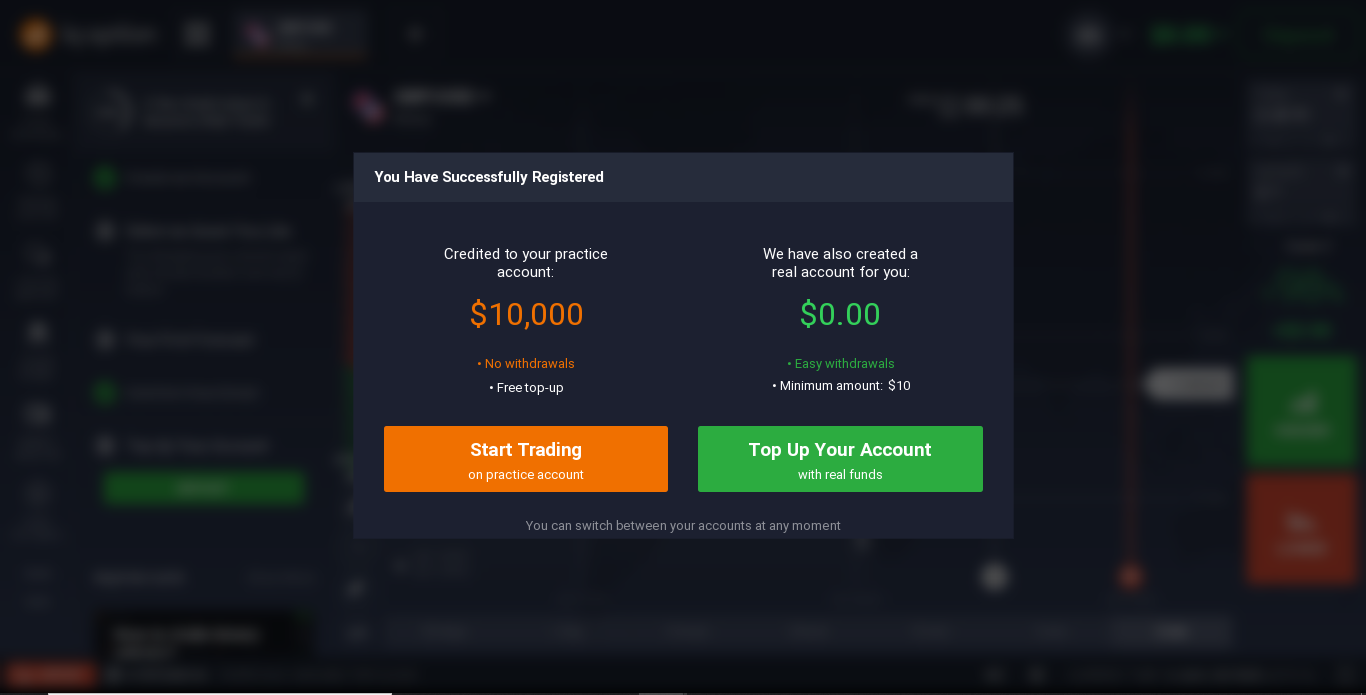 How to Fund a Deposit
You'll need to pay a minimum deposit fee before you can start trading with your broker. There are several payment options available to you to enable you to do this. You can pay with e-wallets, debit cards.
Minimum Deposit Amount
Online brokers have a set fee you must have in your account before you can buy shares. There are brokerage platforms that allow you to trade with a minimum deposit of as low as 1,000 PHP. However, some brokers can have a deposit fee of up to 1 million PHP. Your budget determines the option that suits you.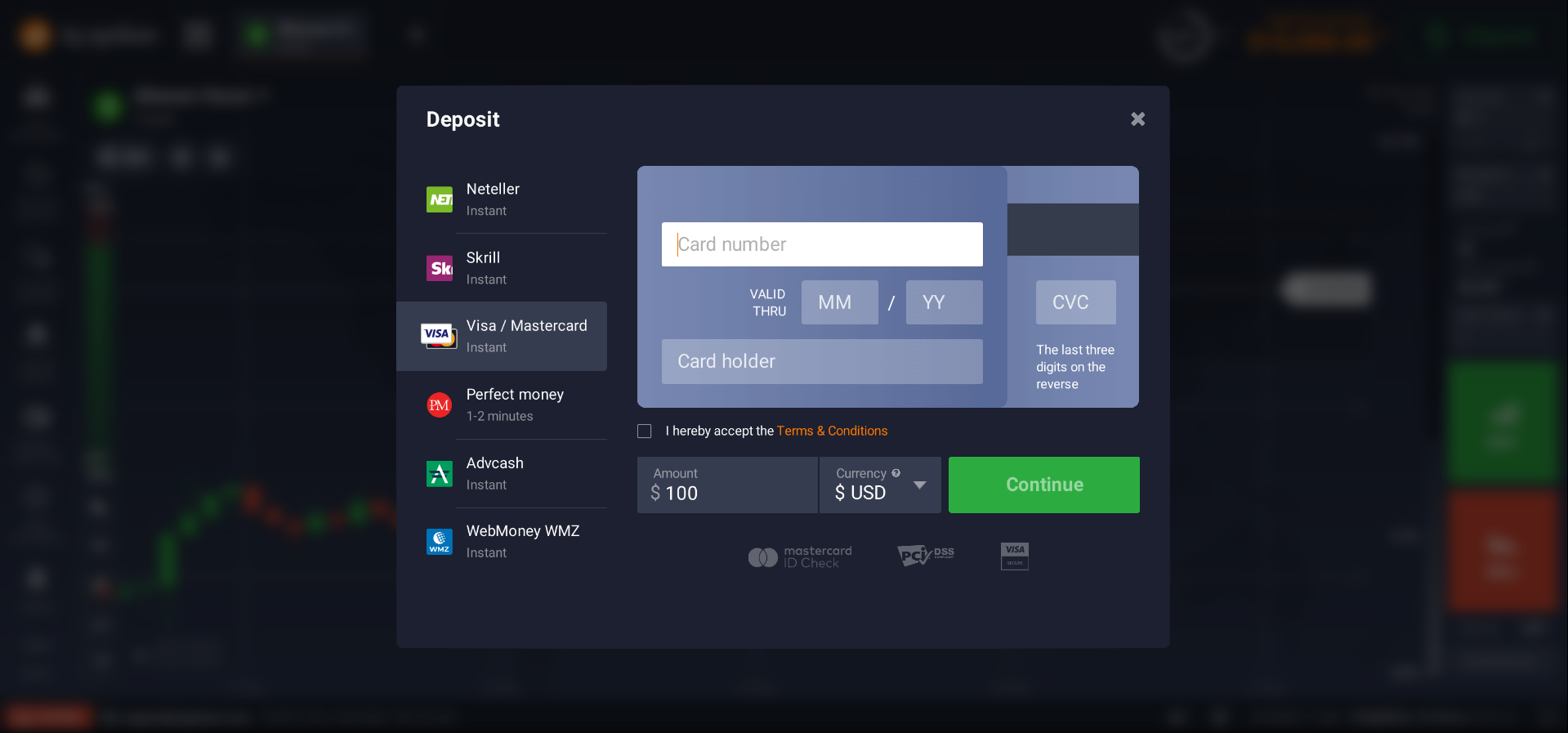 How to Withdraw Money
Brokerage platforms only allow you to withdraw any cash you are yet to use to invest or purchase securities. You can also withdraw funds you raised from sales of shares. Most brokers have the usual withdrawal options to enable you to cash out from your account, including e-wallets, debit cards.
Security of Coca-Cola Stock Investments
Knowing how volatile the stock market can be, investors are usually wary about their investments. They want to be sure the shares they purchase will perform well in the long-term to avoid devastating losses. With that in mind, let's analyze the security of Coca-Cola stock Investments.
How Safe Is It to Invest In Coca-Cola Stocks
The Coca-Cola Company has long been an attractive prospect for investors. The financial situation of the company has been favorable for much of its history, and its dividend payments can make a significant contribution to an investor's personal finance. However, the harsh economic realities of the coronavirus has made potential buyers wary about purchasing Coca-Cola stocks.
Stay-at-home orders worldwide have drastically affected the sales of one of the world's most stable consumer companies. With retail stores and restaurants shut down globally, Coca-Cola's organic sales took major hits across Europe, Asia, and the US within the first six months of the year. In Europe alone, there was a 30% decrease in Coca-Cola's sales.
This downturn in fortunes was a source of worry for many investors. However, as several countries' economies opened in the second half of the year, the company fared slightly better. This rebound should give investors hope that the Coca-Cola brand will continue its dominance in the non-alcoholic beverage market when the pandemic fades.
Investors can also find assurance in the company's long history of navigating harsh economic realities, such as wars and recessions. Its track record of diversification and astute acquisitions speak for the brand. While the coronavirus has hindered Coca-Cola's operations in the short-term, its prospects in the long-term are still very bright.
Is it Safe to Invest In Coca-Cola Stocks Online?
With the growing threat of cybercrime across the world, it's understandable if you're cautious about online trading. If you want to invest in stocks through an online broker, the best option is to trade on a platform that has a good reputation.
There are also several policies in place to protect you and your investments. For example, several online brokers have policies against cyber fraud.
Insurance policies also protect your investment if the company eventually closes down for any reason. Furthermore, high-end encryptions keep your account information away from unauthorized third-parties.
How to Safely Invest In Coca-Cola Stocks Online?
Choosing a reputable broker is one of the crucial steps to online securities trading. If you want to make safe Investments in Coca-Cola stocks, you must carry out due diligence to ensure you choose the right brokerage platform. You should also register with a broker that has shares listed on the New York Stock Exchange (NYSE).
Are My Investments In Coca-Cola Stocks Protected?
The best online brokers have high-end security systems in place to protect your investments on their platform.
FAQ
Where Can I Buy Coca-Cola Stocks?
If you want to invest in Coca-Cola stocks, you can register with an online stock broker that has shares listed on the New York Stock Exchange (NYSE).
How Much Does a Stock In Coca-Cola Cost?
Currently, the market valuation of Coca-Cola Stocks on the NYSE stock quotes is $48.70.
How to Buy Coca-Cola Stocks In the Philippines
Investors in the Philippines can buy Coca-Cola stocks through an international online broker that trades securities on the New York Stock Exchange (NYSE). After registering with the platform, they'll need to fund their account with the minimum deposit, then place a market or limit order. The broker will execute the transaction and add the shares to their investment portfolio.
What Happened With Coca-Cola Stocks?
Coca-Cola stocks took a hit mainly due to the harsh economic realities of the coronavirus pandemic. Stocks are variable income securities and are dependent upon market conditions to thrive. As restaurants and retail centers closed worldwide, Coca-Cola's sales revenue fell drastically, and, in turn, its stocks performed poorly on the stock market. In March 2020 alone, the company's stock fell by 17%, while in June, it suffered a 19% decrease.
Why Did Coca-Cola Stocks Drop?
The closure of retail centers, restaurants, alongside the cancellation of major concerts and sporting events, led to Coca-Cola's stocks falling drastically during the early days of the coronavirus pandemic. These large gatherings and public centers account for a large portion of Coca-Cola's sales traffic.
Why Did Coca-Cola Stocks Rise?
In July 2020, Coca-Cola's stock rose nearly 30% from its decline in March of the same year. This upturn in fortunes came as countries across the world eased their lockdowns and opened up public centers. The improved performance of Coca-Cola's Stock within this period renewed investor's hope in the company's long-term prospects.
SIMPLE AND RELIABLE
MONEY WITHDRAWAL