Online trading is constantly evolving, and this meteoric rise can be attributed to the advancements seen in technology.
Instead of seeking the services of a physical broker to monitor your assets closely, the tools present on numerous online trading platforms make it easier for you to make trades without any hassles.
In the Philippines today, one online broker for trading that's becoming increasingly popular is IQ Option.
This IQ Option review will give an in-depth look at every detail inherent in its proceedings and everything intending users might want to note in concise terms.
Are you interested in garnering huge financial dividends by making some good trades? While your optimism deserves applause, you'll want to read the subsequent paragraphs and subtopics to know more.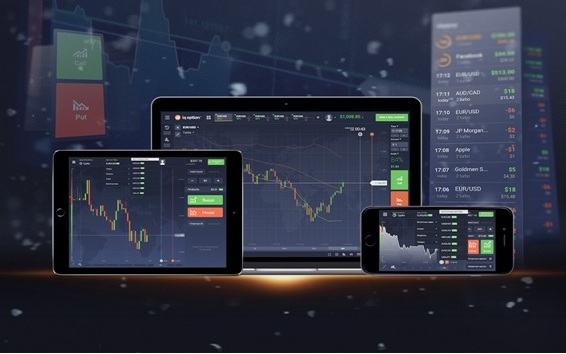 A Brief History of the Broker and Awards
The online broker, IQ option, came into the trading scene in 2013 as a subsidiary of IQ Option LTD. This trading platform accords users access to many financial instruments vital in making decent market profits. They include ETFs, commodities, cryptocurrencies, and binary options (more details in the subtopics below).
That said, it's worth noting that IQ Option began operations as a binary options broker. Here, all traders had to do was make a guess. If a premise was accurate, traders made profits. On the other hand, where a guess was incorrect, traders incurred losses.
Since its inception, IQ Option has witnessed an exponential rise amongst the world's populace as there are currently over 48,000,000 registered users on their trading platform.
To add to this staggering number, IQ Option can be referred to as a busy "virtual" marketplace as it performs over 1,000,000 transactions daily. Besides, IQ Option seamlessly operates within other jurisdictions, including Malaysia, Singapore, Pakistan, some African countries, and lots more.
Since IQ Option is structured as a CIF (Cypriot Investment Firm), its operations are regulated and licensed by CySEC (Cyprus Securities and Exchange Commission).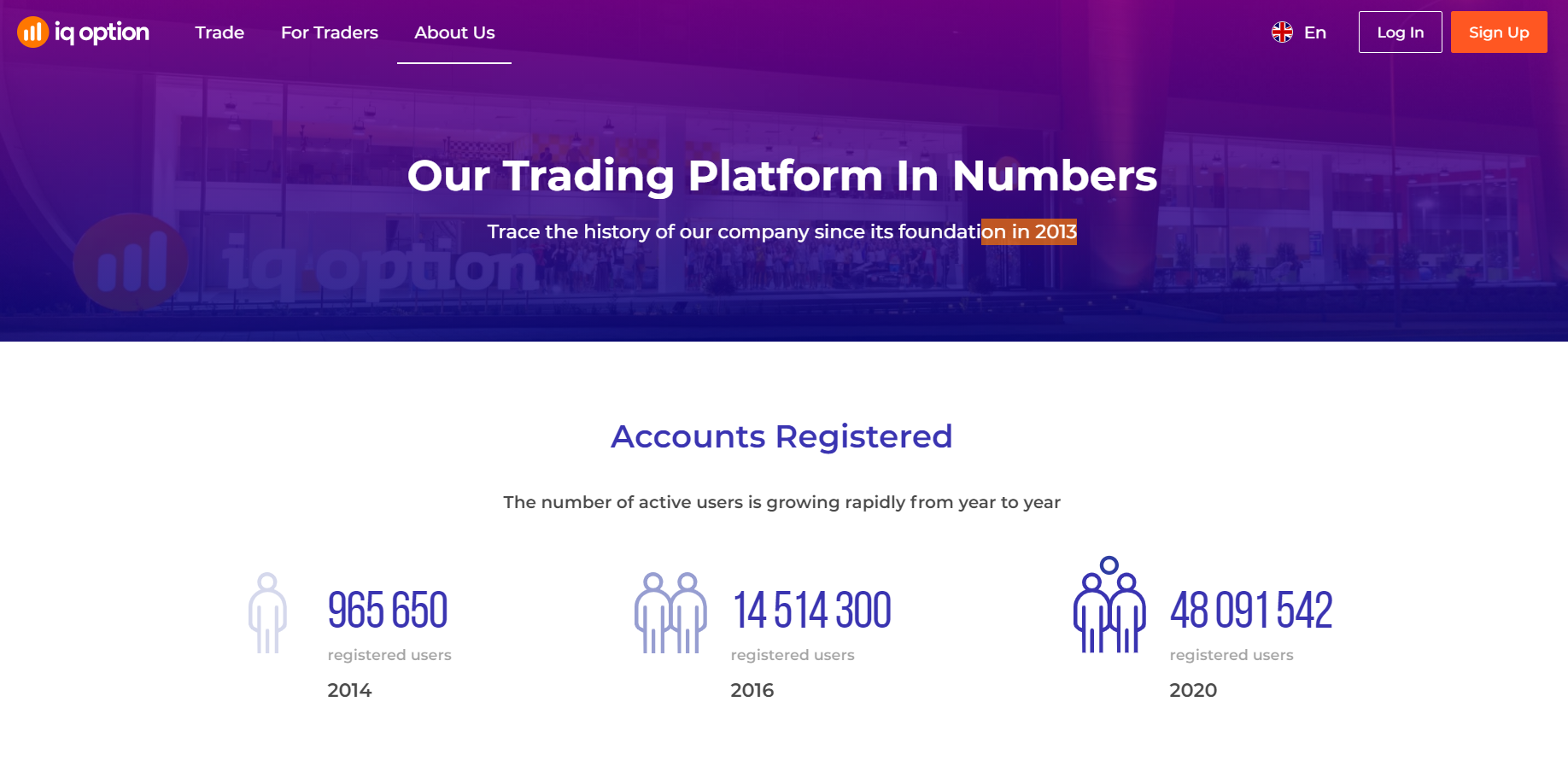 Awards
What's the use of stellar customer charts and transactions without some recognition awards? Well, IQ Option has established a reputation, putting them at the receiving end of specific awards.
These awards showcase their strengths and help prospective users make informed decisions on whether using this trading platform is the right path to take or not.
Without further ado, let's take a peek at awards that IQ Option has garnered over the years.
Award of Excellence
The award of excellence is for entities or companies that keep in line with or exceed industry standards. It's the top honor amongst the Communicator Awards.
In 2017, IQ Option was recognized as excellent in this category by the Voting Committee.

Mobile Star Awards
Mobile star awards honor organizations that feature top-notch software and innovations. In 2016, IQ Option won this award on the grounds of efficiency and a perfect platform design.

Century International Quality Gold ERA Award
IQ Option received this award for prioritizing quality and excellence across the board, particularly in the customer service department.

Best Technology Application
Thee WMA (Web Marketing Association) award for stellar marketing and development, IQ Option clinched this honor in 2016.

Best Binary Option Broker Europe
With this trading platform's binary options positively impacting the binary trading Philippines scene and some other European jurisdictions, both clients and financial experts recognized IQ Option in 2015 for offering brokerage services.

Best Mobile Trading Platform
In a world where mobility takes center stage, IQ Option had its efforts rewarded by winning the 2015 IFM awards for providing excellent mobile services.

Fastest Growing Binary Options Brand
An award from the Global Brands Magazine (a British-based brand observer), IQ Option got this honor alongside other stellar agencies and companies.

Best Trading Platform
At the Forex Awards held in 2014, the IQ Option trading platform was seen as a blueprint and a focal point in online trading as a whole. As a result, they received an honorary award for achieving this benchmark.

World's Leading Binary Options Broker
IQ Option received this honor at the 2014 MasterForex-V awards as experts present saw their binary options service as top-tier.

Most Reliable Binary Options Broker
At the same MasterForex-V awards held in 2014, IQ Option got this award due to its reliability in dealing with client's funds.

Most Innovative Binary Options Broker
This honor was given to IQ Option at the ShowFx World conference in Moscow to applaud its efforts innovation-wise and development of client services.

Best Binary Options Broker/Trading Application
At the IAIR Awards, IQ Option copped multiple awards. Not only did it receive plaudits for being the best binary options broker, but IQ Option also got recognized for creating and developing the best trading app.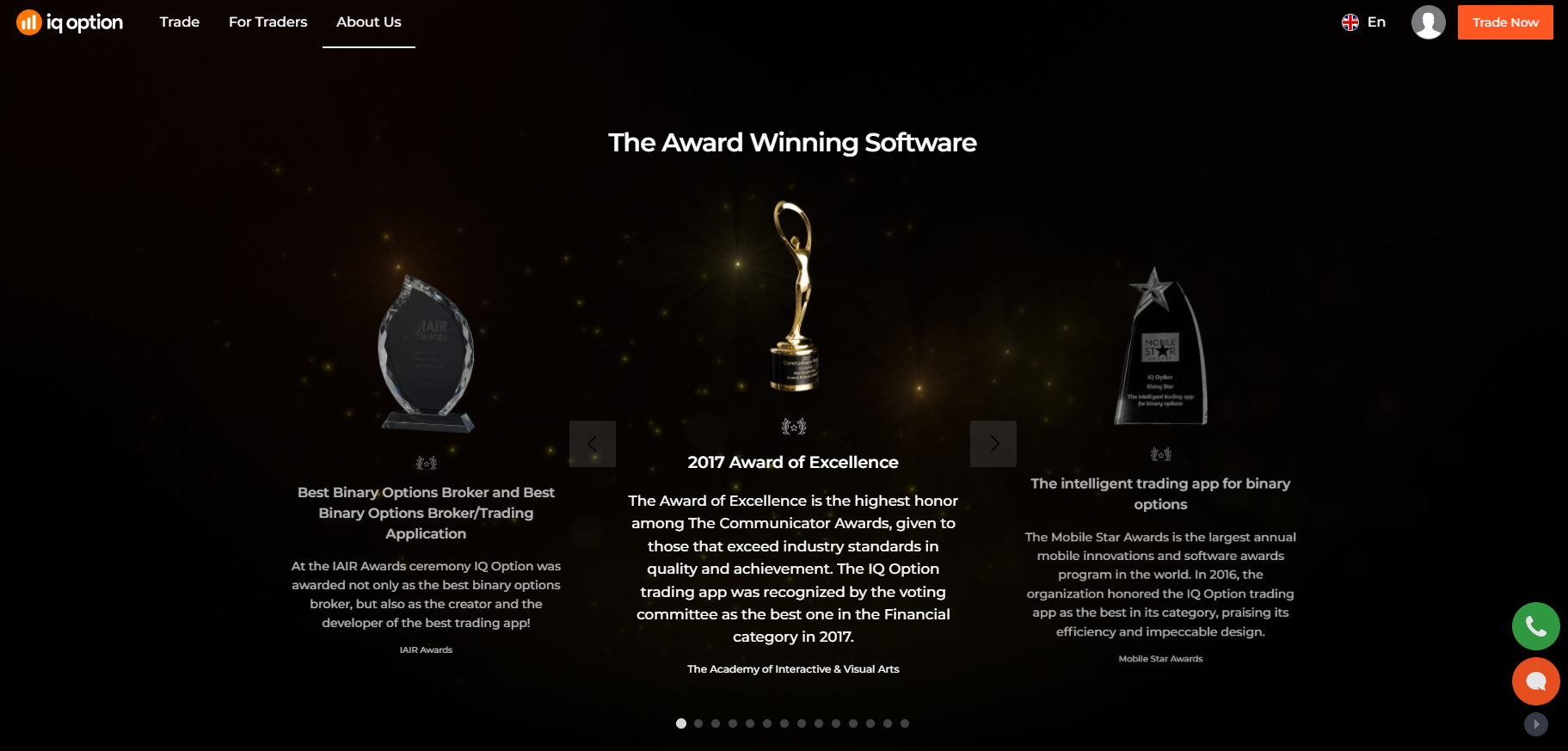 What Services Does It Offer?
IQ Option offers trade-related services to its patrons, and although there are few bonuses and promotions in-between, it's strictly business across the board.
This trading platform allows users to open trades on several financial instruments that we've given credence to earlier in the article, such as stocks, cryptocurrencies, and lots more.
That said, it's crucial to note that all trading activities on IQ option, except options and ETFs, are CFD (Contract For Difference) based. With CFDs, you can agree to exchange the difference inherent in an asset from when a deal is opened until it's closed.
Here, traders can decide to hold on to any asset and sell it anytime, irrespective of whether they can make profits or incur losses, depending on the market direction.
Now, let's see what trading and investing instruments are present on the well-known online broker for trading, IQ Option.
Trading and Investment Instruments
On IQ Option, there are lots of assets to make selections from the many trading and investment instruments available. However, if you're a newbie to online trading, making the right pick, most times, isn't an easy task.
Therefore, you'll have to read through the specifics inherent in the financial instruments below. Why? It's crucial to know what you're about trading in and have an insight into your strengths and weaknesses.
As we've established earlier, IQ Option has several trading instruments, including:
CFDs On Cryptocurrencies,
CFDs On Stocks,

CFDs On Forex,

Options,

Exchange-Traded Funds (ETFs).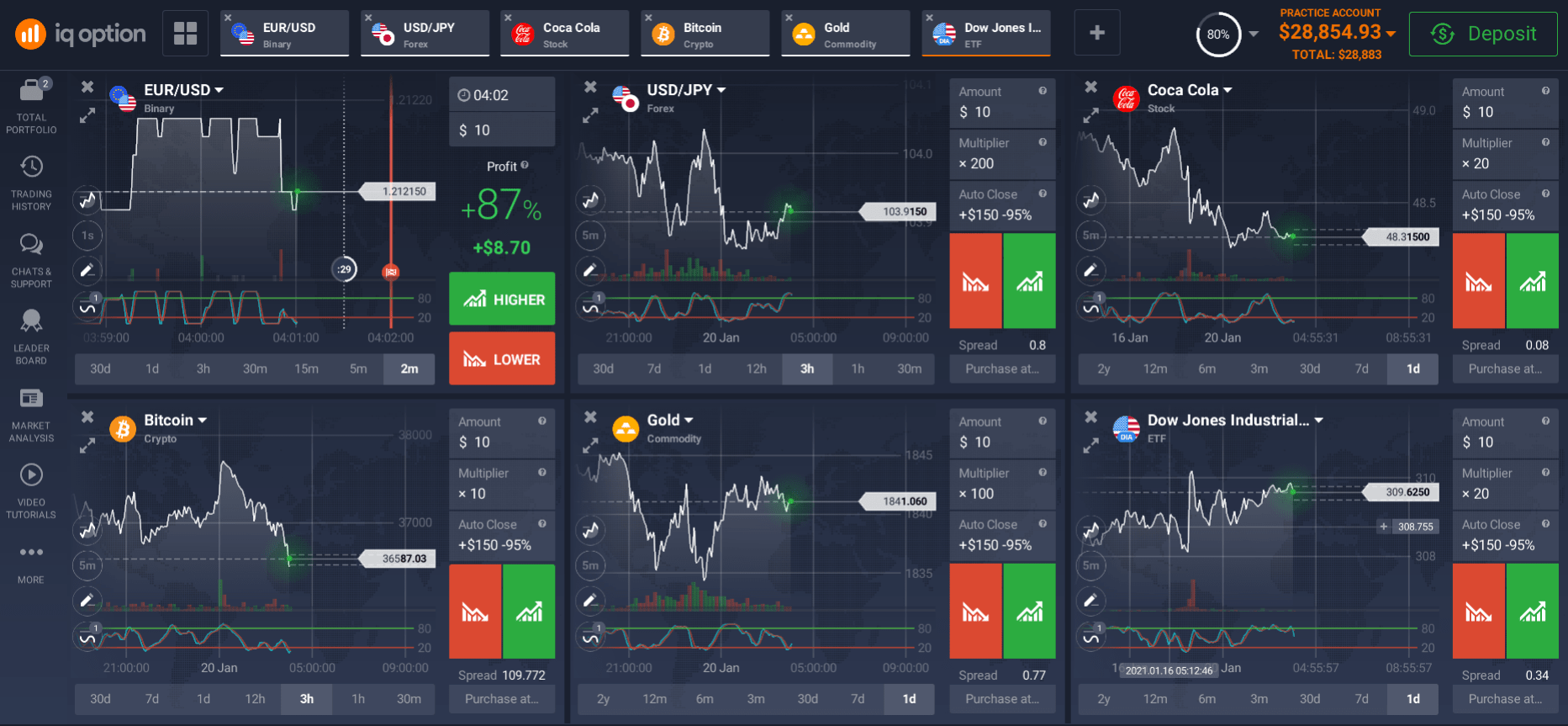 CFDs on Cryptocurrencies
Currently revered as the world's future currency, signs show cryptocurrencies might be here to stay. On IQ Options, traders can make seamless trades with 27 cryptocurrency variations.
Popular mentions currently include Ripple, Bitcoin, Cosmos, TRON, Stellar, Eos, Iota, Ethereum, Cardano, Litecoin, Zcash, Binance Coin, and Bitcoin Cash.
Featuring a high volatility market, traders can leverage coin appreciation to sell their existing cryptocurrencies for a higher price, thus garnering more profits.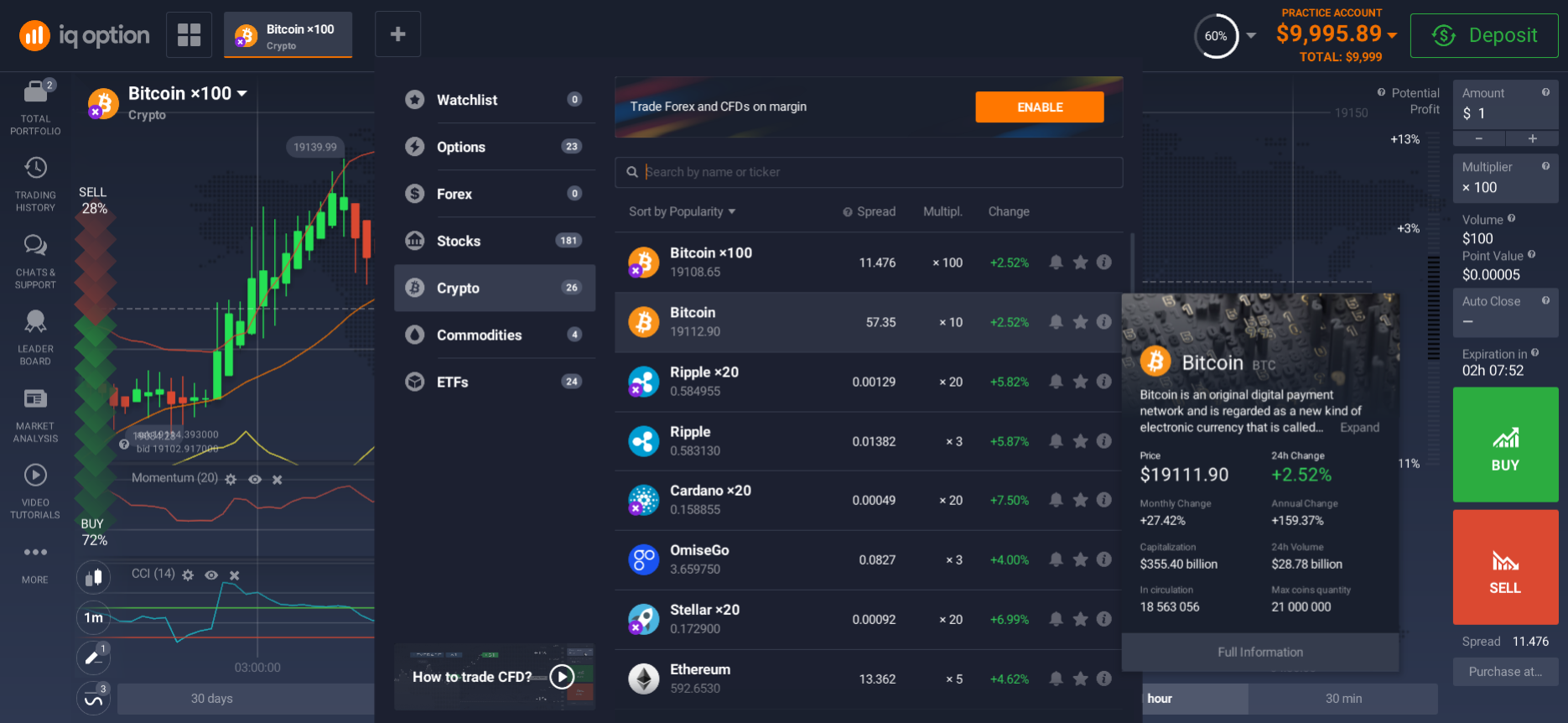 CFDs on Stocks
Stocks have been on the trading scene from time immemorial, and it's similar to forex Philippines.
Here, the idea is simple - place trades with the profits or losses of top companies like Coca-Cola, Apple, Samsung, Huawei, Microsoft, Sony, and others.
CFDs on Forex
Also known as "Foreign Exchange," forex is one of the longest-standing trade markets as it features all foreign currencies.
In the forex market, traders purchase foreign currencies in the hopes of selling them off at a higher rate to maximize profits.
On IQ Option, here are the major forex trading pairs you can expect to make good trades. However, this isn't always the case, as things can take a dramatic twist.
They include:
GBP/JPY
EUR/JPY

GBP/USD

USD/JPY

EUR/USD

AUD/JPY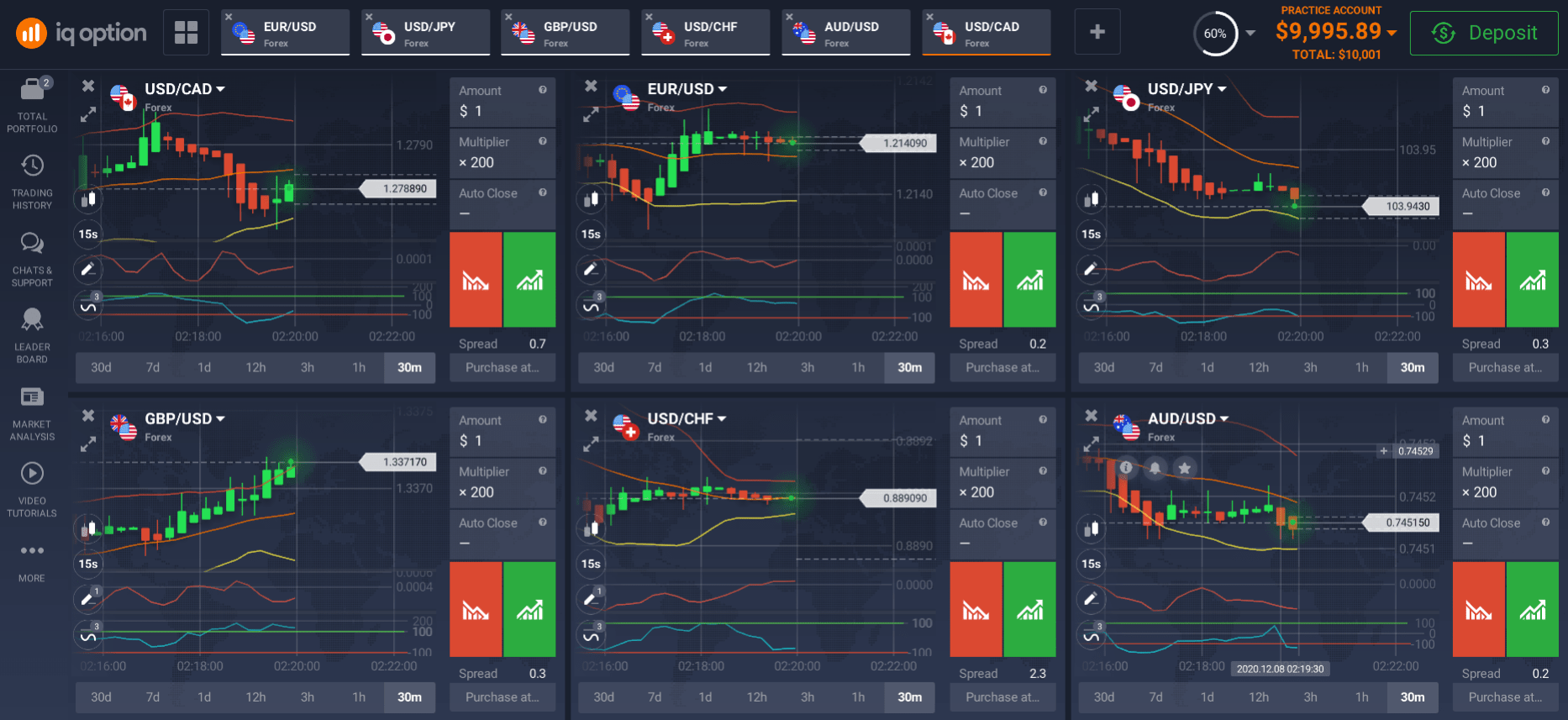 Options
Options on IQ Option (no pun intended) are divided into two distinct forms; digital and binary options. Across these different forms, traders have access to over 72 trade assets.
These options are crucial for speculations. Here, premises could involve the price caps for cryptocurrencies, indices, commodities, and stocks.
Depending on how accurate your guesses are, you can make mind-blowing profits of up to 900%. However, the high profits margins attached don't tell the whole story as these options feature high risks.
So, if you make a wrong prediction, all your investments could go down the drain in a flash.
Binary options, unlike digital options, are go-to alternatives for online traders as they marked the start of operations at IQ Option. Although it doesn't feature astronomic profits like the digital variation, it still works the same way.
Featuring profits capped at 95%, you can make decent cash if you can accurately determine what direction the market is likely to tow. If you make an accurate guess, you receive funds in less than a minute.
However, you could incur massive losses if everything goes haywire.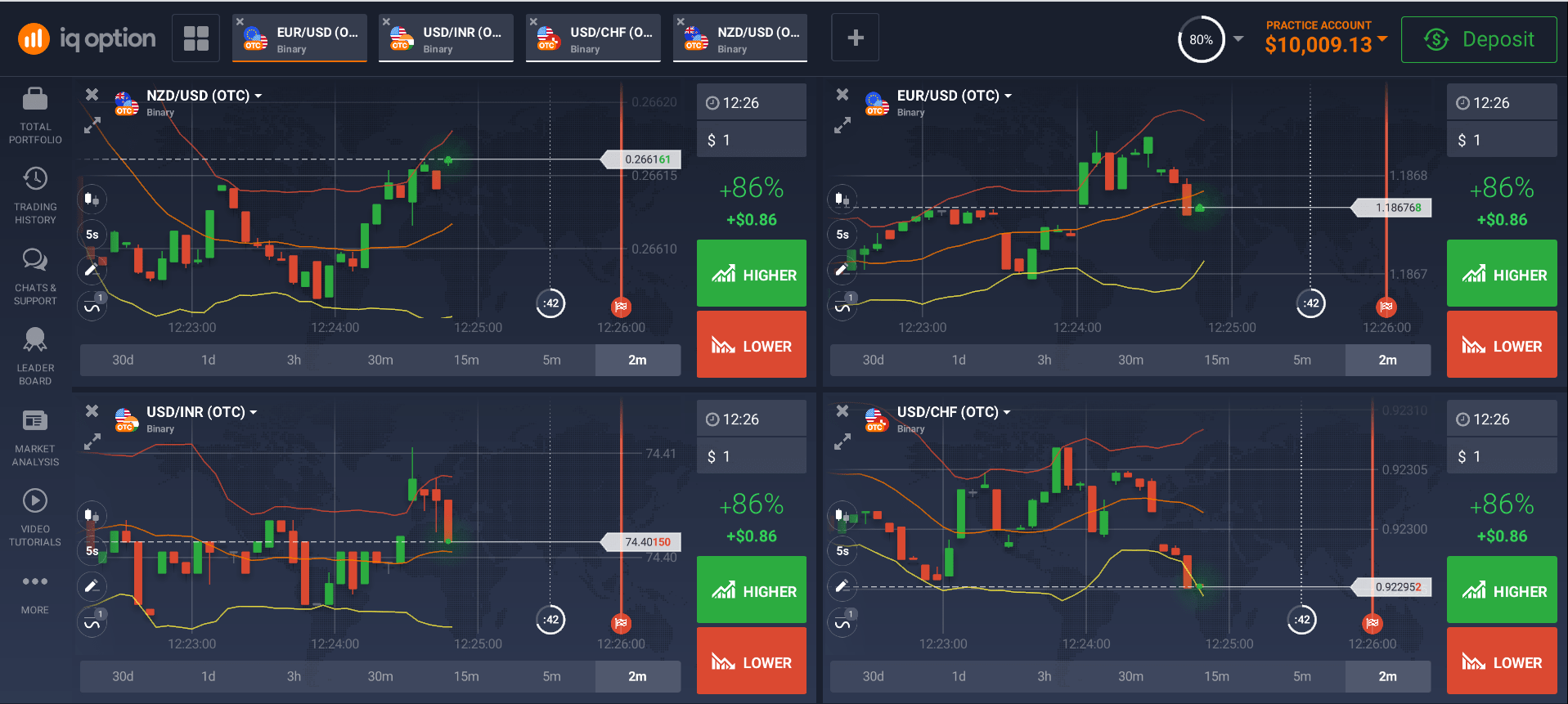 Exchange-Traded Funds
Things are bound to get a whole lot attractive as you can diversify your trading activities with Exchange Traded Funds (ETFs).
To put things into context, Exchange Traded Funds range from stocks, bonds, and other commodities. Since you can put assets binding to ETFs into one "basket," it's a financial instrument that's crucial to any trader.
On IQ Option currently, there are over 25 ETFs available.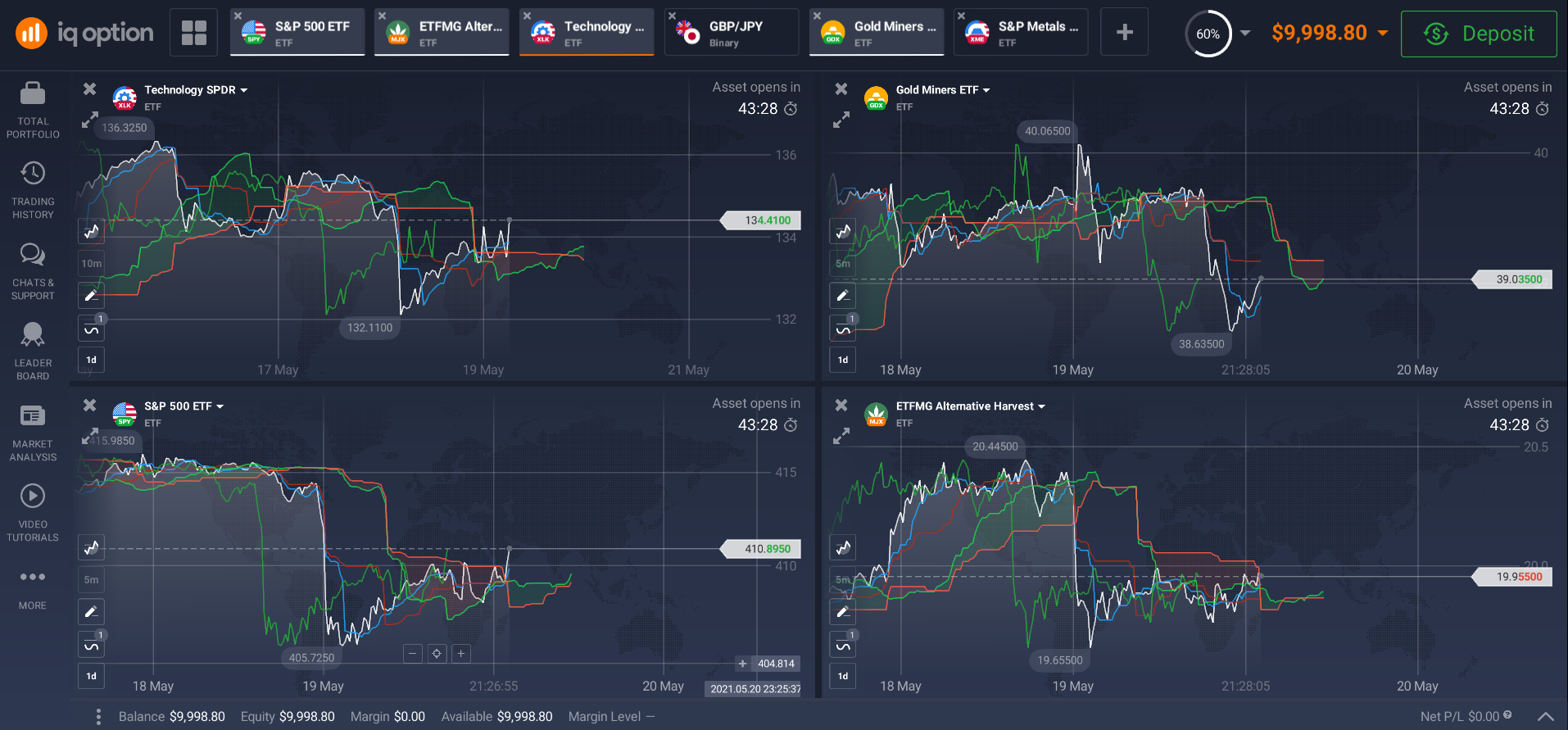 Terms of Service and Tariffs
The terms and conditions binding to any website are crucial. Why? They feature certain caveats that every user must know about to ensure their experience on a platform is smooth sailing and enjoyable.
While there's an extensive list of these Terms and Conditions on IQ Option, we've made some highlights in order of importance.
First off, accepting the T&C's binding to IQ option means you're satisfied with all their policies, including Privacy Policy, Payment Policy, and all other policies present on this online trading platform.
IQ Option isn't liable for client activities on their trading platform. So, irrespective of whether you garner profits or incur losses, you're responsible for your actions and inactions during trading.
That said, in the event of a successful trade order, clients have three seconds to void that transaction. Here, while the client can use the Cancellation or Buyout option, they should know the risks associated.
In situations where the company deems fit, they can seek third-party services to hold a user's funds. These funds are kept in segregated accounts and are available to users anytime they desire.
Overall, users should ensure that they peruse the T&C's binding to IQ Option as violations could result in negative repercussions, including account suspension.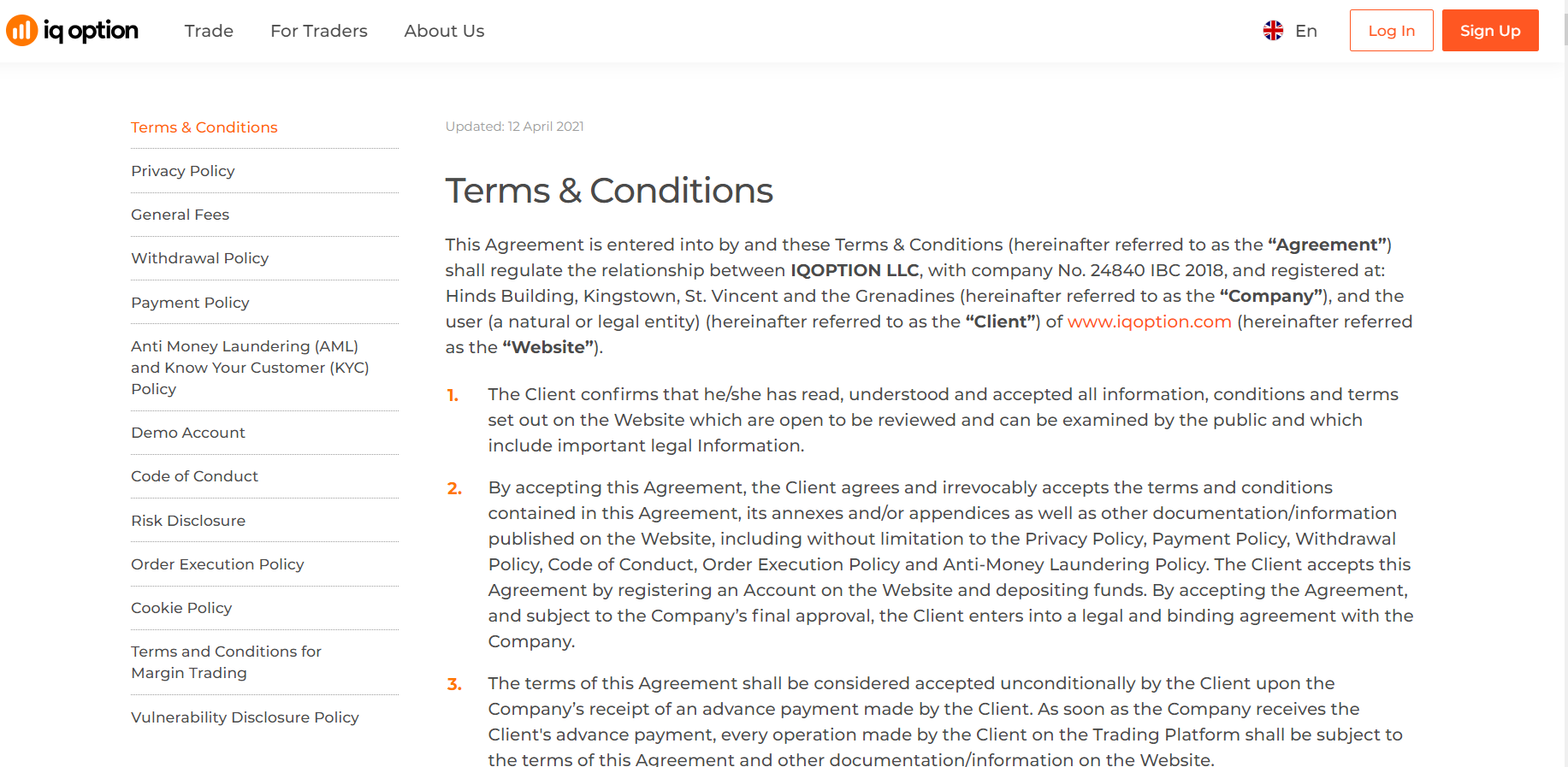 Tariffs
IQ Option barely features any transaction charge or fee. However, in the few scenarios whereby you'll encounter some costs, this online trading platform is straightforward.
Here, users can rest assured that they won't be on the receiving end of hidden expenses.
If you're a newbie on the IQ Option platform, here are some charges you might encounter when making trades. They include:
Swap Fees
You'll have to pay these fees when you make a trading stance overnight. Charges here are usually within the confines of 0.1% to 0.5% of your total trade.
However, you'll be charged more when you hold onto this position throughout the weekend.


Dormant Account Fees
As the terminology of this fee suggests, you're sure to encounter these charges on IQ Option when you haven't used your account after 90 days.
Here, expect a $10 fee (conversion rates apply) after each month as long as you have an account balance greater than zero.


Withdrawal Fees
On a bulk of payment alternatives, these fees are practically non-existent. However, you should expect charges up to $31 when you make withdrawal requests via bank transfers.


Commissions
Common amongst cryptocurrency trades, you might see a commission of 2.9%. That said, commissions like these aren't featured across other financial instruments.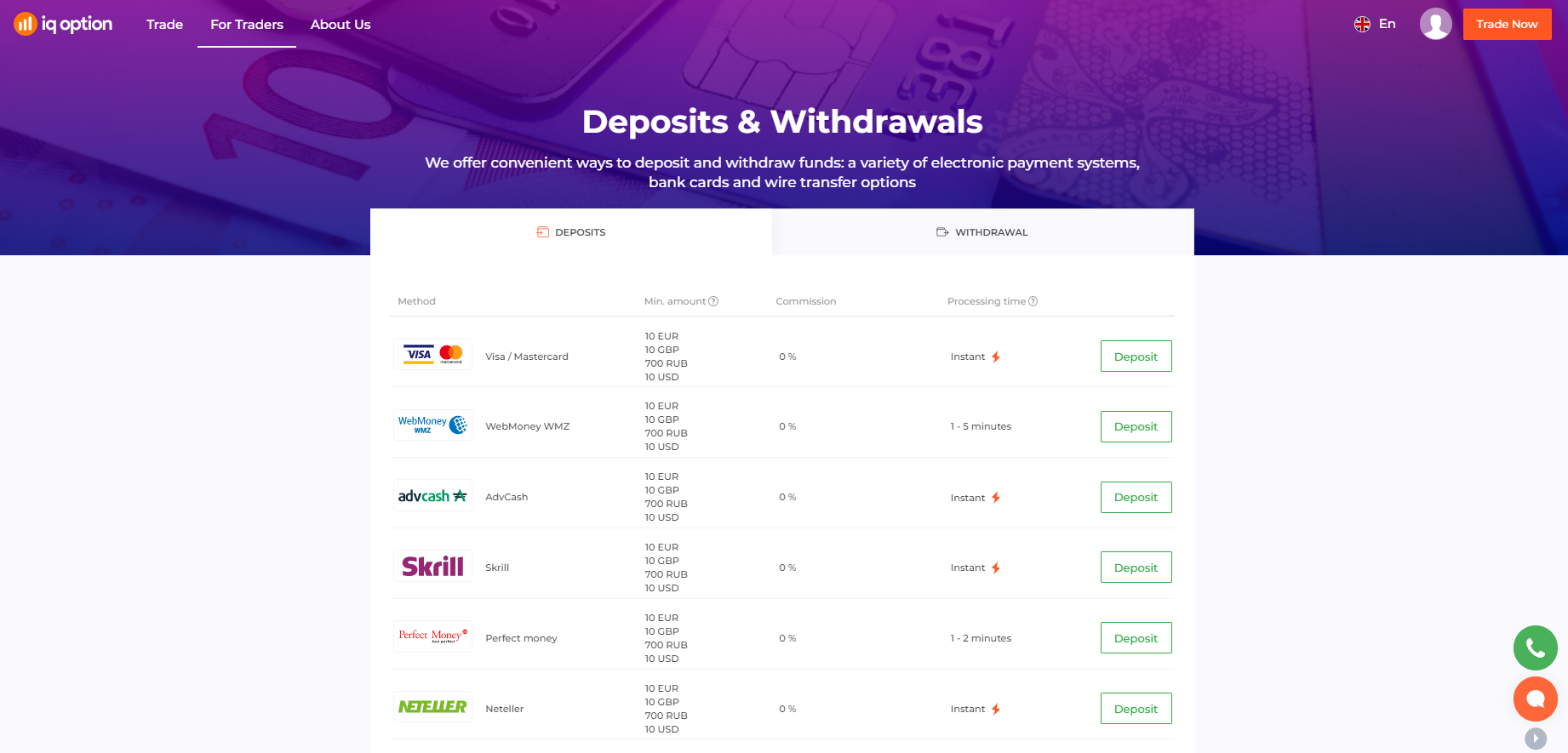 Courses, Training, and Customer Support
While most IQ Option reviews on the Internet skip this part in their so-called "in-depth" reviews, IQ Option prioritizes the trader.
Apart from automatically incorporating tools initially absent on trading platforms like MetaTrader4 (MT4) and its latest variation, the MetaTrader5 (MT5), IQ Option, features some courses and training in the form of tutorial videos.
IQ Option Tutorials
These tutorials are grouped into:
This category answers the basic questions you might have about making deposits, withdrawals, and starting trade from a newbie standpoint.
Here, you're taught how to trade the options available on various assets by speculating price direction.
Also known as Contract For Difference, the videos present in this section aims at giving you the perfect foundation on trading forex, stocks, indices, commodities, and crypto without being the actual owner.
Traders can learn what margin Trading entails in this revealing category.
Add to your knowledge bank a collection of techniques and tools crucial in examining the best entry and exit points, top trends, and risks in the trading market.
This section will make you understand the intricacies present on the economic calendar, how you can trade the market, and financial markets to get the best out of your trades.
Market news updates you of all the happenings across the world's financial markets and how companies cope with market fluctuations.
Understand everything about the cryptocurrency industry in this category. Get explanations on the coins, tokens, and blockchains currently gaining traction.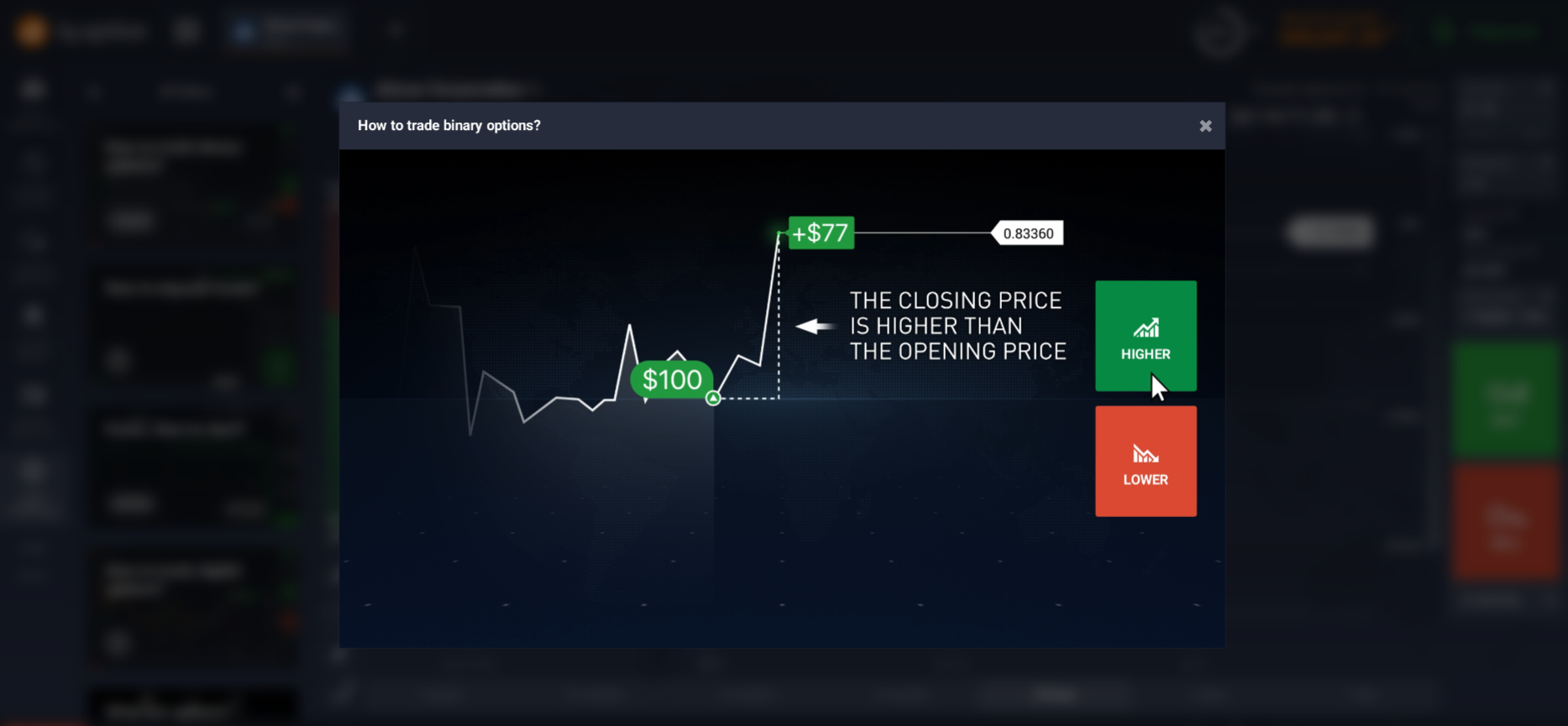 Customer Support
In every business entity, customer support narrows the gap between the entity itself and its patrons.
Since IQ Option holds customers in high esteem, they've integrated four support variations, including:
Live Chat
The fastest of all other customer support forms, you can get replies here in less than 3 seconds. Yes, it's that fast.


Ticket
Commonly referred to as the "support ticket," you'll have to fill in your complaint. As stated on the official IQ Option website, expect replies in 16 minutes.


Email
Contact the IQ Option via mail at support@iqoption.com and get replies within an hour or two.


Phone
On IQ Option, there are more than 25 phone numbers to call (varies with jurisdictions). However, it's worth noting that although some of these lines might be toll-free, you'll incur charges on others.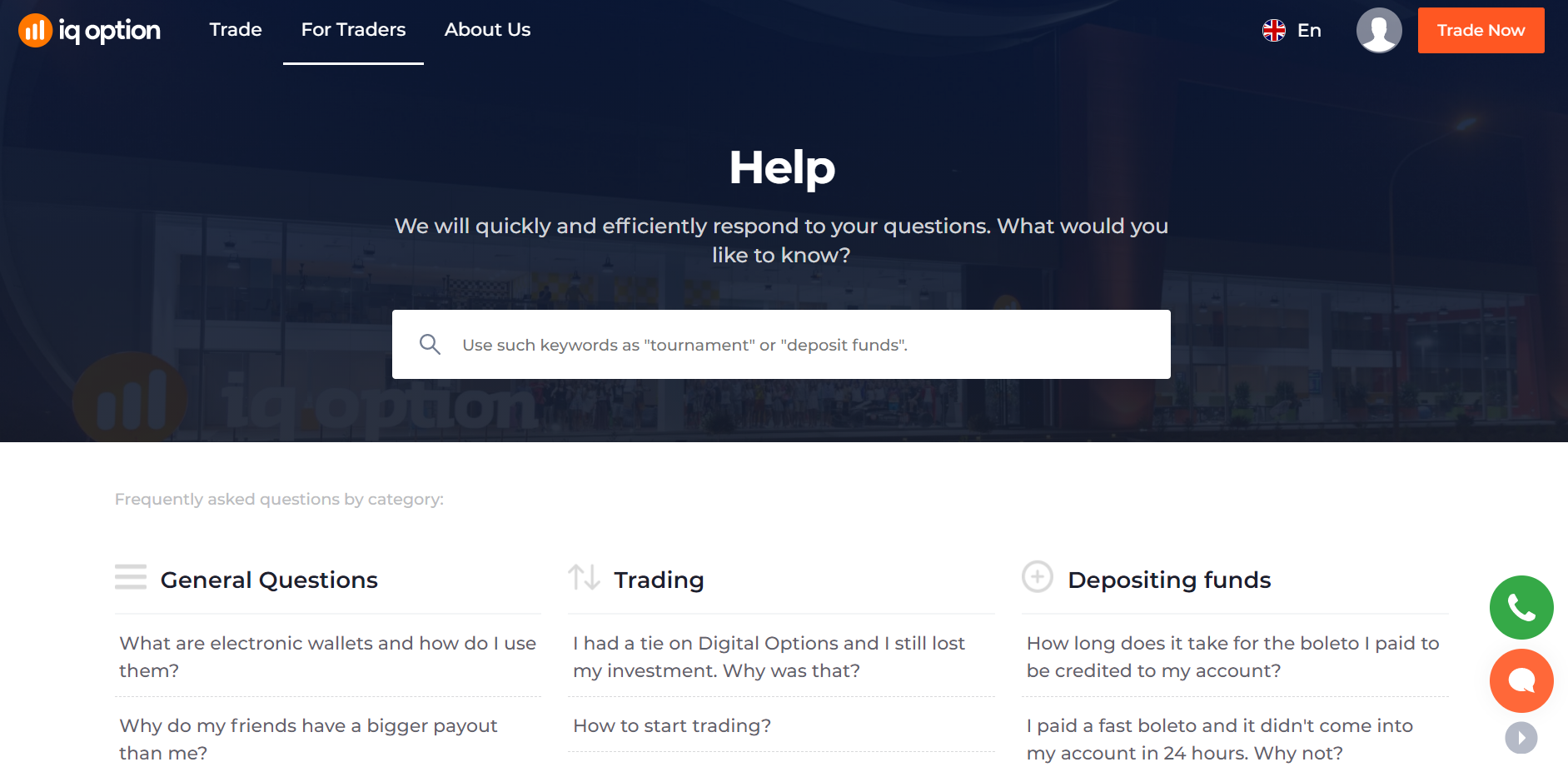 Software and Mobile Commerce
The IQ Option software for PCs features a multi-chart layout, historical quotes, technical analysis, and everything you'll ever want on an online trading platform.
Like computer software, smartphone holders can download the IQ Option app for mobile commerce from Google Play and Apple Store.
Towing the IQ Option software or app, users can now:
Make trades,
Check account balance and status,

Get financial market updates,

Use charting tools critical to make profits,

Activate push notifications and easily customize alerts.

That said, newbies looking to use any of these IQ Option forms should first gain mastery of the specifics on the web-based version.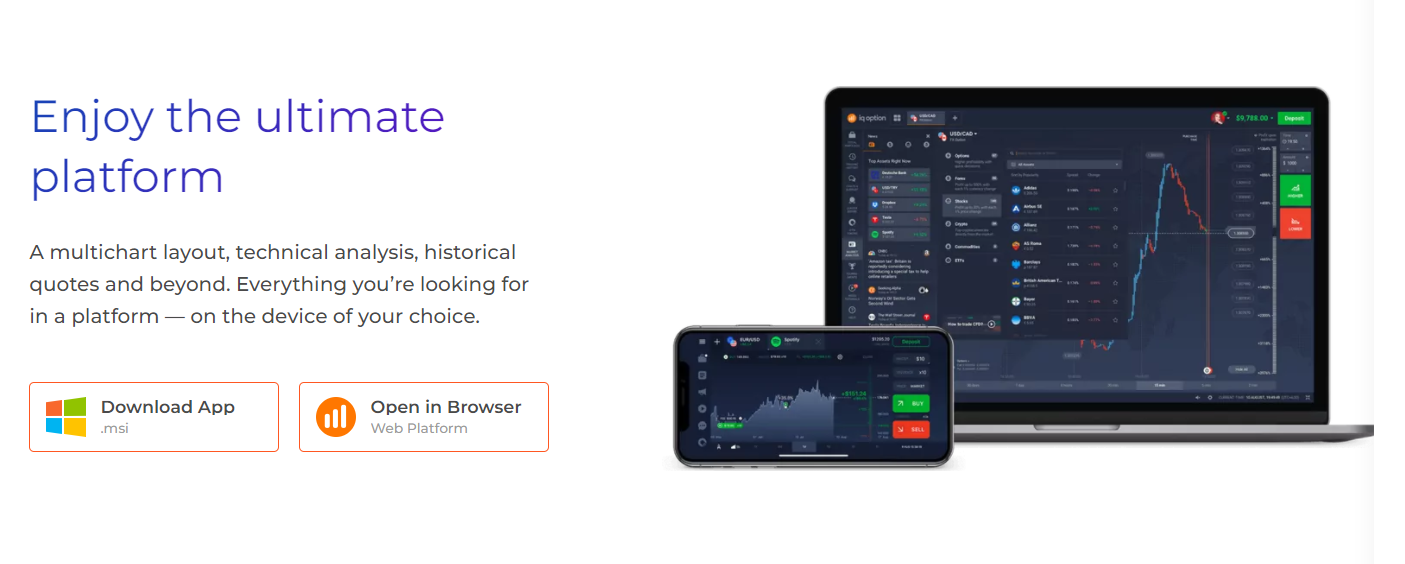 Detailed Analysis of How to Work With Brokers IQ Option
To work effectively with online brokers, IQ Option, you'll have to follow these steps to the latter. They are:
Registration is the first process you'll need to get out of the way before you can commence trading, and fortunately, it's easy.
By clicking on the "Sign-up" icon, fill in all the required information and submit. However, if you don't want to go through this segment, you can easily log in with your Facebook, Twitter, or Google Account.
That said, always go through the terms and conditions binding to the IQ Option platform. To get a foundation on things, you're advised to go with the demo account that comes preloaded with $10,000 in virtual funds.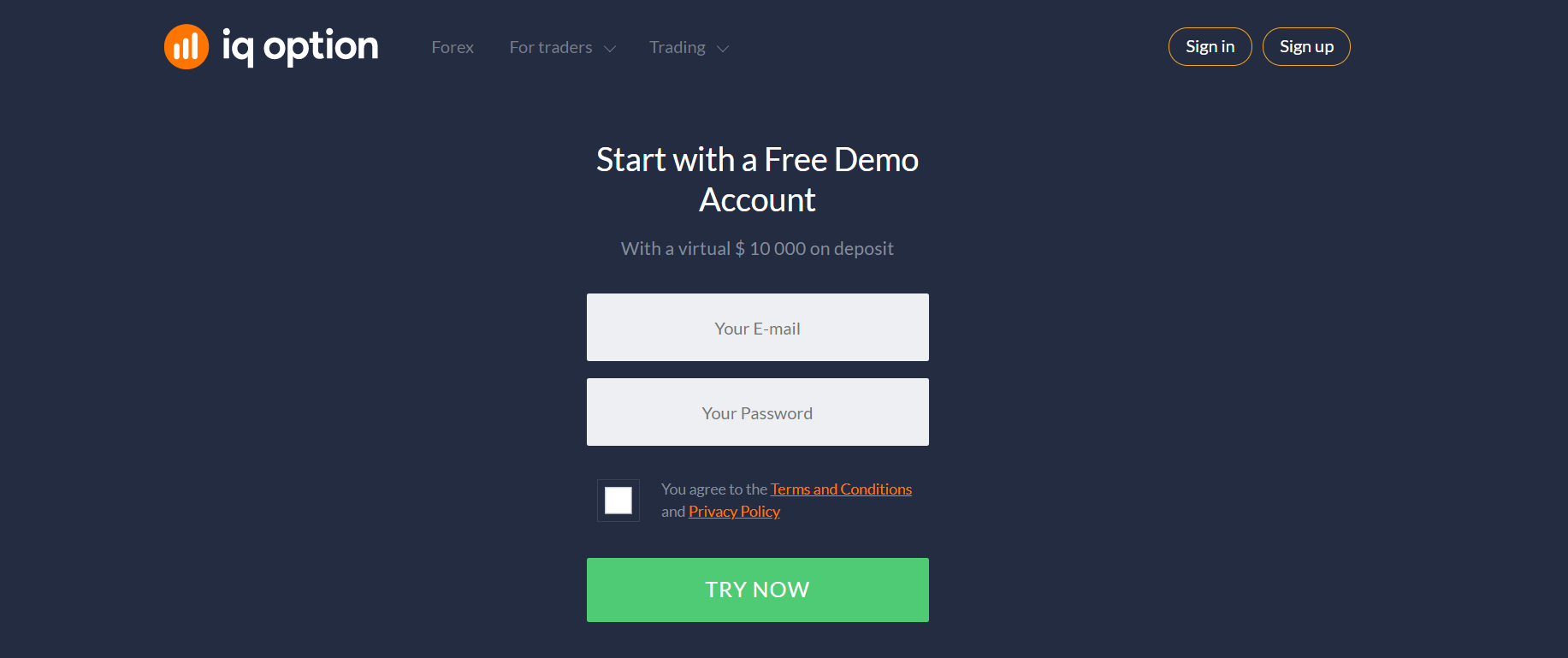 Now, you'll need to pick an asset present in any financial instrument of your choosing. Although this can be a daunting process for users new to the concept of trading, the "Tutorial" section is sure to come in handy.
Different videos give insights on cryptocurrencies, stocks, forex, ETFs, and options in this section. If you still have questions, customer support is at your beck and call as they're available 24/7.
Choosing Between Financial or Technical Trades
The good news here is that as a newbie, you don't have to go through the hassles of reading through blogs to know what trade option best suits you.
Why? Using the "Indicator" tool present on IQ Option, you can make accurate market direction predictions. These indicators arrive at these premises by monitoring the global financial market.
Once you've been able to get a standing in this market by making some trades that have yielded dividends, it's now time for you to make that bold step into actual trading.
The transition into your real account from your demo account is seamless as this online trading platform has one in waiting, pending your switch.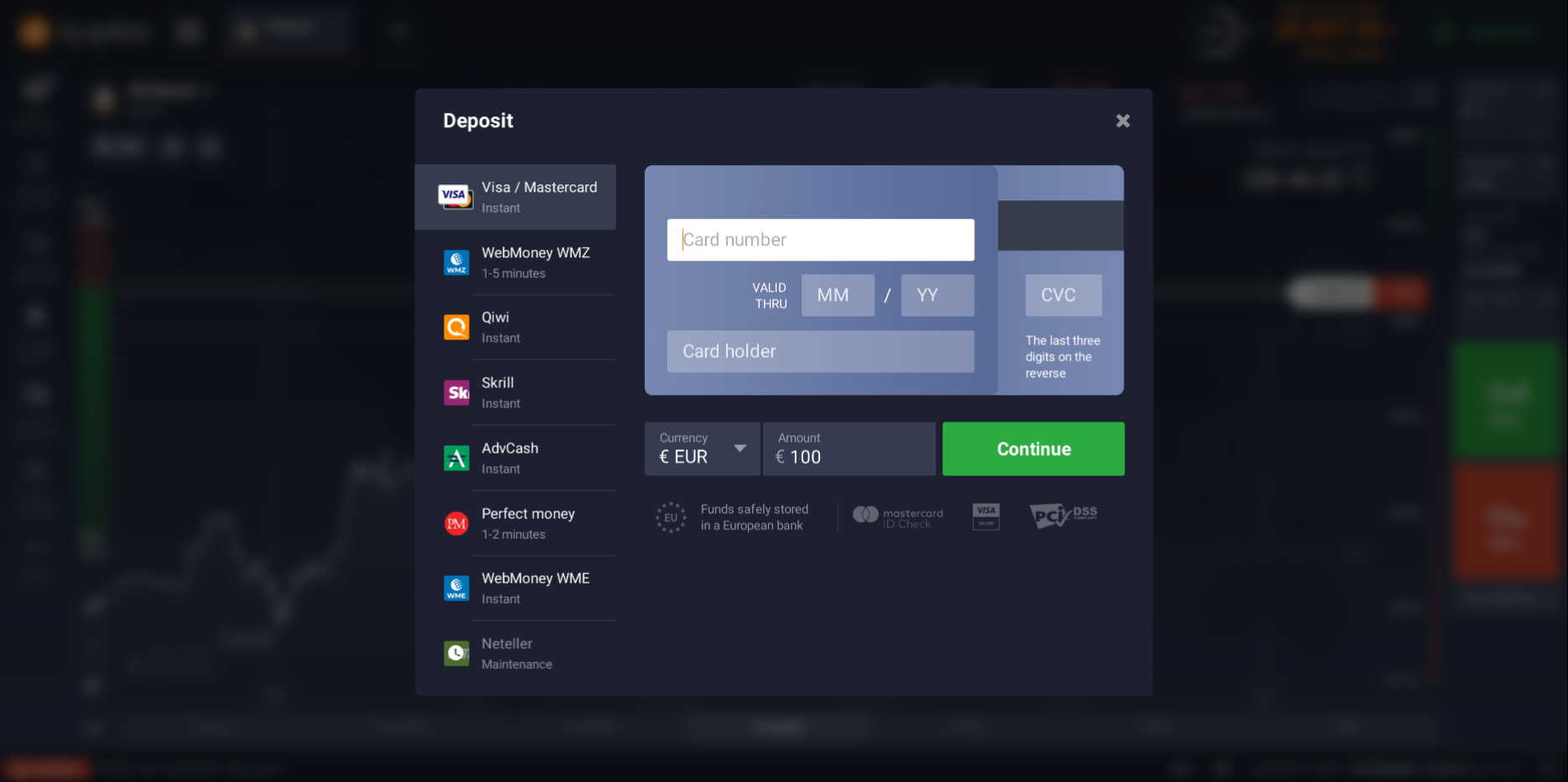 While most people might think you'll need thousands of dollars to begin actual trading, a $10 deposit is enough. Now, you can make trades with your real money.
If you make profits, you can now make withdrawals. However, you'll have to undergo some form of verification for security reasons.
Once you're verified, your account is credited anywhere between 48 hours to a week, depending on your preferred payment alternative.
SIMPLE AND RELIABLE
MONEY WITHDRAWAL