The Philippines is a unique place in southeast Asia, which consists of 7,000 islands surrounded by many seas. By connecting East and West, the Philippines is creating a unique culture and population. The Philippines is a growing market that is currently experiencing a consumer boom.
The Philippines and other parts of Asia have a growing number of binary options traders, keeping up with current trends. Although the Forex and CFD markets are not regulated in the Philippines, it is perfectly legal to trade using binary options.
| | |
| --- | --- |
| Broker Name | IQ Option Ltd |
| Website | IQ Option platform |
| Year Founded | 2013 |
| EUR/USD Average Spread | from 1 pip |
| Min Deposit | 10 $ |
| Max Leverage | 1:50 |
| Regulations | FSA, CONSOB, Regafi |
| Trading Instruments | 100+ currency pairs, 150+ CFDs on Cryptos, Indices, Metals, etc. |
| Trading Specifications | Forex Options, Forex, Stocks, Crypto, Commodities, ETFs |
| Platforms | WebTrader |
IQ Option is a reliable company for trading financial products. It is an online broker that allows any trader to invest in the financial markets. Since 2013, he has been providing quality services in the field of binary options. IQ Option is a service that currently has the fastest development in the field of trading due to professional staff and effective analytical programs.
NON/TRADING FEES
Trading fees directly depend on what trading instruments are used in trading. There are two types of accounts (real and demo accounts).
Retail client status is the most popular. It is developed for traders of all levels and is well suited to beginner traders. It offers practice trading by using micro lots.
Spread from 0.02.
No commissions.

Max Leverage 1:30.

Min deposit $10.

Long/Short swap for overnight positions.

Professional client status is suitable for the most experienced traders, scalpers, day traders and algo traders. It helps to improve ready-made strategies.
Spread from 0.01.
No commissions.

Max Leverage 1:50.

Min deposit $10.

Long/Short swap for overnight positions.

Non-trading fees concern 1) the withdrawal fee through the bank transfer (the amount depends on the country) and 2) Inactive Account Fee for the inactive platform mode for 90 days (EUR10).
Max Leverage
x20 for Stocks.
x50 for Forex.

x2 for Cryptocurrencies.

x25 for Commodities.

Key features of the IQ Option platform
Status types for traders: Retail client and Professional client.
Trading specifications: Stocks, Forex, Cryptocurrencies, Commodities, ETFs.
Order Execution: Instant, market.
Pending Order types: by time, by price.
Trading platform: WebTrader.
Available at: Mac OS, Linux, Windows, iOS, Android.
The trading platform in the Philippines is available in web and mobile versions, they are identical and offer the same research tools and multiple indicators. It is a convenient user-friendly interface, there is a quick trade execution on both versions.
IQ OPTION ACCOUNTS
There are two types of accounts and two statuses for traders.
1. Retail client status with two accounts (demo and real) is a commission-free type with standard lots in trading. It has no upper spread limits, all trading instruments and an unlimited number of positions are available for trading.
You can easily open the IQ Option account with 'Retail client status''. All you need is to install the IQ Option mobile app (the App Store and Google Play) or open the web IQ Option account and complete the KYC verification in a few simple steps. After opening the account, you can use a Demo/Practice account and a Real/Live account. The Demo account makes demo trading without deposits, you can switch between accounts (demo and a real one) and use them at any time. IQ Option features a testnet demo account with access to virtual funds with the balance of $10,000, you can use them immediately after opening your IQ Option account.
$10 minimum deposit required to start trading on your real account and $2 minimum balance required to withdraw the balance.
2. Professional client status is the most effective account for the well-experienced traders with max leverage of 1:50. Not necessary to pay any commission to apply for it. The trades are executed instantly.
If you are ready to apply for Professional Client status, you have to meet at least 2 of 3 criteria below.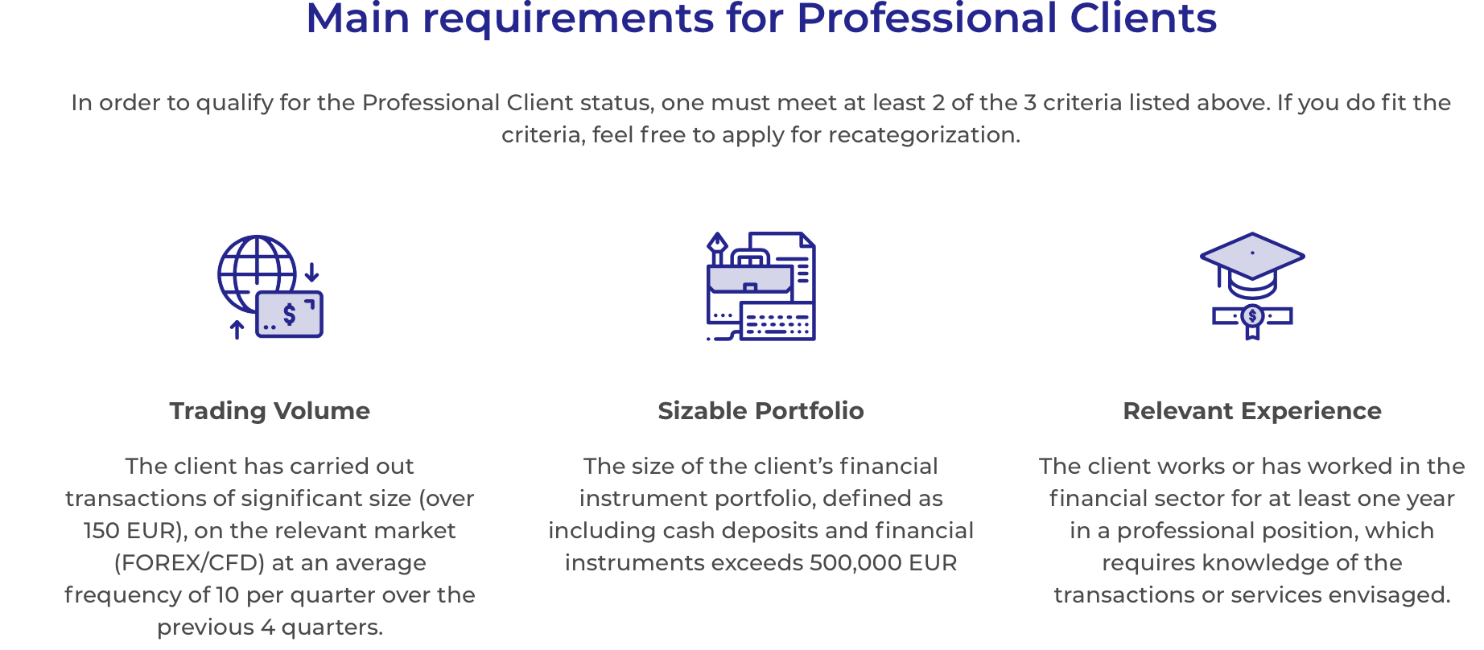 Professional Clients can come back to Retail status at any time.
IQ OPTION TRADING SPECIFICATIONS
IQ Option offers the following available trading instruments: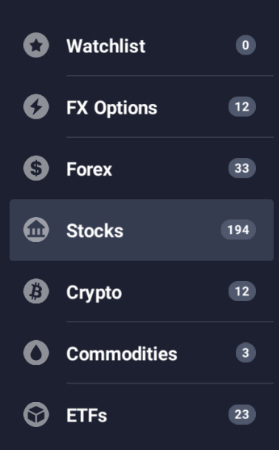 Stocks: 194 Stocks (CFD) are available for trading at IQ Option. Some of these are: Twitter Inc., Apple Inc., Baidu Inc. ADR, Shopify Inc., Tesla Inc. and others. Leverage is 1:5. Stocks depend on public corporations. They often reflect not only the real value of the corporation, but also certain expectations for the future. So the release of a new smartphone, the invention of a new drug in medicine or a new oil extraction technology instantly affects the value of stocks, increasing their price by tens and hundreds of percent. They are available for trading with any account.
Forex: 33 currency pairs are available at IQ Option. Some of these are AUD/USD, EUR/USD, GBP/USD, GBP/JPY and others. Leverage is 1:30. The market provides many arbitrage opportunities with exchange and interest rates, making it attractive for trading in high volumes or using leverage and margin requirements. It is possible to trade Forex using any account types and the client status.
Crypto: 12 cryptocurrencies are available at IQ Option such as Bitcoin, Etherum, Litecoin, Ripple and others. Leverage for Cryptocoin is 1.2. Fundamentally, trading with cryptocurrencies does not differ from another type of trading - buy cheaper, sell expensive. The main specificity of the crypto market is in sharp fluctuations in the price of cryptocurrencies in short periods of time. With a properly built strategy, such dynamics can provide large profits. It is possible to trade Crypto using any account types and the client status.
Commodities: 3 commodities are available at IQ Option such as Gold, Crude Oil WTI and Crude Oil Brent. Leverage is 1:20. Commodities give us a wide variety of assets and instruments. Investors and traders have the opportunity to invest in securities and in metals. However, trading with real commodities is largely the domain of traders and investors who want to hedge their other positions. They are available for trading with any account.
ETFs: 23 ETFs are available at IQ Option such as QQQ Trust Series, S&P 500 ETF, Gold Miners ETF and others. ETF stock prices move with the prices of the indices they are designed to replicate. The buying and selling price is close to the price of the underlying assets, although the fund's fees and tracking errors mean that the dynamics are not completely identical. It is possible to trade ETFs using any account types and the client status.
IQ OPTION TRADING EDUCATION AND TRADING COMMUNITY
The IQ Option Education offers the latest news, video tutorials, a trading blog for achieving a more diverse and productive trading environment for the traders of all levels.
The IQ Option Account gives the trader an access to a Forex trading course, educational tips and materials for improving trading skills. It offers a teaching blog and a trading community which change your trading lifestyle. You can watch the leaderboard with the best of the best traders per week, chat with them, and advise on some wise trading features. Trading analysis helps to formulate better strategies, to perform more extensive analysis and develop a winning mindset.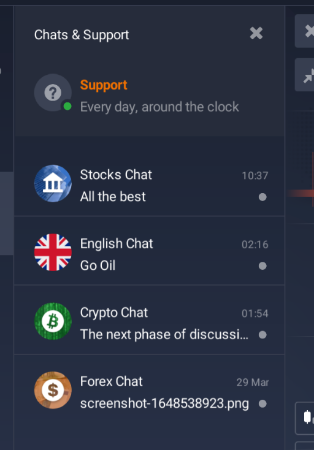 IQ OPTION DEPOSIT-WITHDRAWALS
Multiple deposit and withdrawal methods are available in the Philippines. The minimum deposit amount is $10. Deposit by a credit card or electronic wallets without commission. Processing time for the transaction is carried out instantly, it can take up to 3-5 days in case of a long process from the side of the respective payment system or a bank.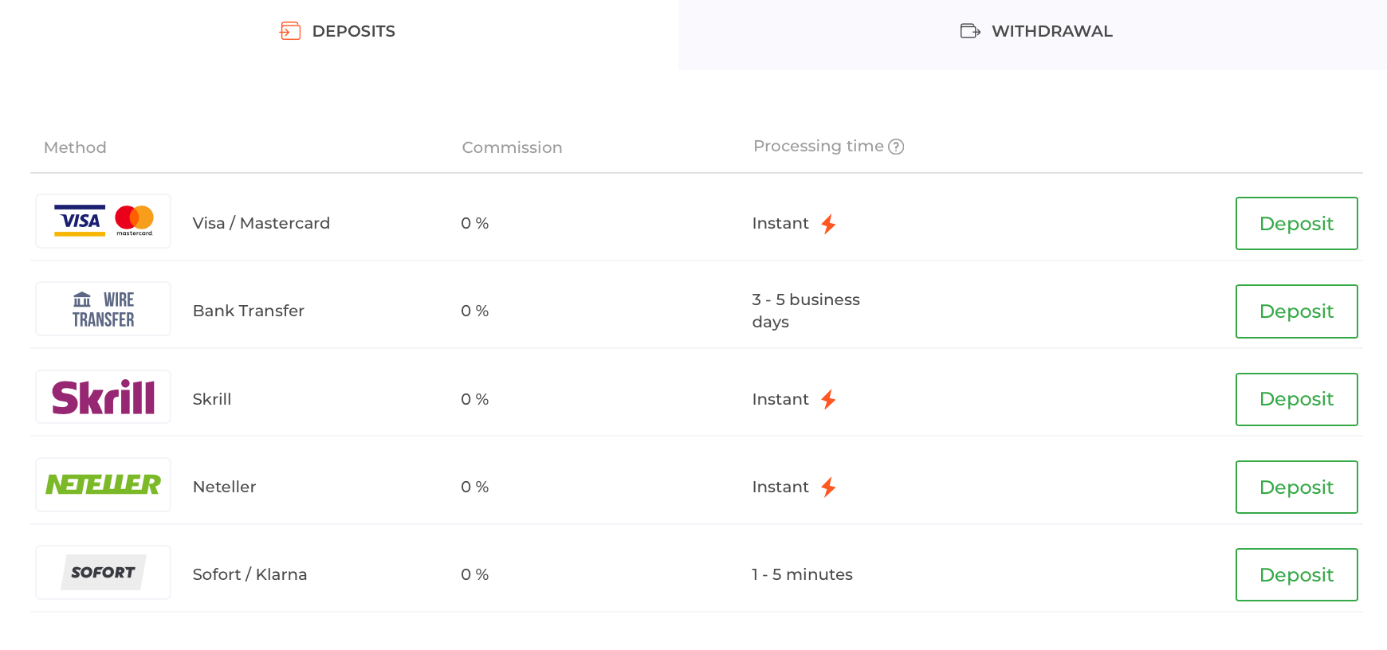 The withdrawal amount to the card/wallet is not limited. IQ Option allows any trader to withdraw one income of any amount (min $2) without commission once a month (any other commission can be expected only from the bank side in some cases), quickly processes withdrawal requests, and it makes the withdrawals straightforward. Card payments are generally funded for those transactions within 3 days. E-wallets are more convenient, making withdrawals easier and faster than before. It is possible to check the status of any withdrawal request while waiting for the funds.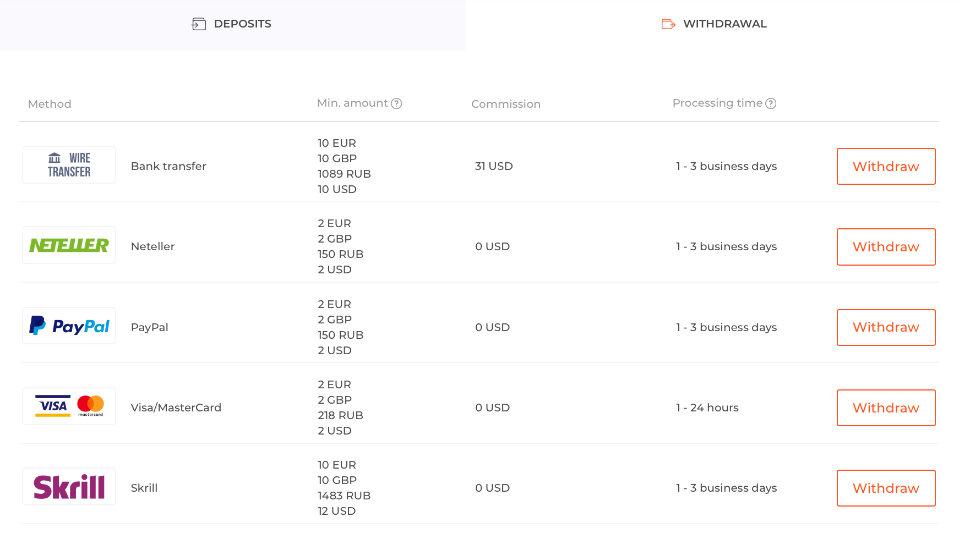 IQ OPTION SUPPORT DEVELOPMENT
The IQ option support offers 24/7 English, Portuguese, Spanish and even Italian via phone, online chat, email and social media, as well as other 17 languages available around the clock in the support chat. The platform supports multiple languages: French, Indonesian, Korean, Russian, Spanish, Vietnamese, Chinese, Portuguese, Italian, German, Bengali, Turkish, Thai, Swedish and Hindi.
The support works very fast, they are friendly, responsive and always ready to help all traders.

RECOMMENDATION
The IQ Option business case is clear, the company knows what to do in providing around the clock services for more than 9 years. There are various types of options (classic binary options, turbo options, etc.), one-click purchase of an asset, available markets (cryptocurrency, Forex, stocks, etc.), a user-friendly interface (web and mobile versions), unique service and instant customer support without delays. The IQ Option platform offers competitive spread accounts, no hidden trade commissions with all accounts and the client status.

Opening the account and the verification process is very easy and fast. The education section assists the traders and helps to build up their skills. IQ Option is really the best option for traders.
FAQ:
Is binary options legal in the Philippines?
Although the Forex and CFD markets are not regulated in the Philippines, it is perfectly legal to trade using binary options.
Can a Filipino citizen trade with offshore brokers?
The SEC in the Philippines treats offshore binary options brokers as unlicensed companies. Therefore, trading is prohibited. However, there are very few enforcement measures in place to prevent local traders from trading with offshore companies.
Can traders deposit on the platform using PayPal?
PayPal is available to local Filipino binary options traders.
Can I deposit with the Philippine peso?
This currency is not available as an account currency. It is only possible to have EUR, USD or GBP.
SIMPLE AND RELIABLE
MONEY WITHDRAWAL