Day trading platform in the Philippines
There are currently a huge number of different trading strategies for the international financial markets. If you classify trading by duration, there are three types of trading - short-term, medium-term and long-term. It is up to you to decide which time frame to choose, taking into account personal preferences as well as personal characteristics. Day trading, a type of short-term trading in which all positions are opened and closed on the same day, will not suit everyone. This type of trading requires a special approach, discipline, constant involvement in the trading process.
The choice of trading platform for day trading is also very important.
These fast trades require completely different strategies than classic "buy and hold". The trader does not analyse balances, attend general meetings or study annual reports. Trading is very technical; it looks for moves. Ideally, you should not hold positions overnight, which minimises risk. But like any other style of trading, there are advantages and disadvantages.
The subject of our review today is day trading in the Philippines.
Below we take a closer look at what day trading is, who it suits and which trading platform to choose in the Philippines.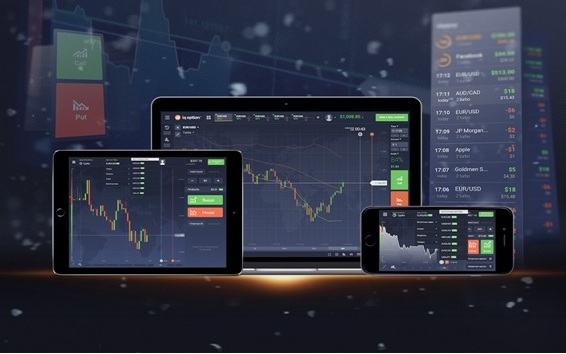 What is day trading?
Day trading is short-term trading of securities. A day trader buys securities and sells them over a very short period of time, usually during the day. In doing so, he tries to profit from small fluctuations in prices.
The alluring thing about day trading is that fast and high profits are possible. But many investors who like risk and thrills are also attracted to day trading. Speculative day trading therefore stands in stark contrast to long-term securities trading or the "buy and hold" approach, where, for example, stocks are held for many years.
At the same time, with day trading you can quickly incur very large losses.
The duration of day trading transactions can range from a few hours to a few minutes or even seconds. Day trading is highly influenced by market conditions, as you cannot make a profit without price fluctuations. Therefore, high market volatility is desirable for a day trader.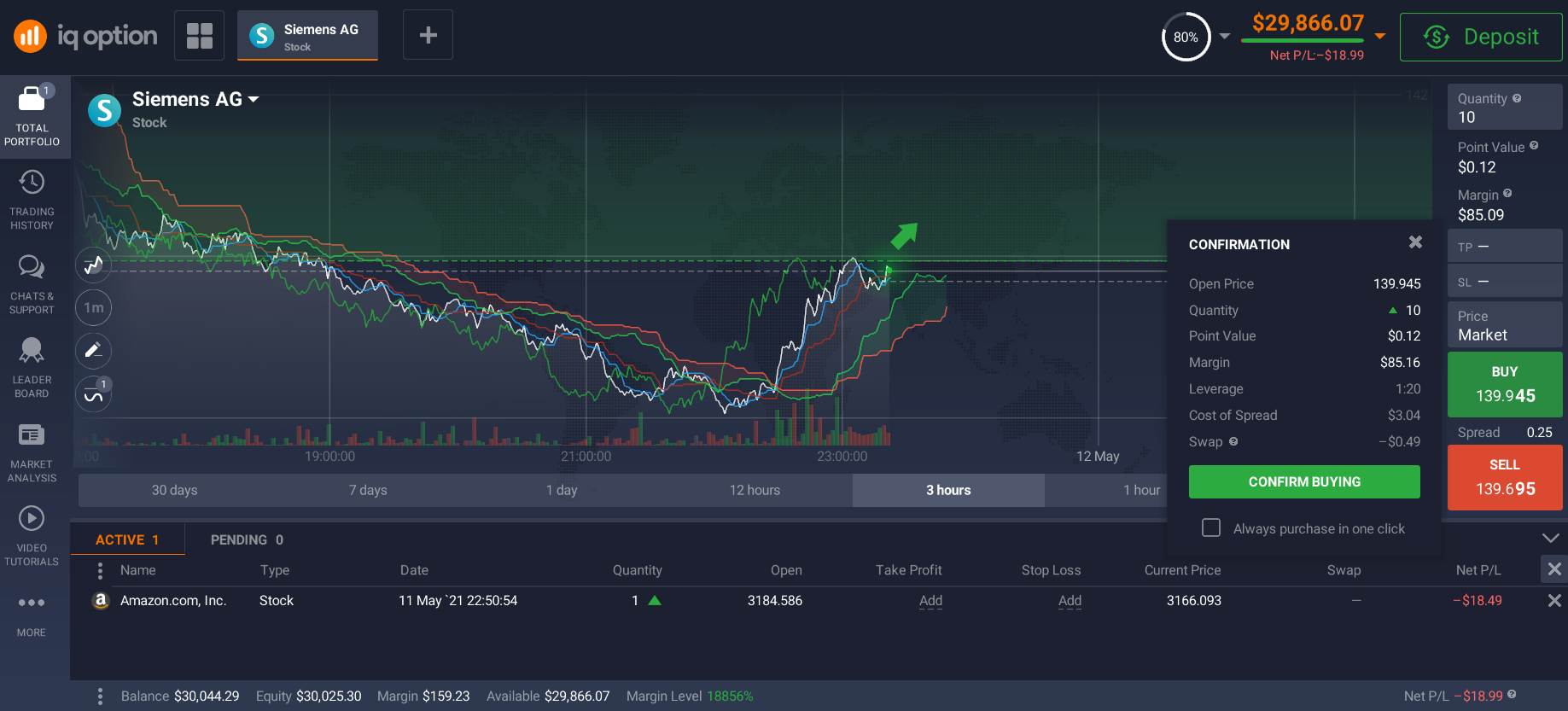 Intraday trading is the most responsive to all market changes. The emergence of any significant news, statistics or other information can be used immediately. This strategy allows you to save time and get profit as soon as possible.
Day trading is inherently risky, as is any form of trading or investing. There is always a chance that your position will be unsuccessful, in which case you may be forced to sell the asset at a loss.
You will constantly have to make decisions. During a business day, there may not be much time to think about how things are going. Since daily trading positions are often opened using leverage, there is also the possibility that sudden changes in the price of an asset could result in a significant loss in the value of your position.
Day trading should be used in assets that have high volatility or daily financial volume, otherwise there will be no liquidity to close the trade on the same day.
The idea is that the trader can benefit from the transaction. So if he bought cheap, he must sell expensive! These are market highs: buy low and sell high. Trading is a market order which aims for daily income, the goal is always to close orders for profit, but there are also days of loss.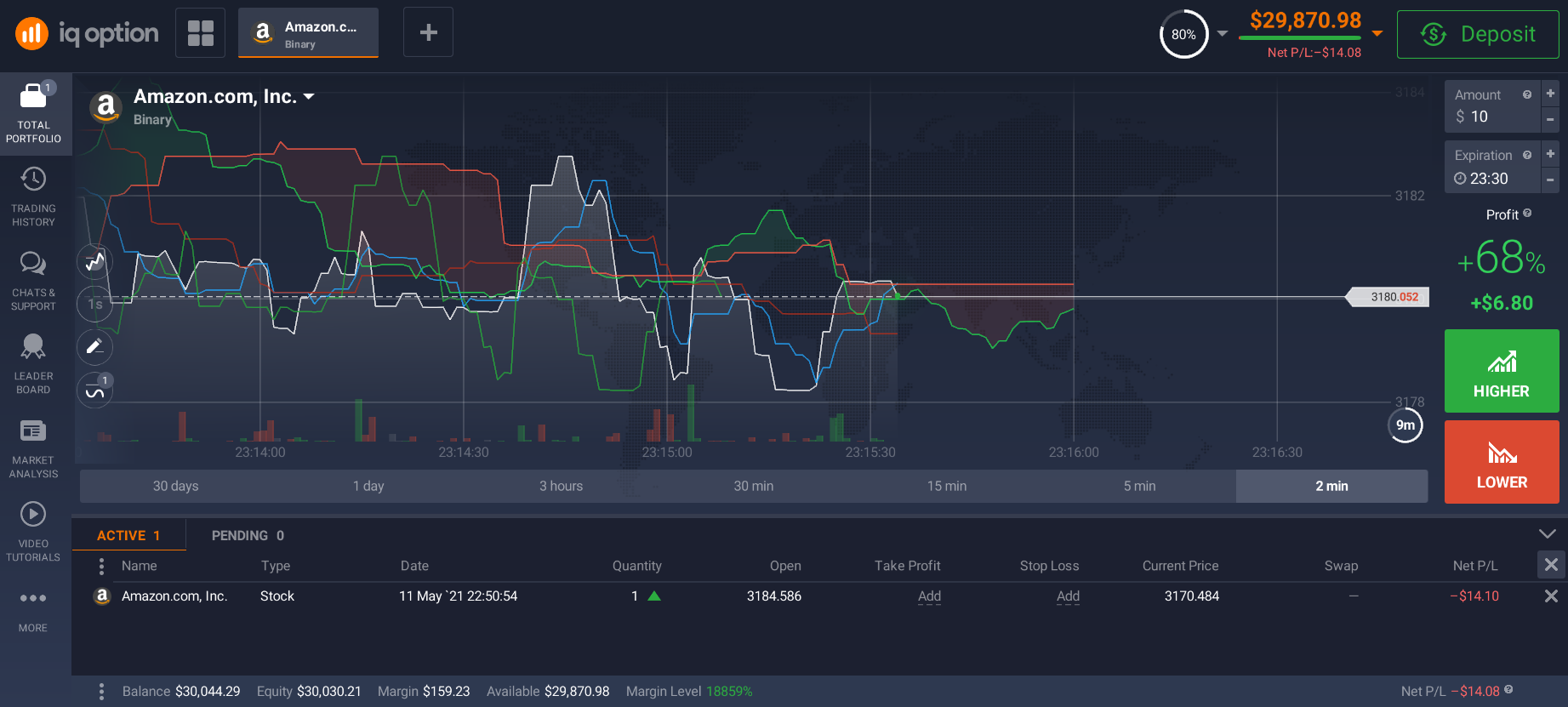 Day trading markets
The financial market consists of countless markets and financial products. Professional traders focus on several markets during the hours of day trading. It is advisable to settle on one financial market to start with. You will be able to concentrate better and your chances of winning will increase.
For day trading, traders choose markets with high volatility and significant trading volume. Popular markets for day trading include:
The stock market - attracts a wide range of large company stocks, as well as a large number of indices. The stock market is popular, so you can easily find a lot of information on the internet, various textbooks and courses. At the same time, the stock market is quite competitive, so it is not a good idea to choose it as a financial instrument without sufficient experience. Moreover, it requires rather big capital to start trading.
Forex currency market attracts traders with round-the-clock work and small deposit and also absence of commissions. A small amount of investment is enough to get you started. As in the case of the stock market, you will find all the necessary information about the Forex market on the Internet.
The CFD market is the trading of derivatives, also known as Contracts for Difference. Using CFDs gives you the opportunity to trade a wide range of assets without owning them. Your job is to predict whether the price will rise or fall and then buy or sell.
Options Market - offers you the chance to buy or sell an option without owning the underlying asset. You can trade options in different markets, such as index options, stock options, ETF options, forex options and commodity options.
Crypto-currency market. Day traders choose the cryptocurrency market as the fastest growing and most highly volatile online market. Like Forex, the cryptocurrency market is now available 24/7. This market is suitable for you if you like technological innovations and are not afraid of risk.
Commodity markets, where commodities such as oil, precious metals and industrial metals are traded.
Many markets are difficult and impossible for a beginner to master. Choose a few markets in which you want to focus more and try to understand and analyze as much information about them as possible. Constantly read analysis, news, stock analysis, follow good profiles on social channels, do your own technical analysis and listen to podcasts discussing the markets you trade in.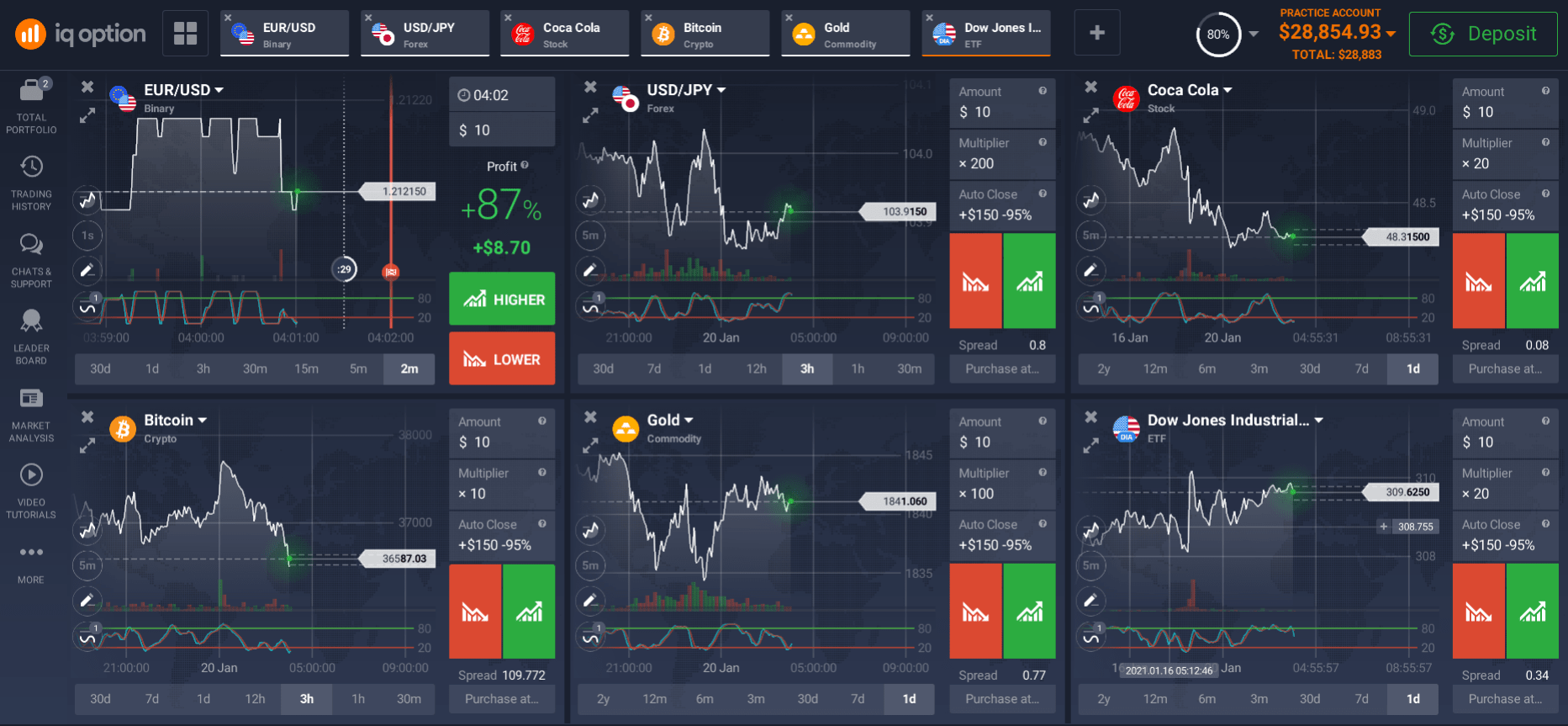 Best day trading platform in the Philippines
Day trading has its own peculiarities, so it's important to choose the right online platform for this type of trading.
The developers of the best, in our opinion, trading platform for day trading have taken into account all the subtleties of a day trader, so this platform has a number of important advantages over other platforms, namely:
easy and fast registration;
demo account;
easy and affordable deposit methods;
low transaction limits;
moderate service fees;
availability of a mobile version of the platform;
wide choice of financial markets;
convenient trading tools;
availability of leverage;
open chat of system users;
twenty-four-hour online support.
Let's look at each of the above points in more detail.
Ease of registration
Registering on the platform is very simple and does not take much time. First, you need to open the official website of the online trading platform you want to use. After that, you must click on the "Register" button.
A new page will open where you will need to enter your details, including your email address, phone number or password.
After entering your details in the next step, you will receive a confirmation email to your registered email address. Open the email and click the activation link to confirm your newly created account. After these simple steps your account can be used.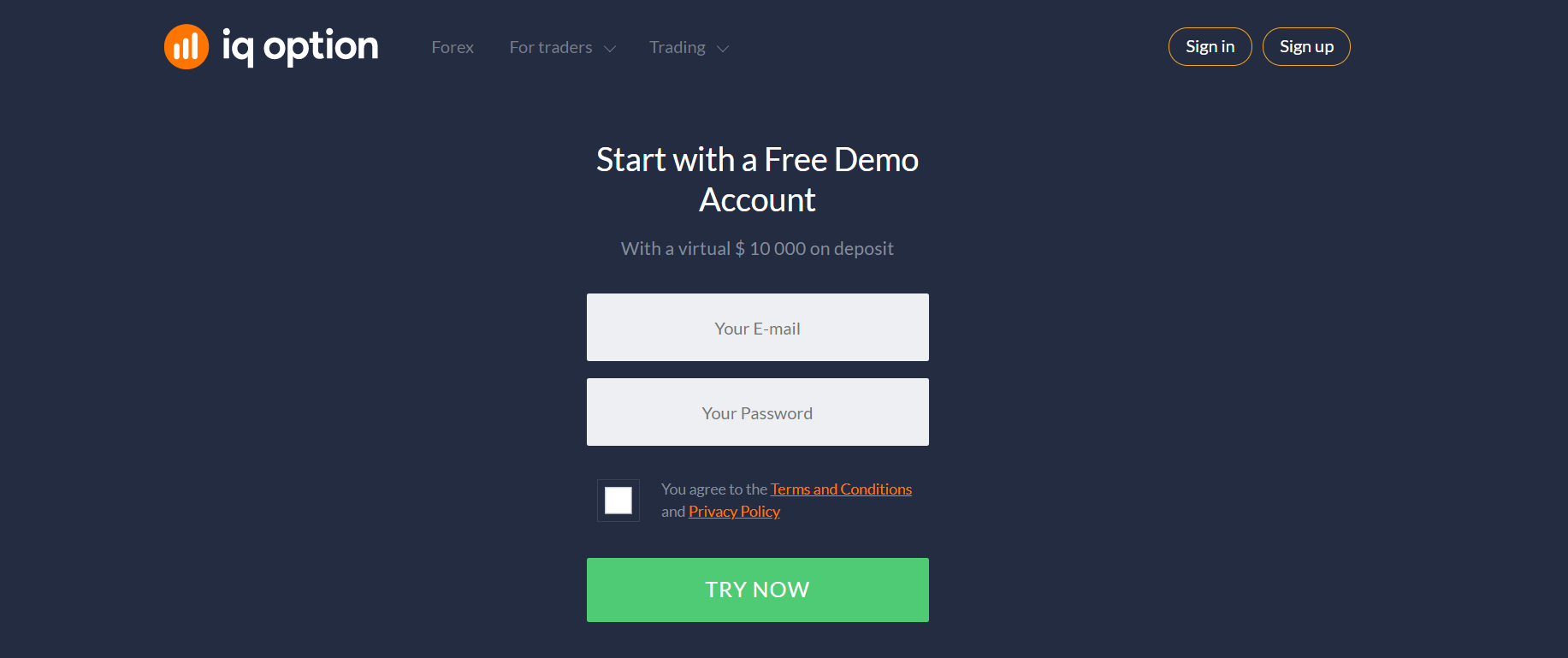 Demo account features
The first time you login to the platform you will be sent an invitation to open a demo account. Every quality online platform has these account options. A demo account is a training version of a real account, designed for learning (testing) operations. A demo account is useful when you are just starting out, when your experience is not enough for live trading. On the balance of the account you will see an amount of $10000. Of course, this amount is imaginary, so you can safely "take a risk" and try trading. Because the demo account is a replica of a real account, you will see if your calculations are correct and profitable, so you can invest real money this way. In fact, using a demo account is a real test of your strength, without the real risk of losing money.
Of course, profits made from a dummy amount on a demo account are also fictitious, and you cannot withdraw these funds.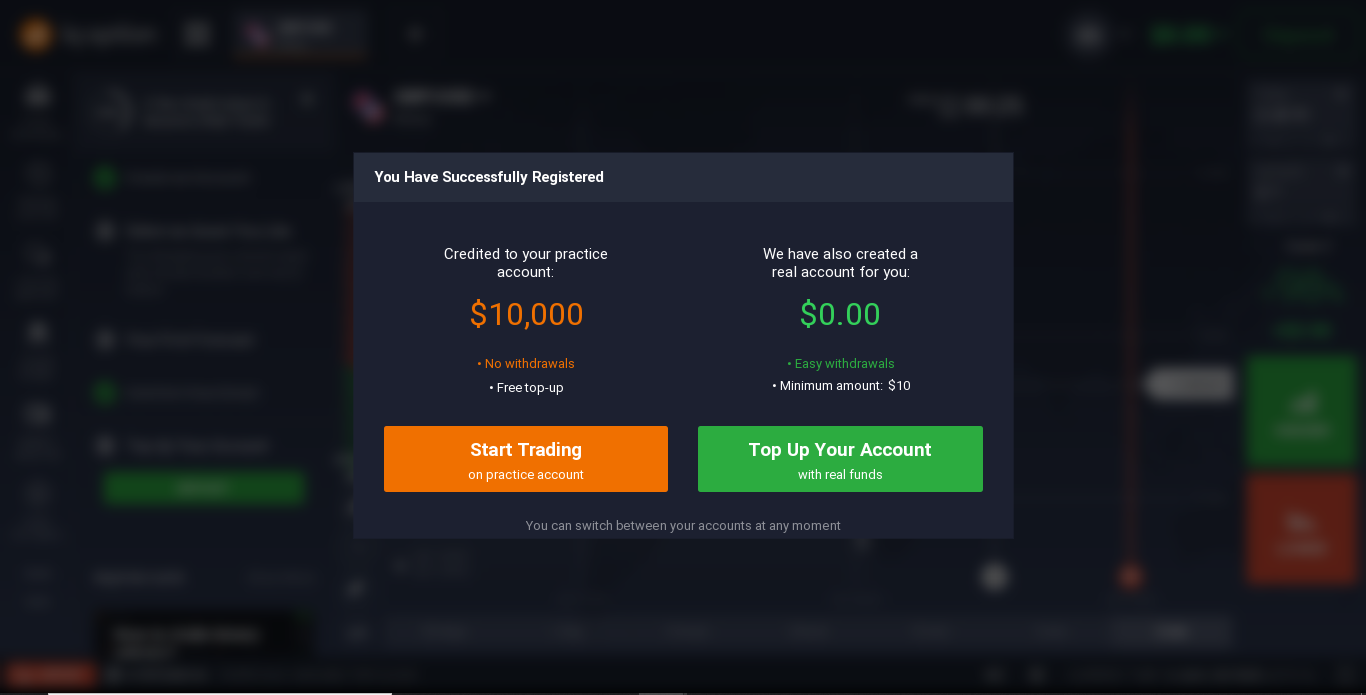 Convenient depositing of accounts
Live accounts are designed for trading with real money, not for testing. This is where real trading, real trades and real risks come into play. Therefore we strongly advise you not to start trading until you have had sufficient training.
The real account is automatically opened when you register on the platform and is activated by depositing. The minimum required deposit amount on a live account is usually $10, and the initial investment amount is even lower - from $1.
You can deposit your account in a few clicks, simply choose the "Deposit" option and a form will open showing you the funding options. The most popular way of funding your account among users is using bank payment cards. You can also make deposits using online payment systems.
In the same way, you can withdraw your money.
If you are just starting to trade, do not be in a hurry to invest too much money to make big money. Always remember that investing is a complex business which can take years to learn and that risky and careless procedures can lead to irreparable financial losses.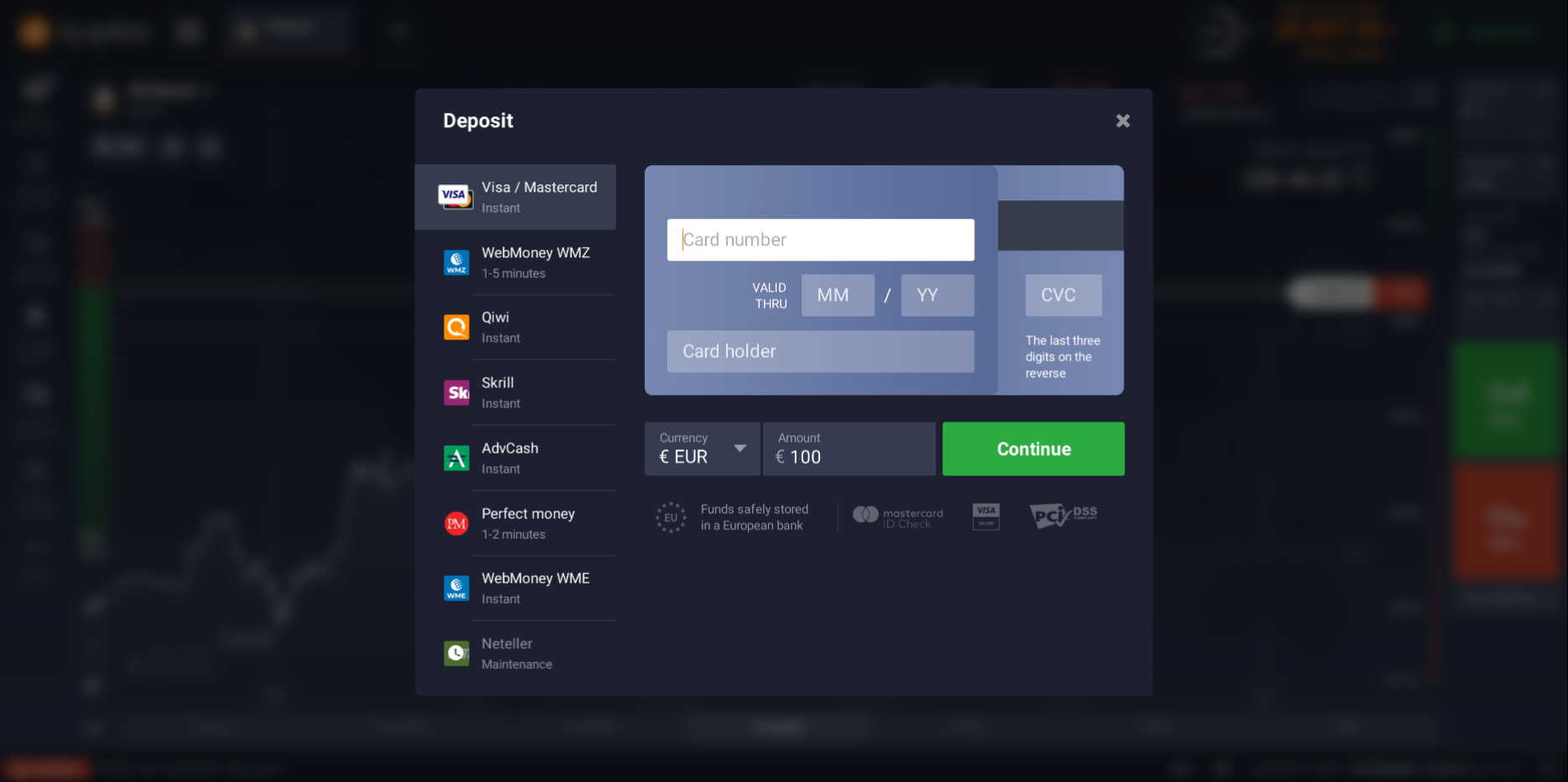 Wide choice of financial markets
The platform we have chosen offers a good selection of financial instruments. Among the assets you will find:
25 Forex currency pairs;
Stocks of 180 major companies;
4 commodity trading options (gold, silver and oil);
23 ETFs.
All of the aforementioned financial markets have the possibility to trade CFDs. The platform provides leverage up to:
Up to 1:1000 on the Forex market;
Up to 1:20 on the stock market;
Up to 1:100 on the commodities market;
Up to 1:20 on the ETF market.
Moreover, we are pleased with the minimum amount invested - only 1$!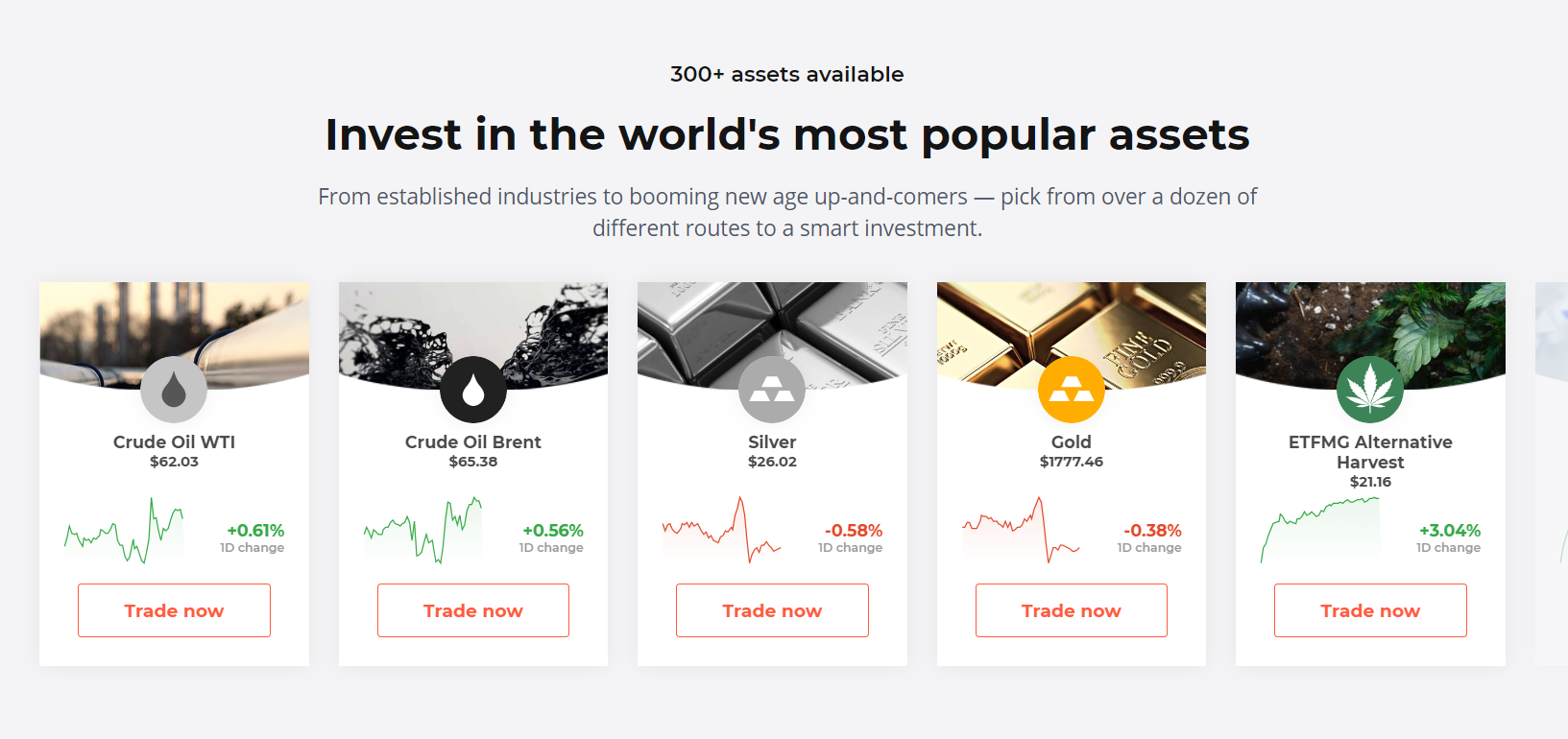 Instruments for Day Trading
Day trading differs from other types of online trading because of the short duration of operations. Because it's crucial not to miss a trade, tools such as stop orders (or stopwatches) can help you.
Stop orders allow you to set an operation limit, at which point a trade will be closed automatically. This helps to catch changes in the market, which sometimes last only a few seconds.
A stop loss is a predetermined level at which a trader is willing to sell his security. As the name implies, it is used to reduce losses. I set the stop-loss at a certain level because I calculate in advance that this is a good price to sell the security. It is an effective way to reduce losses. There is no guarantee that the broker will be able to sell or buy at that exact price, but it is usually better than nothing. Take Profit is a type of pending order with a broker to liquidate a trade when the price reaches a certain level (profit). When the price reaches the Take Profit level, the trade is automatically closed and the profit is locked in.
Take Profit and Stop Loss help secure the trader's market position in any situation. Regardless of volatility or connection to the broker's server, your position will close at the level you set.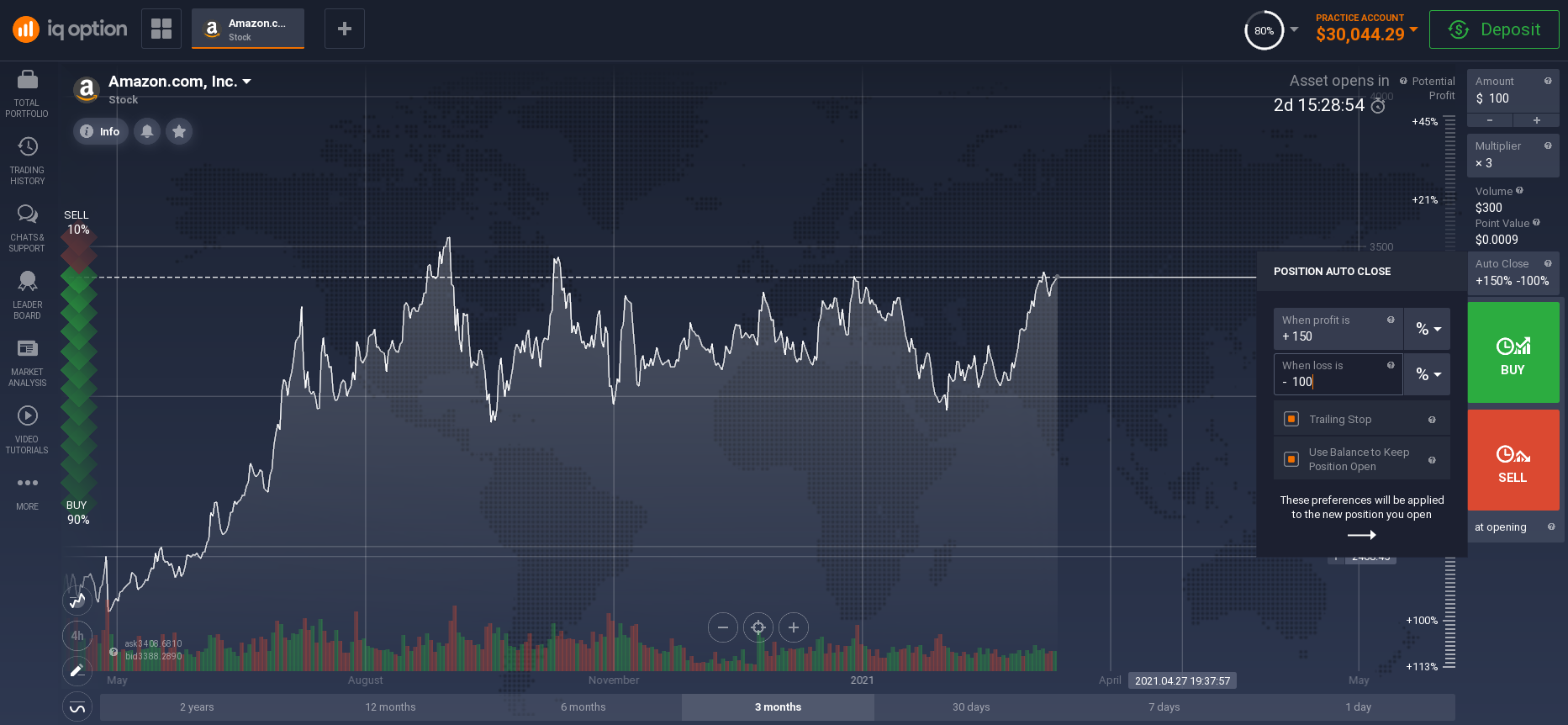 Why choose this trading platform?
In addition to all of the benefits mentioned above, we believe that this is also the best platform because of the 24 hour technical support, which is available in 17 different languages. The platform also features an online chat room for exchanging information with other market participants. There's also an entire training section with video tutorials on trading. Technical analysis indicators are available to help you analyse the market's trends, and the built in multiplier option will enable the leverage action by selecting the appropriate multiplier.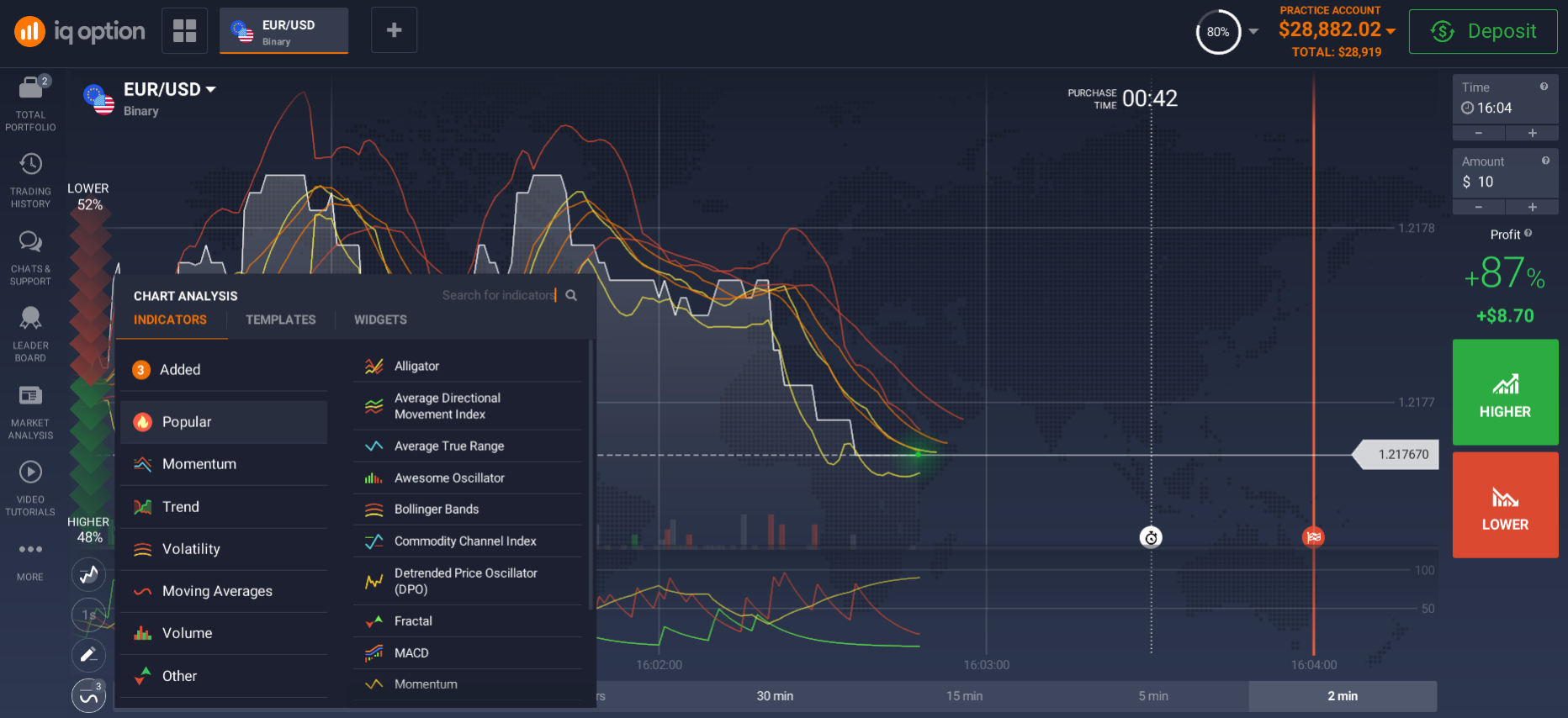 Furthermore, the platform is easily customizable to suit the individual trader's needs by easily changing the platform's colour scheme, chart type, the number of windows you see on screen, types of alerts and so on.
With all these advantages in mind we believe this is the best platform for day trading in the Philippines - open a demo account today and experience it for yourself!
SIMPLE AND RELIABLE
MONEY WITHDRAWAL