Here're the top picks of crypto exchanges that are perfect for beginners to start making money with crypto quickly and easily! After reading this article, you will not only find the best platform for yourself but also learn HOW to start with minimum efforts and no hurdles! Are you still waiting for the best time to enter the crypto market? This moment has come, so get ready!
Where to Earn Easily and Fast?
Haven't you entered the crypto space yet? Stop putting it off and waiting for the best time! We understand how difficult it can be sometimes to make up your mind to begin, but everything is in your hands! Come on board, you're in the right place. We'll show you the 5 best crypto exchanges including OKex, Coin Galaxy, Changelly, Coinmama, and BitMart! Stay tuned and keep on reading! Let's go!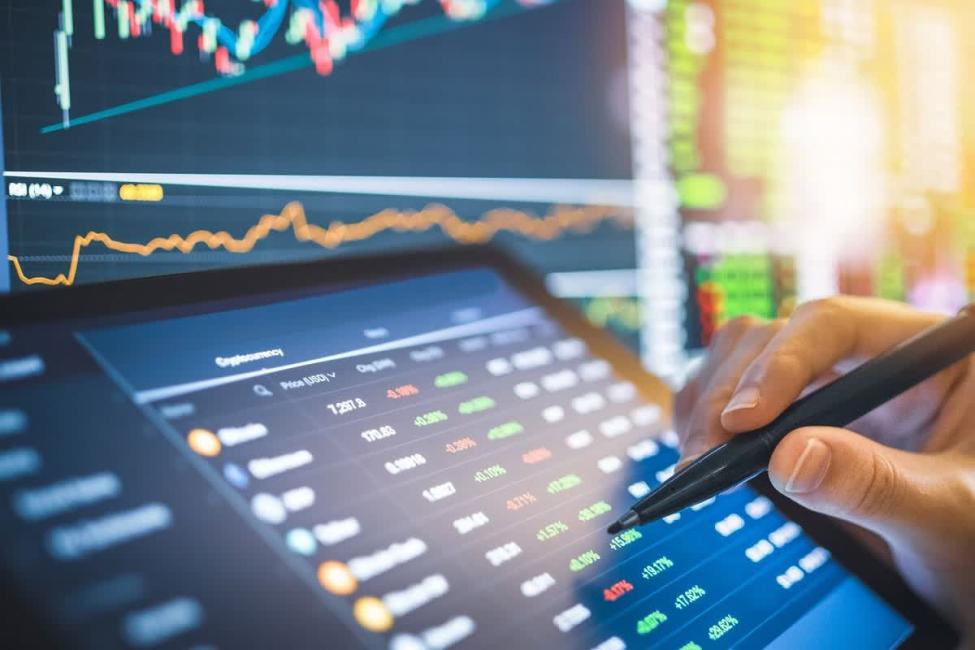 Number 1. OKEx
OKEx is an advanced crypto exchange where you can easily buy, sell, and trade your assets. It supports spot, margin, and advanced trading options such as futures, options, etc. You'll get a flurry of opportunities here!
How to get started on OKEx?
It's maximum easy to start! What you need to do is just:
Sign up.


Secure your account.


Verify KYC.


Set preferences.


Deposit or buy.


Start earning on OKEx!
Why OKEx?
A wide range of fiat currencies to open an account.
Educational resources.
A broad suite of offerings.
High-interest products.
Low fees.
Multiple trading pairs.
Easy-to-use Buy/Sell dashboard.
Quick and effective tech support with online chat.
Availability.
OKEx offers advanced financial services as well as excellent primers for anyone new to crypto. It boasts a huge list of services including flexible borrowing and ways to earn interest on staked tokens. OKEx provides simple and complex trading tools, proof-of-work crypto mining, and DeFi liquidity mining. The basic version is a good point to start for beginners, whereas experienced traders can enjoy the advanced version with a more comprehensive dashboard.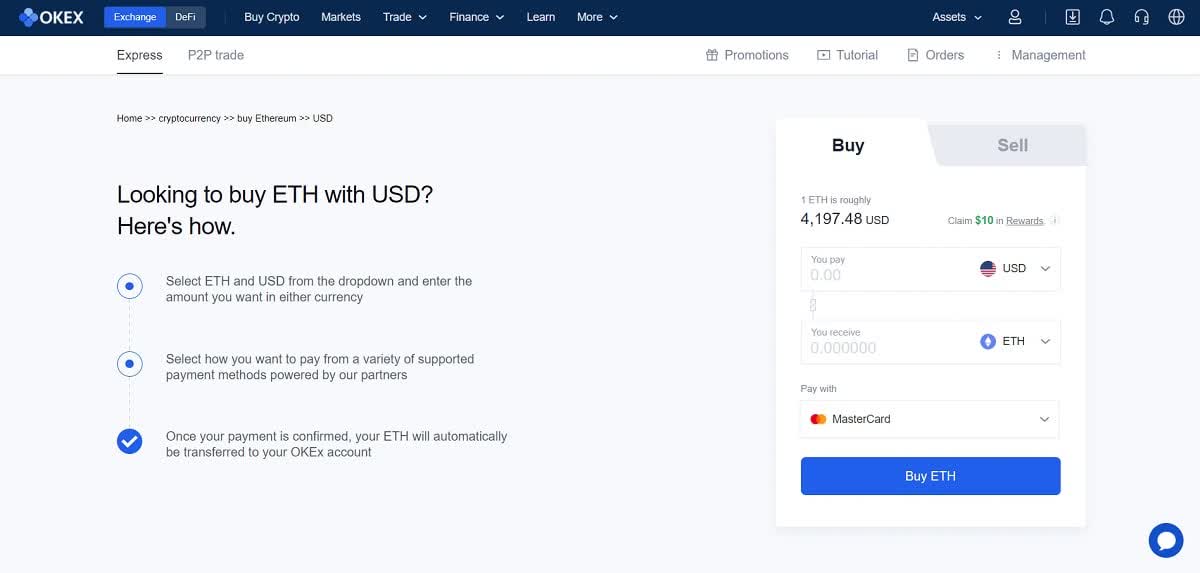 Number 2. Coin Galaxy
One more option for beginners to enter the crypto market and start earning is Coin Galaxy. This is a centralized crypto exchange for any level users with simple functionality and intuitive interface, and profitable transactions! Moreover, it has a high level of security and data protection. Here users of any level can make profitable transactions. The average commission rate on cryptocurrency exchanges is about 0.1%, which makes this exchange very attractive and profitable for its owners as well.
How to get started on Coin Galaxy?
To create an account, fill in the registration form.


Enter your email and password.


Enter the referral link if you were invited.


Verify registration via your email, and profitable earning to you on Coin Galaxy!
Why Coin Galaxy?
Availability.
Low fees.
Simple and intuitive.
Guides on how to trade crypto from zero.
High-security level.
Coin Galaxy has an objective to introduce cryptocurrency into the daily life of every person, regardless of their place of residence and social status. The best is that you can even become a co-owner and get your share of benefits from the exchange's income! To do that, buy CGC tokens and receive dividends from Coin Galaxy! You can then use these tokens to pay commission for trading transactions by exchange users. That's a great chance, don't miss out on it!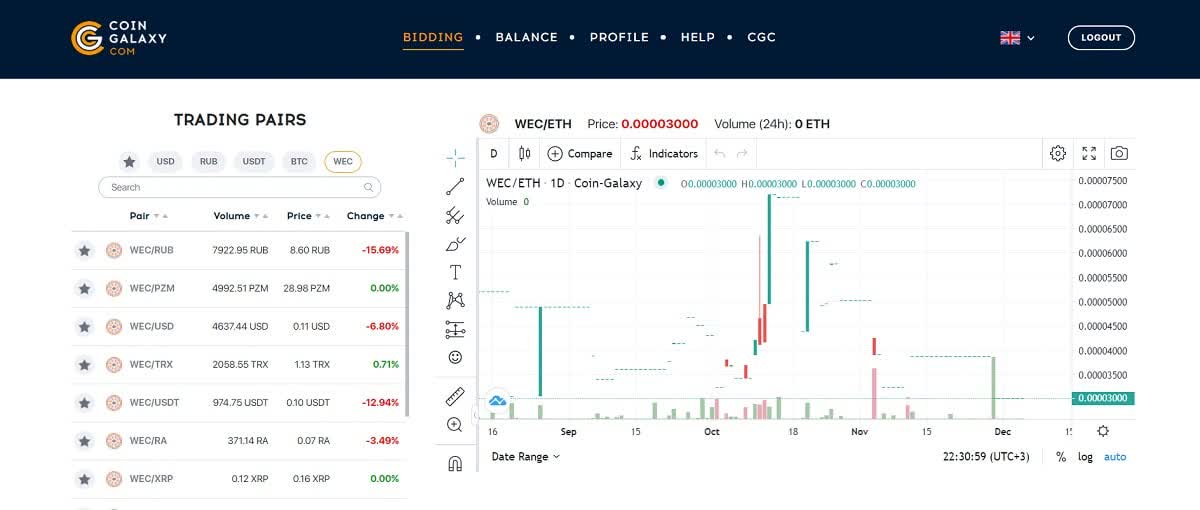 Number 3. Changelly
Changelly is a non-custodial cryptocurrency exchange offering almost 200 different cryptocurrencies. It features an easy-to-use service and lets you trade cryptocurrencies at low fees. Changelly has the lowest fee of 0.25% and a smart algorithm selecting the best rate on the market. A very popular website, the best choice for beginners! Here, you will be able to buy and exchange BTC, ETH, and 200+ altcoins just on the go!
How to get started on Changelly?
Easy as pie! Follow simple steps:
Set up an account using Google+, Facebook or Twitter accounts, or email. The email can't be changed so enter a valid email address!


Set up a strong password.


Fill in the form verifying your identity.


Via your email, active Changelly PRO.


Start using Changelly!


Sign in to your account regularly, don't leave it inactive for a long period of time or it might be disabled!
Why Changelly?
Wide range of cryptocurrencies.
Low crypto-to-crypto exchange fees.
Integrates with various wallets.
Anonymous.
Easy to use.
More than 200+ assets are available.
Advanced security and high transaction speed.
Changelly represents a whole ecosystem of products and services so you can use it as a one-stop place for buying, selling, trading, and swapping crypto. Operating since 2015, it has more than 200 crypto assets listed! With an intuitive platform for fast crypto exchange and a huge social network community of crypto newbies and experienced traders and investors, it is trusted by 3 million users! So this exchange is truly market-proven and reliable! Try Changelly, you will not regret it!

Number 4. Coinmama
Coinmama is a user-friendly, easy-to-use crypto exchange where you can buy crypto or invest in Bitcoin. It's truly a perfect match for beginners. Notably, Coinmama was the first crypto exchange that let purchases with a credit card. If you wish to use USD, GBP, EUR, or another fiat to buy crypto in the easiest way, it's totally right up your street! Let's see the features of this legendary platform.
First authorized to purchase with a credit card.
As you know, Coinmama made it possible to legitimately buy crypto via a credit/debit card or Apple Pay. So, you can make a purchase with Visa, Mastercard, Apple Pay, SEPA, SWIFT, or wire transfer.
To buy or sell digital assets you need to pass ID verification, and on Coinmama this process goes with no hurdles and within a short period of time! Why? You just need to take a photo of your government-issued ID, attach to this a piece of paper where it's written "Coinmama" and the date. It will be Level 1 verification, and this process may take from 10 minutes to a couple of hours.
To trade on Coinmama, you don't need to have experience or deep knowledge in the sphere of cryptocurrency. Transactions are processed in one or two days, so they are as simple as purchasing in a shop!
Coinmama doesn't have a crypto wallet, so you can opt for opening it via a third party. That will be a universal option because you may use this wallet for other platforms as well! Anyway, when you earn on crypto - you'd better have that kind of independent wallet where you will store your assets. Well, Coinmama will be the reason to set it up!
Non-custodial crypto broker.
Coinmama doesn't hold your crypto assets; once you make a purchase, you send the funds directly to a person's wallet.
How to get started on Coinmama?
Create your account on Coinmama and confirm it via email.


Add your personal details completing the requested form.


Upload your docs; you can use your Driving License, Passport, National ID, or Residence Permit of residence.


Take a selfie with your ID and paper note.


Once you've done all these steps, Coinmama's manager will check it out and you'll get Level 1 verification! Congrats!
Why Coinmama?
High spending limits.
Non-custodial broker.
Option to buy with a credit card.
Quick verification.
User-friendly and simple to use!
Coinmama is a brokerage rather than an exchange, so you don't hold any crypto there. It's safe, market-proven, and has high spending limits! If you've just entered the crypto market, this is definitely your choice. You will easily buy and sell and make a profit! Don't hesitate - try it!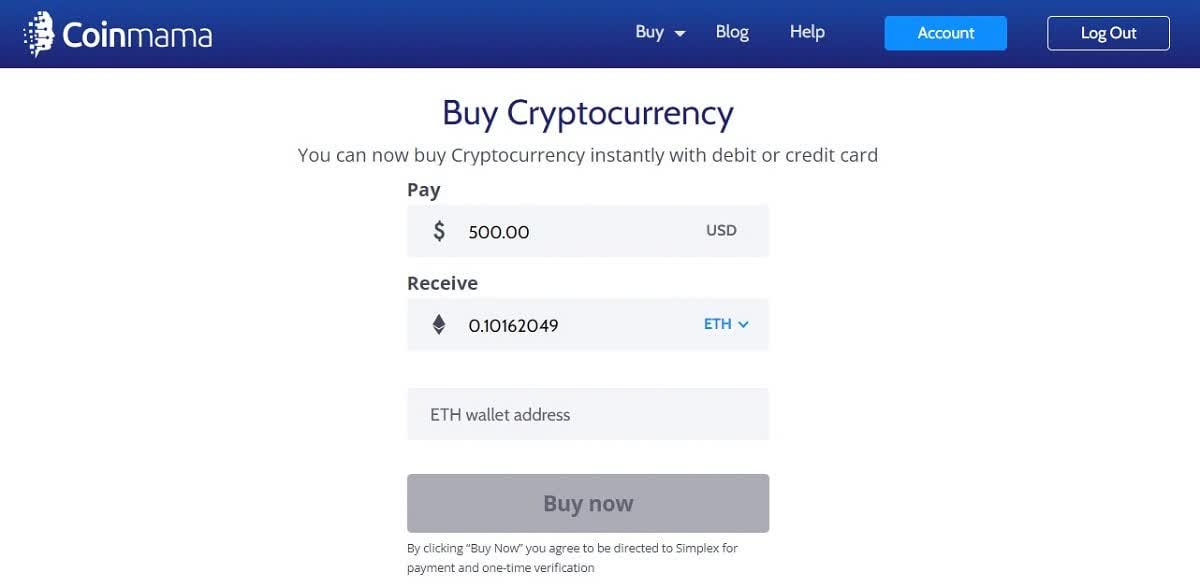 Number 5. BitMart
Among the most trusted cryptocurrency exchanges on the globe is BitMart! It serves 9 million users providing fast and convenient services for beginners as well as for die-hard traders. Launched in 2017, BitMart has adopted a multi-layer system architecture to improve security, scalability, and stability. Presently, it offers fiat-to-crypto and crypto-to-crypto trading, lending, and staking - that's a lot to try, right?
How to get started on BitMart?
Sign up and start enjoying BitMart services! It's maximum simple:
Set up your account with your email address or your phone number.


In case, if you're invited, enter the code.


Pass a verification via email.


Re-enter your password or code, and you've done it! You can start trading on BitMart!
Why BitMart?
Regulated by the Financial Crimes Network (FinCEN).
Has US MSB license.
Well-designed, user-friendly interface.
Secure, stable, scalable due to multi-layer architecture.
Good to find small-cap coins with high potential.
Competitive fees and a wide variety of coins.
Supports fiat purchases.
BMX Token Benefits.
BitMart is a great place not only to start with but to grow further! It has numerous services for each taste and demand. With competitive fees, great customer support, and constant optimization, BitMart has recommended itself in the top crypto exchanges where you can make a profit for the long term as well as in a short period of time! Lending, staking, spot, futures, and OTC trading options can't but make this place a one-stop platform to earn on the crypto market!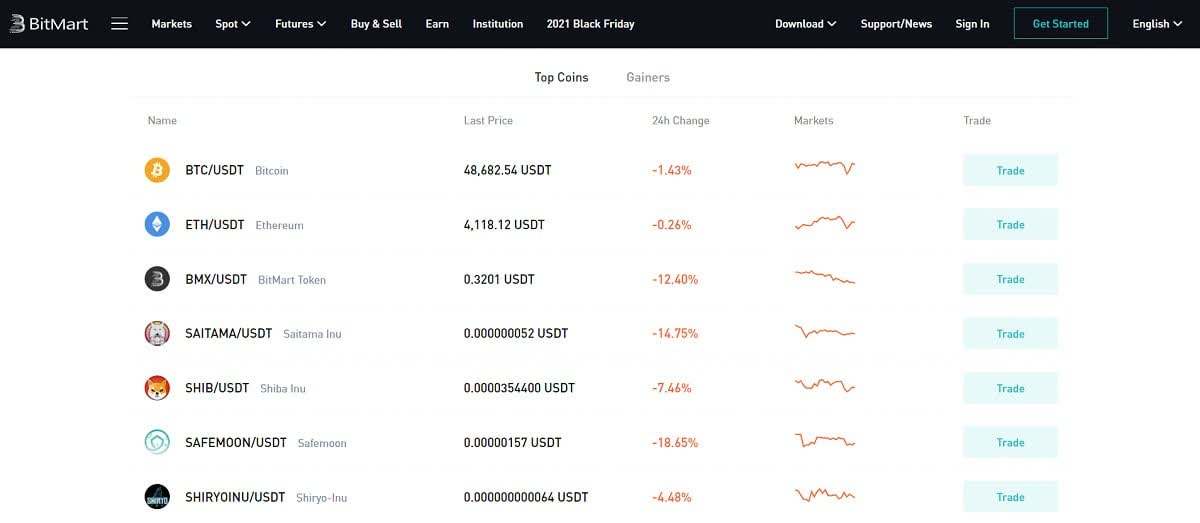 Conclusion
To generate additional income, cryptocurrency exchanges are the best choice nowadays! Here, you don't need to have a license, certificate, or higher special education to start earning! Just small initial investments and you're in!
The crypto market is booming with various crypto exchanges. Your goal is to choose the most convenient one for you! We hope, this article helped you determine what can best fit your demands. Don't hesitate, try one of the above-mentioned crypto exchanges and start earning! We wish you successful earning with crypto and high profits!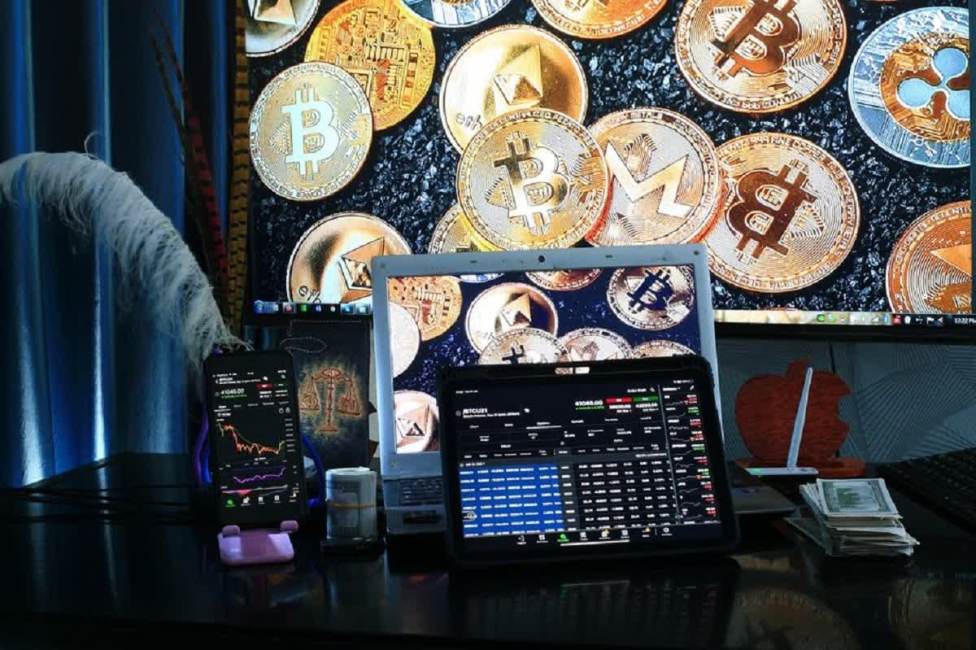 If you want to know about the best offers from top platforms and crypto exchanges, please join our community!
We explore the opportunities of investing in cryptocurrencies and want to share them within our community.
SIMPLE AND RELIABLE
MONEY WITHDRAWAL