With the development of computer technology and communication networks, the world has entered the era of "digital money".
Today, cryptocurrency is becoming as much a medium of exchange as cash and non-cash payments. And its role in a modernized, developed society will only increase.
Today, cryptocurrency has become the most lucrative object for investing money. If you evaluate all the factors correctly and have a certain amount of luck, the returns on such investments can be very high. In a way that you would never get using traditional investment methods.
If you are planning to invest in cryptocurrency in the Philippines, consider one of the world's most famous coins that has a very large audience of interested users-Litecoin (LTC).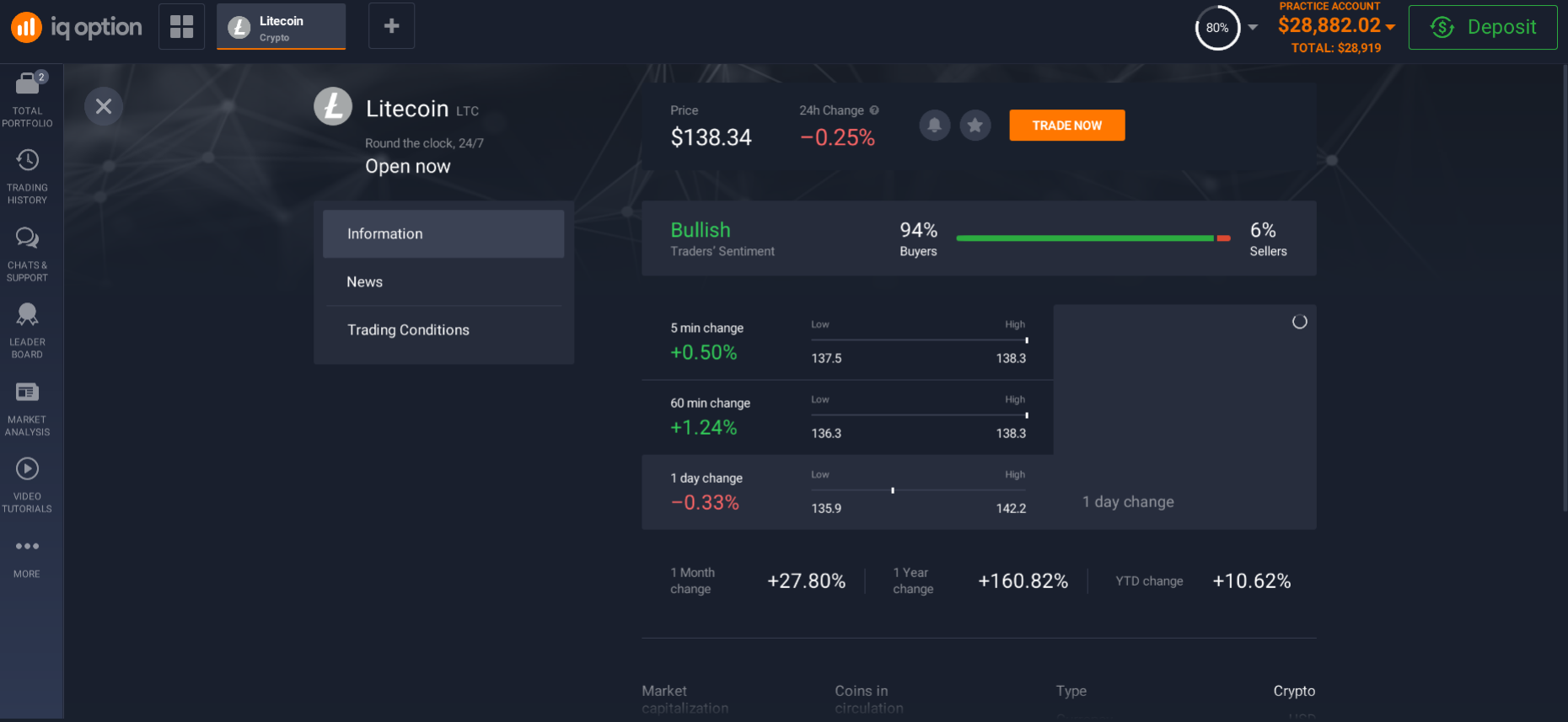 What is Litecoin (LTC)?
Litecoin is a cryptocurrency designed to work as a faster and cheaper alternative to Bitcoin using similar blockchain technology.
The coin was released in 2011. The idea for LTC belongs to Charlie Lee, who is currently a popular personality in the cryptocurrency world.
The developers of Litecoin (LTC) did not want to create a completely new coin with an original code and operating principle. Their goal was to improve Bitcoin. The result is a coin with much more potential for commercial use.
Whereas Bitcoin is called digital gold, Litecoin is called digital silver. For many years, Litecoin steadily stays in the top 10 cryptocurrencies by market capitalization.
As a means of payment, LTC cryptocurrency is more attractive than its counterpart, as the speed and reliability of money transfer has always been a concern for the common user.
Advantages of LTC over Bitcoin:
It is differentiated by fast transaction confirmation times
Mining is cheaper and more accessible than Bitcoin
Blocks are formed four times faster
High network throughput
The issuance rate is an impressive 84,000,000
Litecoin (LTC) has proven its worth by participating in the establishment of the digital money world. This coin can be called the oldest in the industry - LTC has strong support and an official website where the development team is actively communicating with the cryptocurrency community.
This cryptocurrency has been covering all sorts of crypto exchanges for a very long time, and many traders have been able to make good money with it. Today, Litecoin is relatively stable and is successfully used by investors.
How to buy Litecoin in the Philippines?
If you have a desire to invest in Litecoin in the Philippines, you can easily do so on one of the many online trading platforms. Not only is it convenient and fast, but it's also profitable.
You should know that some platforms work through a web browser and do not require installation on your computer. But most trading platforms need to be installed on the device (PC) from which you will trade.
These platforms have a user-friendly interface, acceptable commissions and high security. They are designed to make life easier for traders and investors, reduce risks and increase profits.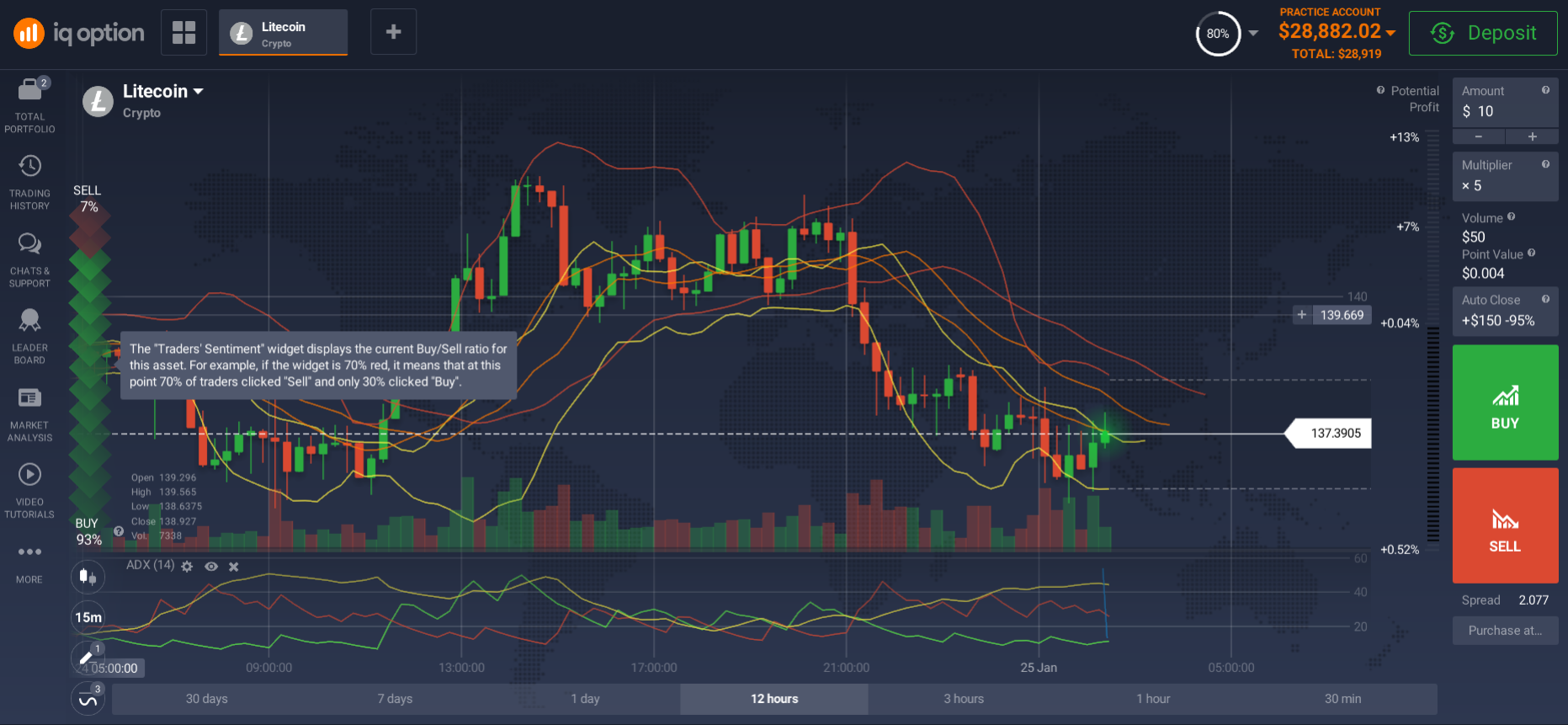 The online platform supports many cryptocurrencies and provides a wide range of professional tools for trading and analytics.
With powerful trading tools integrated into the terminal, participants can better understand the market, make informed decisions, save a lot of time and make more money.
The platform's functionality includes simple and complex order execution, equity storage, deposits and withdrawals, as well as a range of platform-specific options such as stacking, margin trading and more. The terminal has a wide range of options for balance replenishment, responsive and friendly user support, working around the clock.
Modern terminals contain the following elements:
Chart. Shows the movement of the cryptocurrency value online.
Order stack. Collects all currently open orders to buy/sell virtual coins. Based on the information in the stack, you can make a decision on further moves.
Market depth. Shows the ratio of buy and sell orders. It is used as an additional tool to assess the situation.
Trading history. Displays the last conducted operations. Open orders. Helps to see the list of all active trades.
Order creation area. Here the type of the order, the approximate number to buy/sell cryptocurrency, and, if necessary, the price is prescribed.

On the interactive platform, you will have the opportunity to connect your account to the monitoring service.
In just a few steps you will get a fully automatic tool for statistical analysis: drawdowns, profitability, maximum loss and profit trades, etc.
You can buy LTC in the Philippines through a mobile app and use it to manage your cryptocurrency portfolio.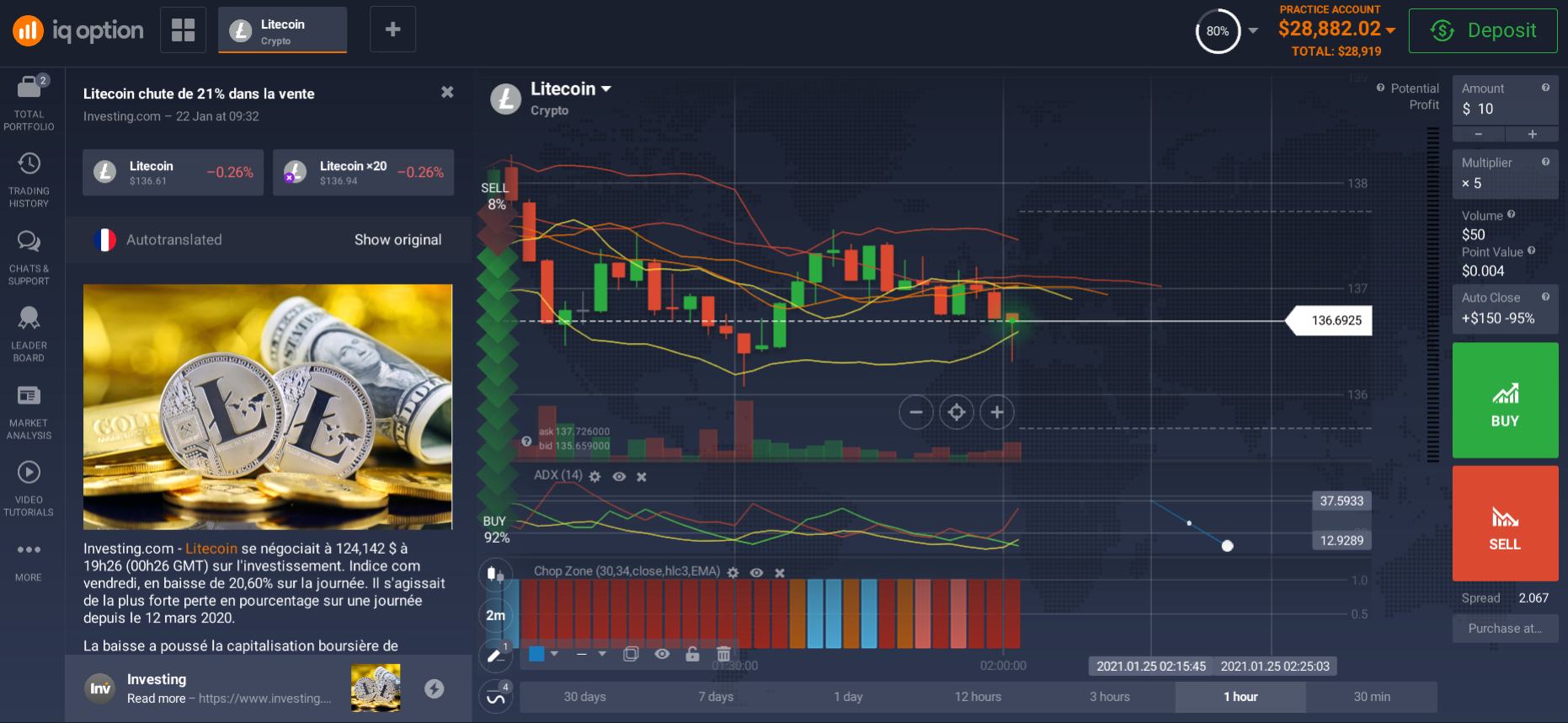 The advantage of using it is that you get to manage your assets, make trades, and draw conclusions without being tied to a computer. Such applications are very convenient precisely because of their mobility, when you can perform certain operations on an online cryptocurrency exchange at any place and at any time, constantly monitor the quotes, and dispose of your funds at the moment you need them. All you need to do is download the app, install it and keep it updated as they come out.
Another way to buy Litecoin is to open a wallet for the cryptocurrency.
These wallets are relatively easy to set up and provide quick access to balances, making them convenient for traders. You can also set up the same cryptocurrency wallet on your computer and smartphone. More often than not, e-wallets allow you to buy only the most popular cryptocurrencies. But there are also those that are diverse.
How to invest in Litecoin in the Philippines?
The factor that makes Litecoin an attractive investment is its deflationary component. The volume of coins is limited, which means their price will inevitably rise.
You can invest in Litecoin in different ways. We'll tell you about the most popular ones in a moment. All of these options work fine. Some of them require a large start-up capital, while other options can be used with a minimal amount of cash.
HODL strategy
HODL is a long-term investment strategy, very close to the classic Buy & Hold. HODL investors do not sell cryptocurrencies because they believe that their value will rise significantly in the future. The HODL investor holds the asset even if he suffers a loss. He believes that the global trend of exchange rates is always upward. Accordingly, the later he sells the currency, the more profit he will make.
HODL gives you the opportunity to increase your investment many times over without distracting you from your normal life and activities.
Profit is not the only motive for hodlers. Many cryptocurrency holders believe in their soon- to- be ubiquitous use and seek independence from the traditional financial system.
The advantage of this strategy is that the investor does not need to have special knowledge or constantly follow quotes, news and forecasts. He just needs to buy LTC (preferably at a low price) and hold it. If the forecast is successful, the profit can reach hundreds or even thousands of percent.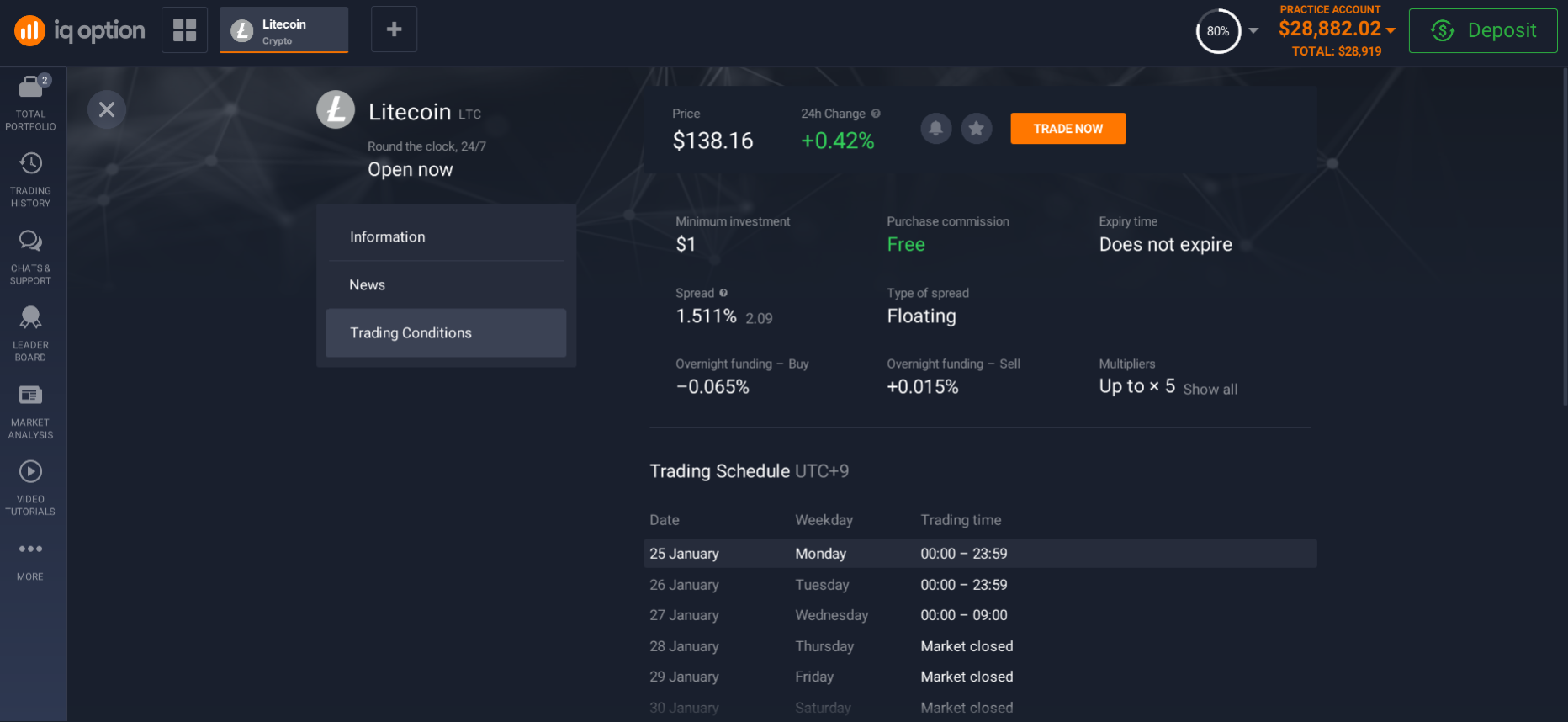 Staking
Stacking is the process by which an investor transfers his tokens to a blockchain service in exchange for rewards in the form of new tokens.
Stacking rewards are a by-product of the consensus algorithm used in certain cryptocurrencies, called proof-of-stake (PoS).
There are some nuances to consider when investing in stacking coins. The more coins you put in, the more profit you will make. Similarly, the longer you stack, the more profit you make. Generally, all you need to do is load the wallet onto a secure device and run, even if you only have one token.
How does the process work ?
You need to buy coins from an online exchange or other means.
Then lock them into the wallet.
As long as the assets are in the wallet, the participant will reward.
At any time, the participant can stop the blocking process and spend their funds.
The entry threshold for this way of earning is quite low. You do not need to invest in expensive equipment and pay high energy bills. A small investment in buying tokens is enough to get you started.
Mining
Mining is the process of creating a new block in a blockchain system. It is necessary for the cryptocurrency architecture to continue to exist.
In the process of mining a cryptocurrency, a miner directs the processing power of their equipment to find the correct hash function for the next block, after which they receive a monetary reward that is distributed in a set amount.
Notably, each crypto-system has its own algorithm that sets the tone for all subsequent issuance. The Litecoin algorithm, for example, is called Scrypt.
Mining is not much different from working with other cryptocurrencies. You can do it yourself, but many miners already use pools.
A pool is a server that combines the processing power of several participants' equipment to efficiently mine coins.
In order to start mining Litecoin, you must have a wallet to store your coins: this is where the mined material will come to you. You can't get started without a wallet.
Trading
Many investors and traders are interested in cryptocurrencies because of their high volatility. Large swings in the exchange rate of digital money offer great opportunities for speculation. The greater the volatility, the higher the potential profits, as well as the potential losses. The secret of income generation is in the trader's ability to predict the future behaviour of the digital money rate. The main tools of the trader are technical and fundamental analysis. The essence of each of them is different. But in order to succeed in trading, you can combine both of them.
Lately, trading contracts for difference (CFD) is becoming more and more popular. The essence of these financial instruments is that the trader does not own the asset, but only speculates on its rise or fall. At any time, the trader can close the position and return the contract to the broker. If his forecast is correct, the trader will receive the corresponding reward. In the case of an error, the same amount will be deducted from his account.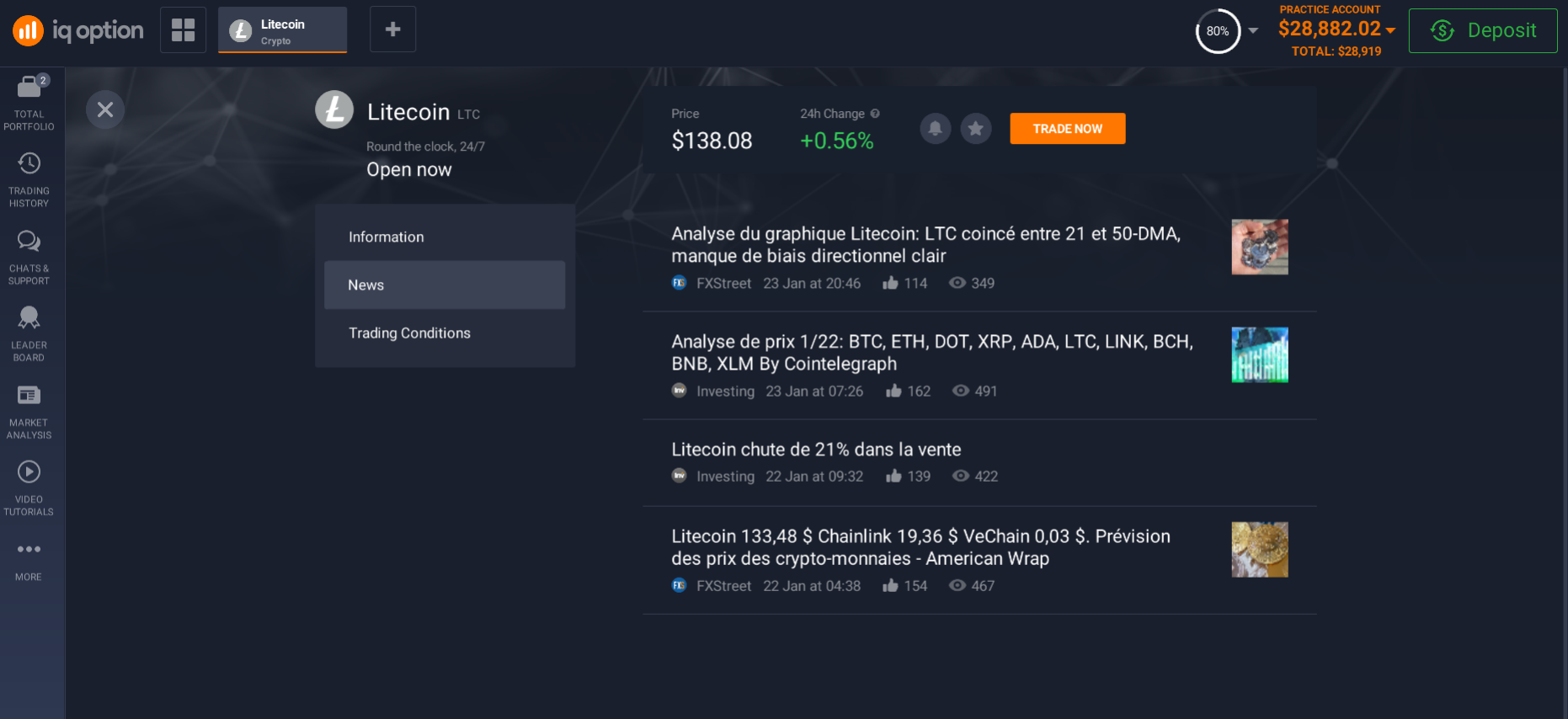 The value of a CFD is always directly related to the rate of the underlying asset. So, if you trade a CFD on Litecoin and the rate of Litecoin increases by 5%, the value of the CFD increases proportionally.
In order to trade a CFD on cryptocurrencies, a minimum amount of money is required - much less if you are trading the cryptocurrencies directly.
The main reason that CFDs are so popular is that such a contract offers attractive leverage. Thanks to the leverage, a trader is able to enter into trades which are much larger than the sums of money invested in them. There are inherent risks, so be sure to study the option thoroughly before using it.
How to start to invest in Litecoin in the Philippines?
Once you've made the decision to invest in Litecoin, the next question will probably be how and where to start?
Here are some basic tips to help you out.
Choose a reliable and trusted trading platform. Its job is to take your trading to a more efficient level and make it as convenient and safe for you as possible.
Start trading with free funds that you are not afraid to lose. It is also safe for beginners to practice on small trades.

Follow a strategy. The mistake beginners make is that they change their trading approaches every time and end up losing money as a result. It is important to follow a certain system and adjust it based on experience and mistakes.

Remember about diversification. Try not to invest your money in one direction. This avoids losing all of your money.

Focus on fundamental analysis, without forgetting technical analysis. When analysing the market situation, apply different tools in order to draw the right conclusion about the change of direction of the coin.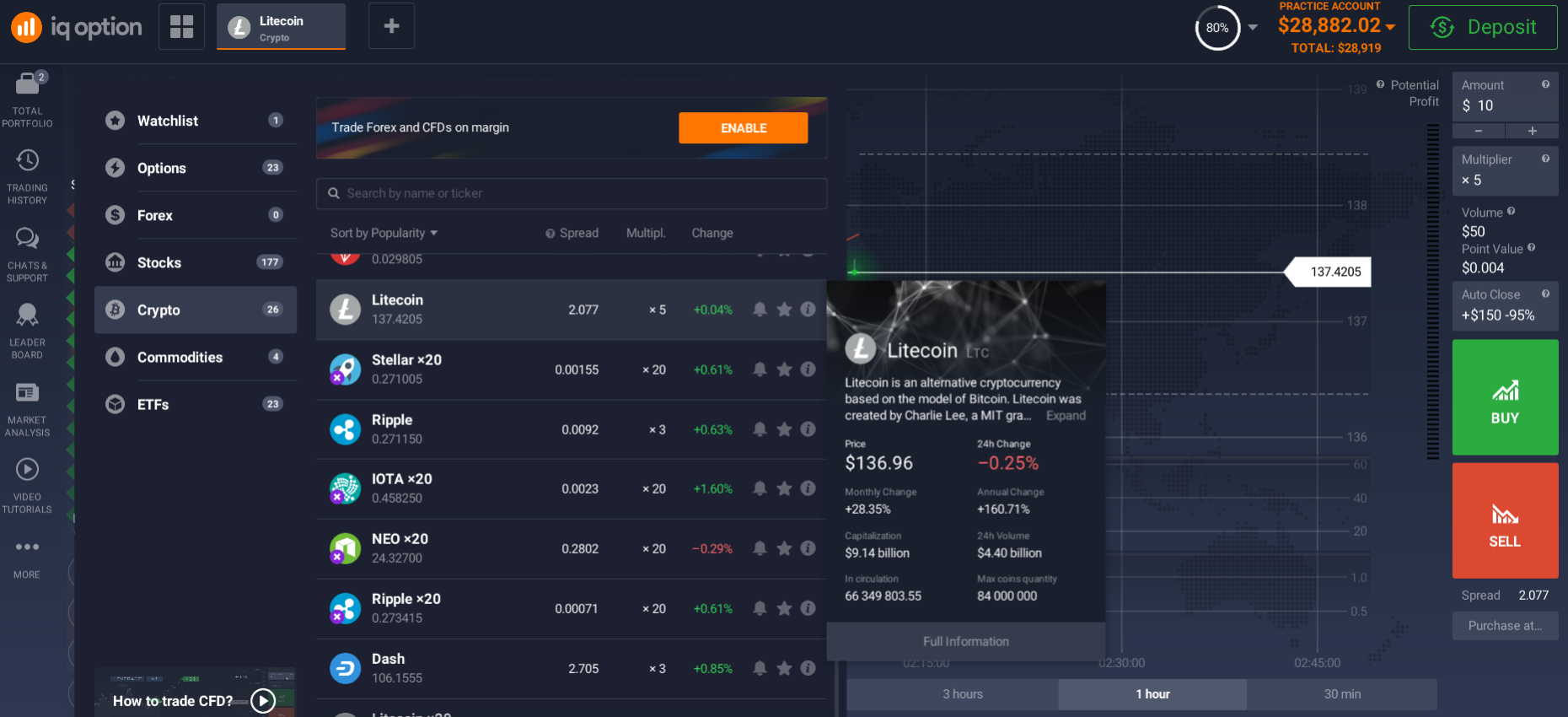 Security of investing in Litecoin (LTC)
The Litecoin exchange rate has grown dramatically over the course of its existence. The coin is known by all and has a reputation as a stable and valuable coin on the market, and the system itself is versatile and time-tested. As of January 2021, Litecoin is one of the most widely accepted cryptocurrencies, with over 2,000 merchants and shops worldwide now accepting LTC.
As a blockchain-based cryptocurrency, Litecoin is secured by very strong cryptographic protection, making it virtually impossible to hack
Is it safe to invest in Litecoin online?
A modern, professional online platform guarantees the safety of money and personal information of its clients. The service uses strong encryption protocols and takes all necessary measures to protect against illegal data interception. Reliable platforms are officially regulated.
In addition, the withdrawal process includes various security measures to prevent unauthorized access to traders' money. Various secure account login methods are also supported - in addition to a password it can be a passphrase, two-factor authentication, etc.
In fact, all conditions are now in place for successful cryptocurrency investing. Hundreds of thousands of people have been trading digital coins on online venues for a long time now. Sign up and start earning today. Have a successful transaction!
SIMPLE AND RELIABLE
MONEY WITHDRAWAL