What is dYdX (DYDX)?
dYdX is an Ethereum-based trading platform targeted at experienced traders. Based on the latest open source protocol. dYdX allows users to lend, borrow or leverage any supported asset (the list of assets is not very large).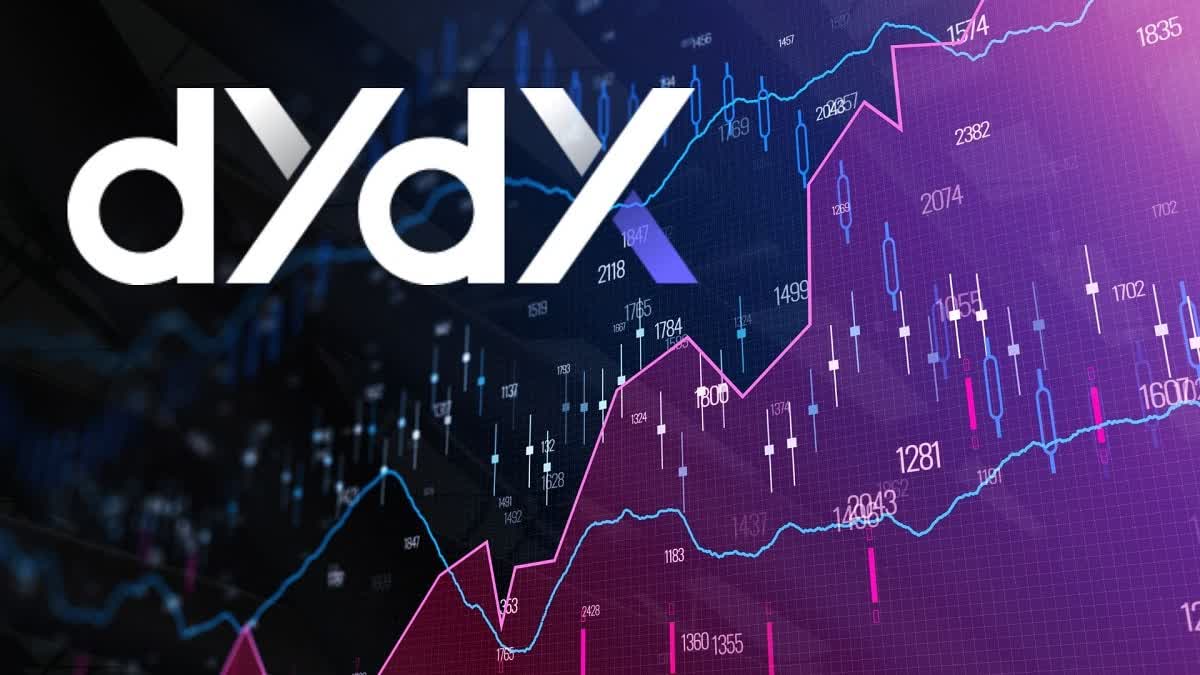 Where do dYdX come from? Brief history
The dYdX platform was founded in 2017, but it became available to the public in 2018.
Unlike other competitors, the exchange offers the simplest and most intuitive interface, developed by the talented programmer and founder Antonio Giuliano. It was he who became the founder of the platform in 2017.
With a small team of only 12 people, Giuliano in 5 years was able to create a unique product that is in demand among traders.
At the same time, the most successful year for dYdX was exactly 2021. This year, the platform announced the launch of its own governance token (DYDX) and has shown phenomenal results in terms of growth in trading volume.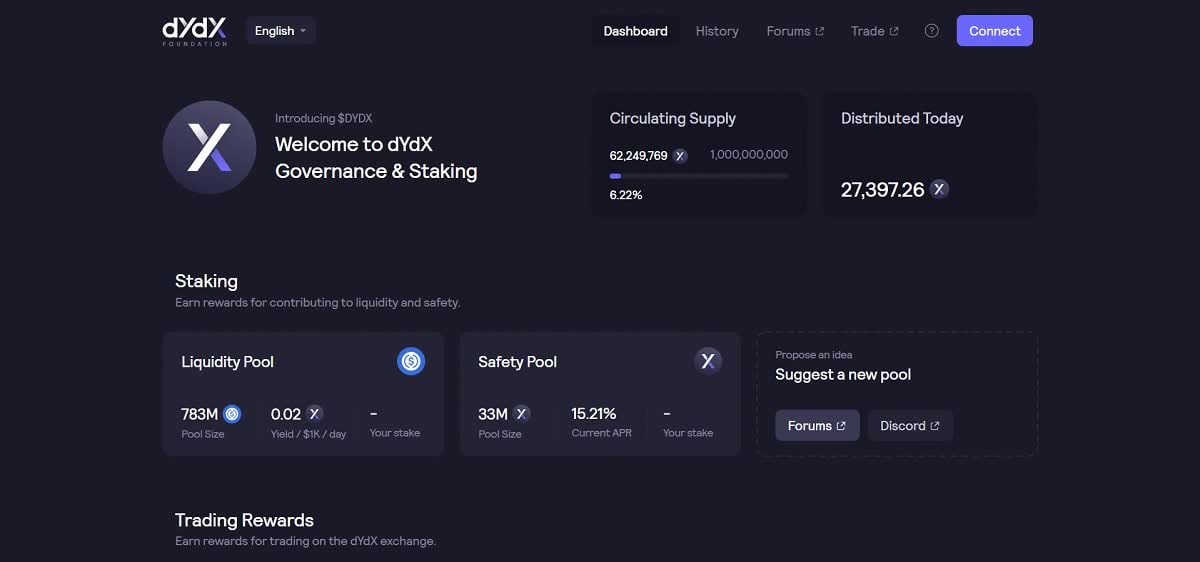 Many people associate the rapid growth in trade turnover and a large influx of customers with a new wave of bans on working with cryptocurrencies in China. In the fall of this year, the country's authorities introduced a complete ban on the use of cryptocurrencies and mining.
Threats from the authorities have closed the opportunity for the Chinese to work on leading CEX platforms such as Huobi and Binance. But all these investors would not have switched to dYdX if the platform was bad. Unique functionality and reliability became the key to success.
A tenfold increase in the trading volume demonstrated to investors the stability of the dYdX protocol to trading loads.
In addition, DEX exchanges are indifferent to any prohibitions; working with them does not require verification and blocking of the deposit. In essence, the sites are software for direct transactions between buyers 'and sellers' wallets connected to a smart contract.
How dYdX works?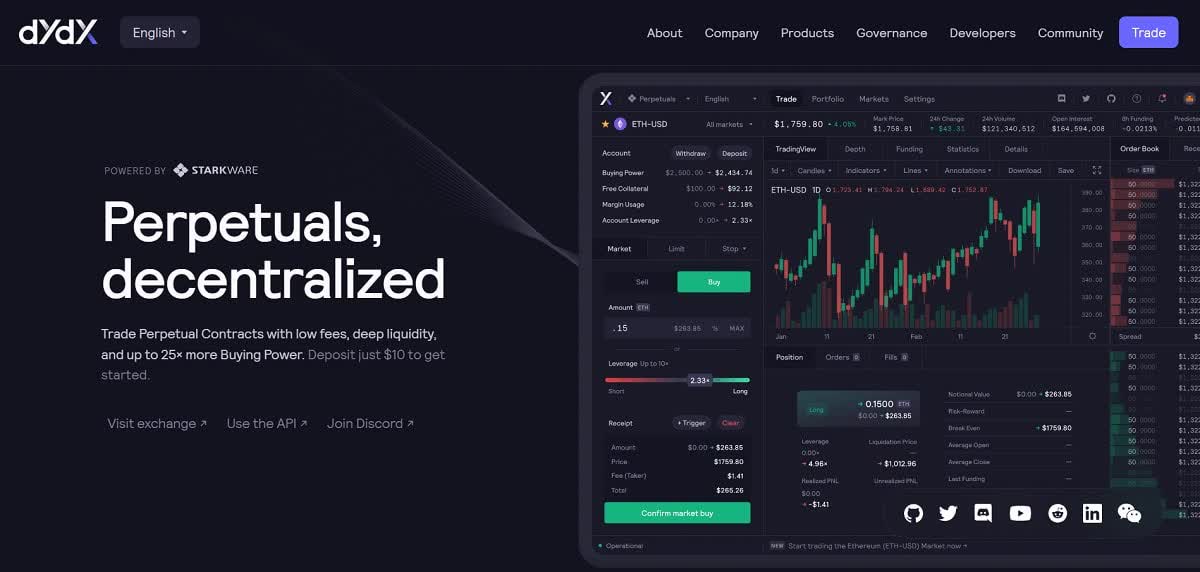 dYdX allows users to start trading cryptocurrencies by connecting their wallets to the protocol, without the need to provide personal information (which is stored on CEX).
Using a non-custody trading platform allows users to maintain control over their data and assets.
Unlike other DEX platforms, on dYdX users can trade with leverage up to x25. At the same time, the requirements for initial support are very low.
Borrowers' interest rates vary by asset and are adjusted based on supply and demand. Interest is continuously calculated and paid to creditors, minus a small amount held by dYdX to form the insurance fund.
Traders can open long positions using leveraged funds up to X4 of their collateral value (X3 for shorts). Credits and margin trades can remain open for a maximum of 28 days, after which they are automatically closed.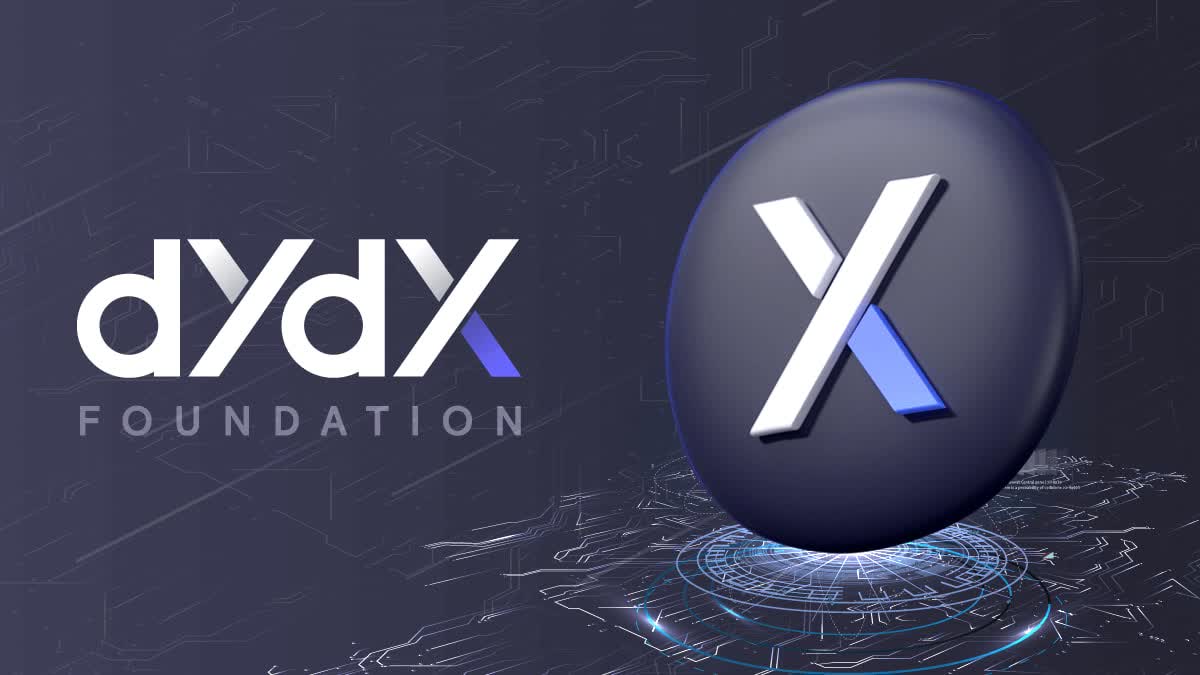 What makes dYdX unique?
The platform has a number of important and unique tools. It is a complex system that works as a single debugged mechanism, offering previously unavailable functions on the DEX platform.
Before dYdX, one decentralized platform could not provide traders with margin trading with leverage up to x25 (initially x5). Before dYdX, no one could implement such a mechanism that could ensure the efficient operation of the platform for margin trading.
Initially, dYdX offered customers Ethereum Level 1 lending and borrowing and supported three main assets: ETH, DAI, and USDC. In the future, the list of supported tools has expanded.
In 2021, the company began a successful partnership with StarkWare. To facilitate decentralized perpetual trading on the web, dYdX recently launched a Layer 2 scalability infrastructure. The Layer 2 protocol for cross-margin perpetual contracts is based on StarkWare StarkEx scalability engine and dYdX perpetual smart contracts.
The new protocol has significantly increased efficiency and scaled trading on its platform.
Where to buy dYdX?
One of the stages in the development of the dYdX platform was the launch of its own management token - DYDX. It quickly gained popularity and became available for purchase and trading on many cryptocurrency platforms.
Therefore, to buy dYdX in the Philippines, you just need to register on one of the popular crypto-exchanges.
As interest in DYDX grew strongly, the token began to be included in the list of traded instruments and numerous brokerage companies. Therefore, if your goal is short-term speculative trading, then you can buy dYdX on some platforms of brokerage companies.
It is important to understand here that trading in cryptocurrencies with brokers is carried out through the use of CFDs.
CFD is a derivative financial instrument that is actively used in trading in the financial markets. In CFD trading, the seller is not required to own the real asset, and the buyer is not entitled to demand delivery. Therefore, CFDs are mainly used for speculative purposes, that is, with the aim of making a profit on the price difference.
By trading such an asset, you can conduct not only long (buying), but also short (selling) positions. This gives the trader an advantage, as he can trend in both bullish and bearish markets.
Therefore, the easiest way to buy dYdX in the Philippines for speculative trading is to open an account with a brokerage company.
How to Buy dYdX (DYDX)?
If you want to buy DYDX on a cryptocurrency platform, you need to open an account there and top up your wallet. The registration process on each exchange is different as they operate on different principles.
There are two main types of crypto exchanges:
centralized (CEX).
decentralized (DEX).
The registration process on these exchanges is significantly different, but overall the process is intuitive. Nevertheless, all exchanges are created for users and developers are maximally interested in creating a simple and understandable interface from the first time.
If you want to speculate on short-term changes in the value of DYDX you are better off opening an account with a brokerage company. Here you can start trading DYDX within 5-10 minutes. The registration process is very simple and fast. At the same time, you can instantly replenish the deposit with traditional money through a bank card or using a popular payment system.
How to start investing in dYdX in the Philippines?
Invest in dYdX in the Philippines is very easy, especially if you already have an account on a popular crypto exchange. In this case, you can immediately invest in dYdX.
If you do not have an account on the crypto exchange, you will have to open one. The process of registering for exchanges is different, but it is not difficult and should not cause you any difficulties.
A small problem might be how to fund a trading account. Not all crypto exchanges deal directly with traditional money. Therefore, you will have to exchange them for another cryptocurrency in order to buy in dYdX.
Is it safe to invest in dYdX online?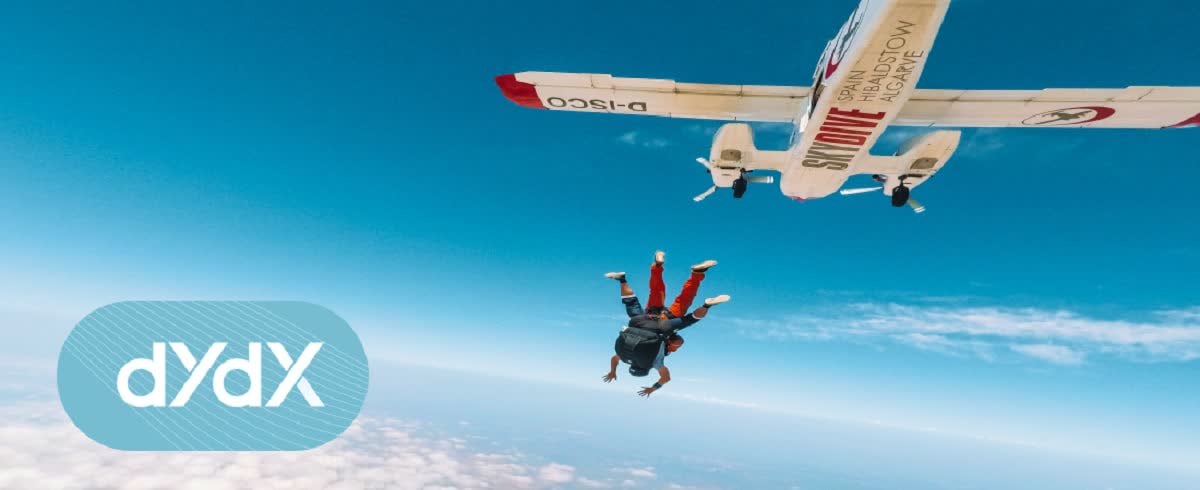 Investing and trading is always risky. It is always important to be aware of this. But don't be too scared by this. A competent investor and trader knows that he can always control risks. Risk control is the key to your success in the market.
All risks can be divided into two large groups:
trading risks (the risk of losing funds from wrong investment or trading decisions).
non-trading risks (risks associated with the loss of funds from actions of a third party).

You can only fully control the first group of risks. By observing the rules of money management, you can minimize trading risks, which will help to maximize your profits.
You cannot fully control non-trading risks, but you can reduce them. How? For example, you can choose cryptocurrency platforms with the most reliable reputation for cooperation, use a more reliable crypto wallet to protect your funds from hackers, etc.
To reduce the risks of investing in dYdX, it is better to use the services of brokerage companies. They are not as susceptible to hacker attacks as crypto exchanges are. Almost every week in the news feeds, there are messages about hacking of crypto-exchanges or wallets. In this regard, working with brokers is a less risky option.
Attackers also won't be able to get or hack your crypto wallet because you don't have one. You don't need it to work with brokers. You are working with traditional money. By buying dYdX, you are buying a CFD contract on dYdX.
Is dYdX a good investment?
For long term investments, DYDX is a good tool. It has good growth potential. It has a solid foundation in the very progressive dYdX trading platform. The development of the platform will contribute to the growth of demand for its own token. Therefore, we can say that invest in dYdX is not a bad choice.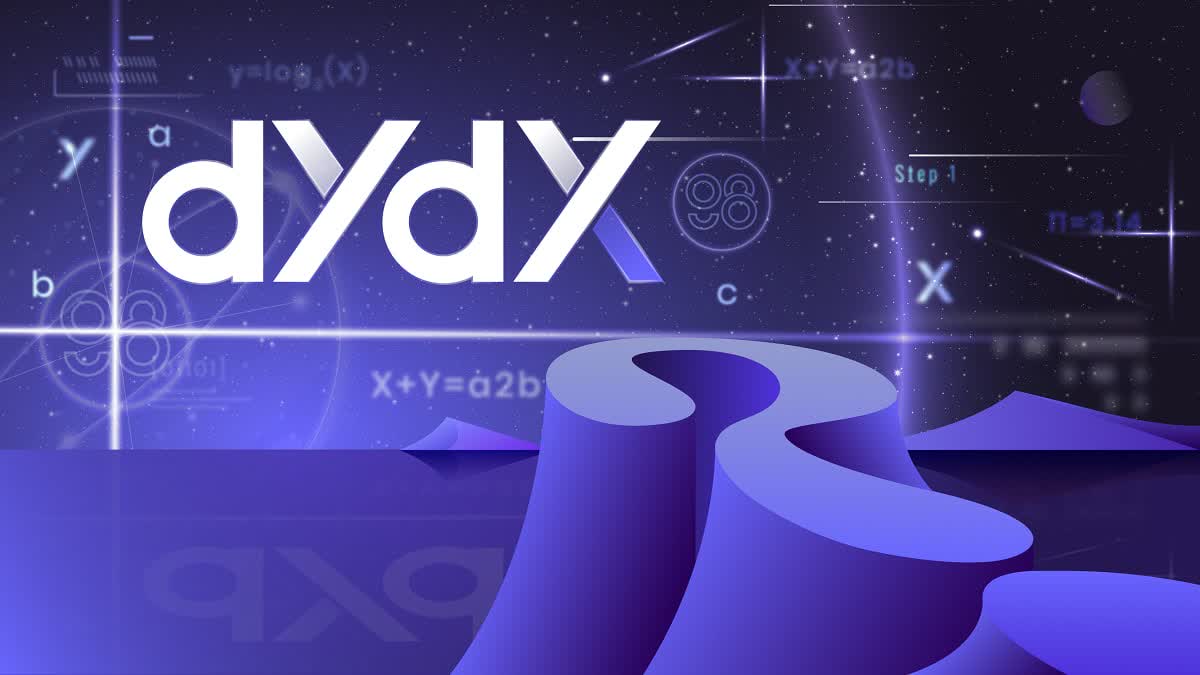 Should traders invest in dYdX?
It is worth investing not only in DYDX, but also in other cryptocurrencies. The main thing in the pursuit of profit is not to forget about the risks. The cryptocurrency market is very volatile and very risky. Therefore, it is worth giving him only a part of the funds allocated for investment or trading.
The rest of the funds are best used to invest in classic financial instruments: currency pairs, futures, stocks, indices, etc.
From this point of view, we again come to the conclusion that working with brokerage companies is a more interesting option. Here, you can trade both FOREX instruments and cryptocurrencies and CFDs on other assets on one account.
How to Buy dYdX right now?
The easiest and fastest way to buy dYdX in the Philippines is to open a trading account with a brokerage company. This procedure will take you no more than 5 minutes. Almost instantly, you will be able to trade not only DYDX, but other instruments as well.
A more difficult option, which can cause difficulties for beginners, is to work through crypto-exchanges. This option is best used if you want to physically buy dYdX for long-term investment.
Demo account
Beginners should start trading with a demo account.
The Forex Demo Account is a practice account that is ideal for practice and preparation for trading with real money. You can use your demo account for free to improve your trading skills, work out strategies or to test EAs in the real market.
The problem is that not all crypto exchanges provide such a service. Therefore, if you want to buy dYdX on a demo account, then you need to register with brokerage companies.
Real account
Experienced traders can start trading on a live account. In this case, you can start real invest in dYdX in the Philippines.
The process of opening a real account with crypto exchanges and brokerage companies is different, but it shouldn't be difficult for you. This is usually a simple and straightforward process.
Good luck and cusessfull trading!
SIMPLE AND RELIABLE
MONEY WITHDRAWAL