With a market valuation of over $1 trillion, Amazon is a global powerhouse in the e-commerce industry. And, as the company's revenue and stock continue to grow amidst a pandemic, numerous investors are now considering whether to purchase shares in one of the planet's most valuable businesses. If you're among those who have thought about the prospects of buying Amazon stocks, this article will provide a step-by-step guide on how to buy Amazon stocks in the Philippines.
Let's get to it, shall we?
How to Buy Amazon Stocks
Founded by Jeff Bezos in 1994, Amazon began as an online retail store for books. Initially, Bezos started and ran the company from his garage. Amazon grew remarkably in its early years, and by 1996, it was already worth $15 million.
It became a public company a year later and began to make its mark felt on the global scene. Within the next decade, Amazon was worth over $10 billion thanks to Kindle, AmazonFresh, and Amazon Music services. By another decade, it hit and surpassed the $1 trillion mark.
In 2020, the e-commerce giant's growth continues at a phenomenal rate, despite the impact of a global pandemic on businesses in the United States and the world. Sales for the third quarter of the year are up by a remarkable 37% from 2019. Of course, this figure shouldn't surprise anybody, as you'd expect the biggest e-commerce company on the planet to thrive in a time when everything has gone digital.
Amazon's growth won't slow down anytime soon, especially as the digital realities of COVID-19 are sure to remain beyond the pandemic.
As such, it's not surprising to see investors considering whether to buy shares in the blue-chip company. However, Amazon stocks are relatively high, with a share price going for over $3,000. And, no matter how well a company performs, it's still crucial you approach your investment decision with caution and from a holistic perspective rather than on impulse.
Quickly, we'll look at some things to consider before buying Amazon stocks.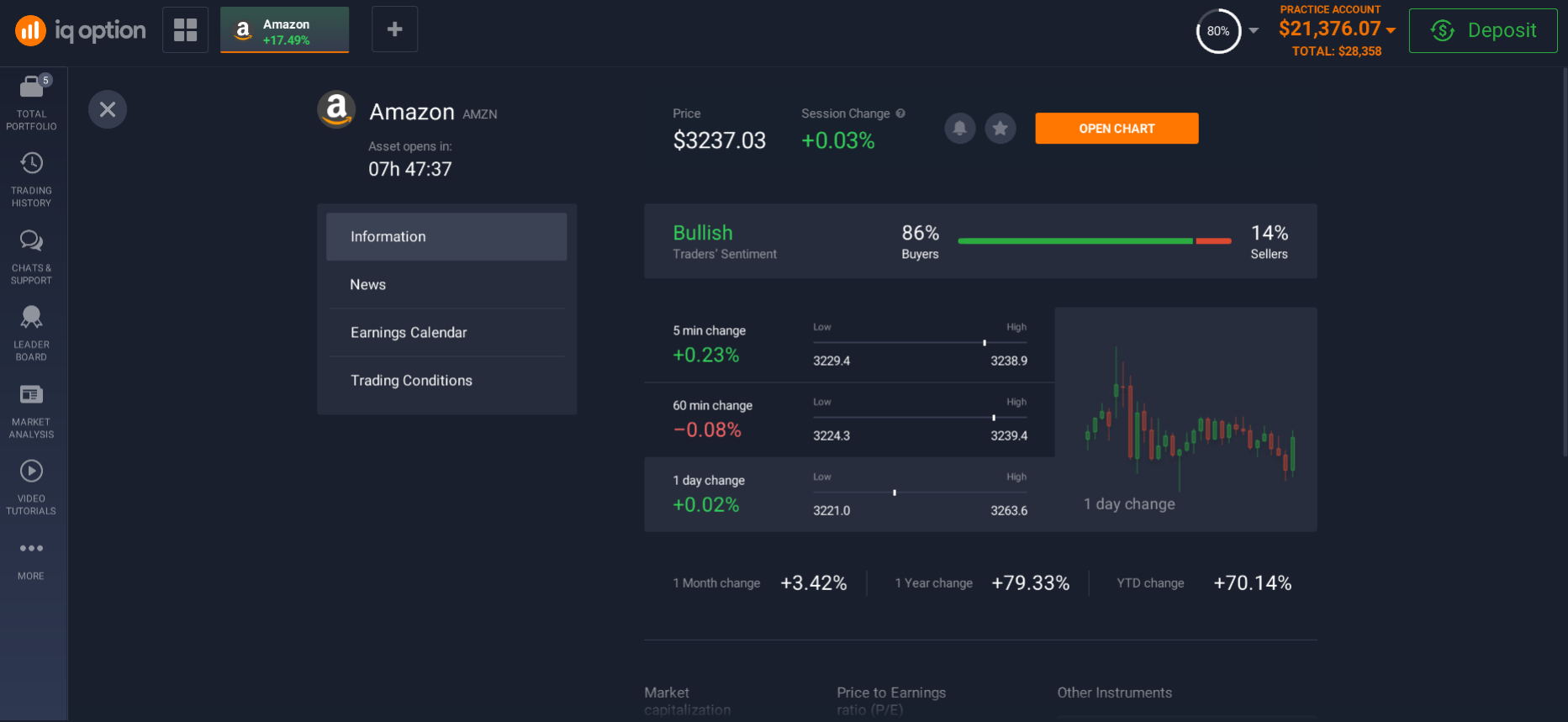 What to Consider Before Buying Amazon Stocks
Before purchasing shares in any company, investors should carry out due diligence to weigh their investment decision's pros and cons. This thorough analysis is vital regardless of whether they're looking to buy or sell stocks. Here are some critical factors that should influence your decision to buy Amazon shares:
Your Short Term Financial Plans
Investments in the stock market are risky, no matter how good the odds look. As such, you want to ensure you don't make any mistakes that could threaten your financial security. When it comes to stocks with prices as high as Amazon's, financial advisors generally counsel investors not to throw in any money they'll need in five years.
It's advisable to make such purchases with cash that you consider to be expendable. This way, you do not hinder any vital short term goals you might have. Furthermore, If there is no side cash to use for the investment, it's best to put it on hold till there is.
Your investment strategy also plays a crucial role in your choice of stocks. For example, Amazon stocks are an excellent option for growth investors looking for shares that grow at a rate higher than the average company. However, income investors may not find Amazon securities appealing, as the online retailer currently does not pay dividends to its shareholders. Furthermore, should Amazon decide to have a dividend package for its stakeholders, the dividend yield would be too low - due to its high share price - for income investors to leverage. As such, your investment strategy is a strong indicator of whether Amazon stocks are right for you.
When making stock picks, quantitative analysis is probably the most crucial part of your research. It is essential to check the critical numbers that showcase the financial situation of the company. You want to pay attention to figures like revenue, return on equity, return on assets, earnings, price-earnings ratio, and net income. These numbers will inform you of the risk attached to your investment. They'll also be helpful in your fundamental analysis to value the company's stock.
Don't Leave Out Qualitative Analysis
After carrying out due diligence on the quantitative facets of the business, you'll need to take a look at its qualitative aspects, as well. You should pay attention to crucial factors such as its competitive advantage, business model, corporate policies, and its management's reputability. These details will give you a solid perspective of the company's operations and its financial future.
How to Invest In Amazon Stocks
For investors looking to buy Amazon stocks in the Philippines, the best option is to go through an international online brokerage platform. Since Nasdaq is the primary stock market that trades Amazon shares, you'll need to register with a broker that gives you access to the securities listed on the Nasdaq exchange. However, being able to purchase Nasdaq stocks isn't the only prerequisite to consider.
There are other factors to look at before choosing a brokerage platform. Account security, available investment options, minimum initial investments, and account fees are some of the other crucial requirements to consider. These elements play a role in your purchase of Amazon stocks and any other transactions you might make with the broker. We'll quickly look at a brief overview of Amazon stock brokerage platforms.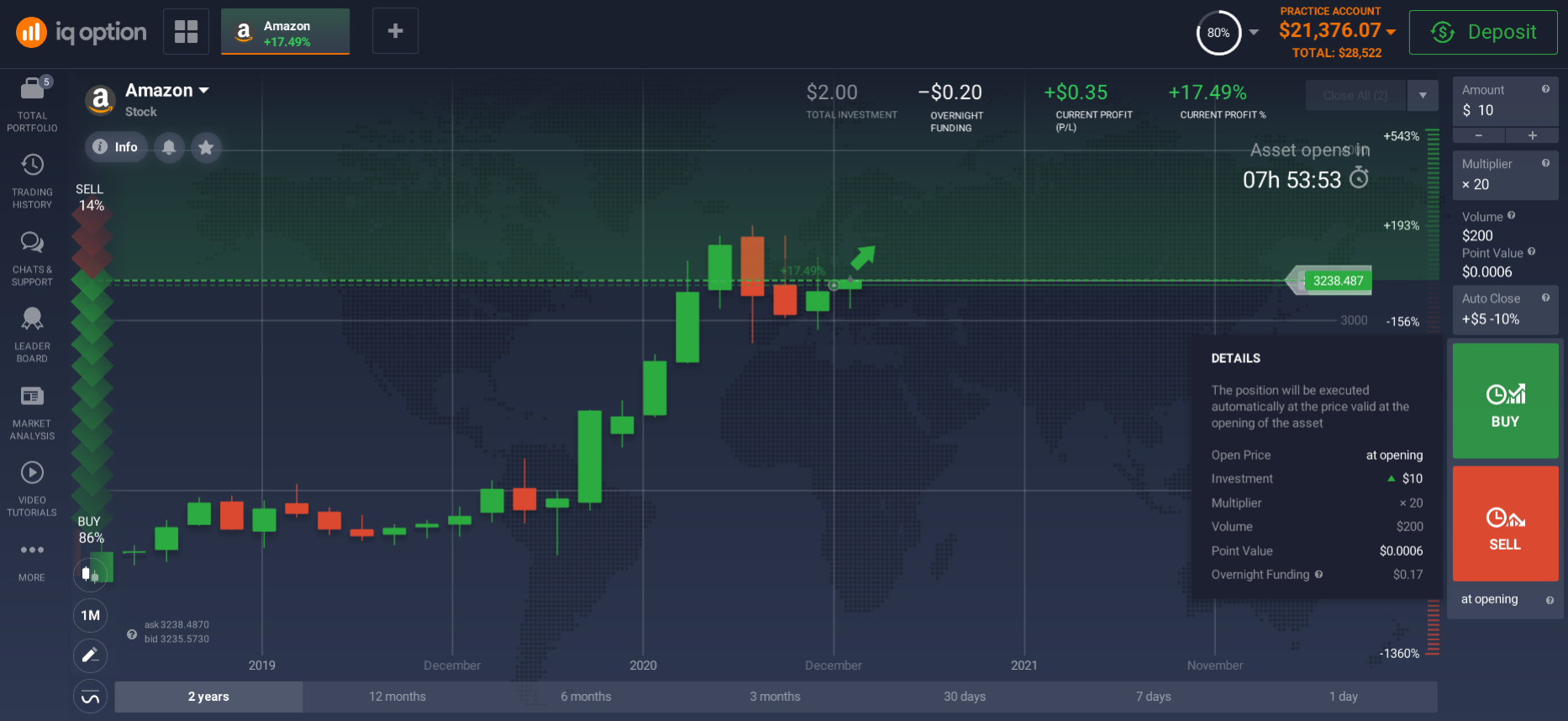 Amazon Stock Investment Platform
Amazon stock investment platforms are online brokers that allow you to trade Amazon stocks. They're brokerage firms that facilitate the buying and sales of shares over the internet rather than going through a brick-and-mortar office.
Generally, trading using online brokers is relatively cheaper than using their offline counterparts. They also offer investors more control over their security investments by enabling them to access financial markets independently and facilitating do-it-yourself trading. Furthermore, most of these platforms provide you with educational materials and glossaries on securities trading to further aid your investment decision.
However, as we've earlier stated, not just any international stock trading platform will do when buying Amazon shares. For one, Nasdaq is the primary stock market that trades in Amazon securities. As such, you'll need a broker that gives you access to stocks traded on the Nasdaq exchange. You'll also need to consider the other factors we've discussed before choosing an online broker.
Once you've decided on the online broker you want to trade with, you'll need to create a brokerage account. Creating an account with most brokerage platforms is relatively straightforward and should take a couple of minutes. Once you've got a registered account, placing a buy order isn't that complicated.
However, there are two options available to you to buy the stock once you place a buy order. They are market order and limit order. We'll look at them very quickly.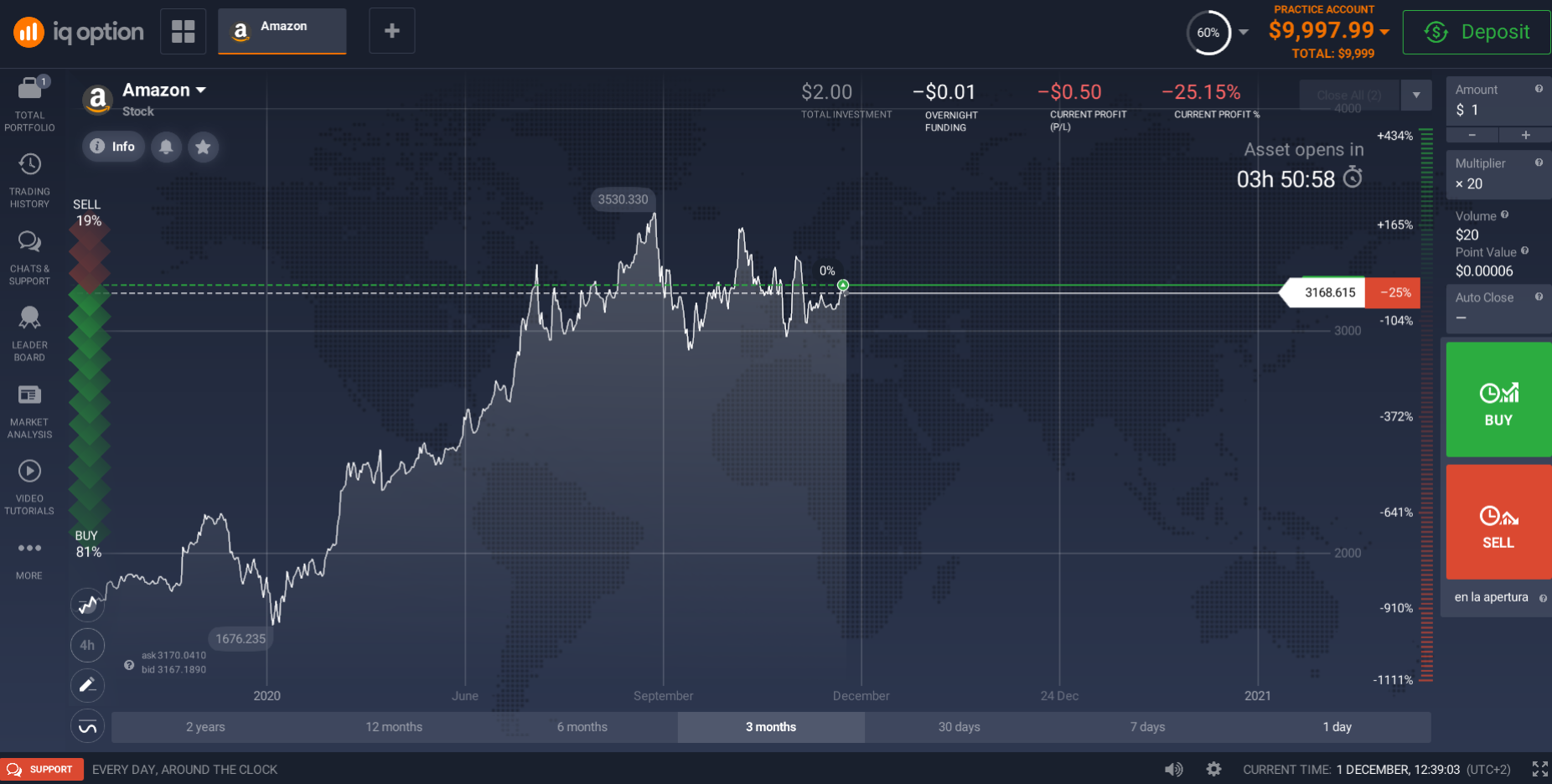 Market Order
Generally, a market order is the most common form of transaction in a stock trade. Here, an investor buys a stock for the current market price. This kind of buy order usually carries a lesser commission fee. It is also suitable for large-cap stocks and exchange-traded funds (ETFs). In the case of Amazon stock, placing a market order would mean you buy the security for the current market price on the trading day of your request.
Limit Order
On the other hand, for a limit order, buyers set the maximum amount they're willing to pay for a share. As such, the transaction only goes through when the security's cost falls to the set price. If the stock price does not fall to the buyer's amount at the end of the trading day, the transaction will fall through. Depending on your investment strategy and budget, you can choose your preferred option.
How to Start Investing In Amazon Stocks
For investors, using an online brokerage platform makes it remarkably straightforward to buy stocks from Amazon. Here's a step-by-step guide on how to invest in amazon stocks:
Register With an Online Broker
We've already discussed this in a previous section. It would be best to have a registered account with an online brokerage platform to buy shares from Amazon. The broker must have access to Nasdaq securities, as this stock market is the primary exchange for trading Amazon stocks.
Deposit Funds In Your Account
After creating your brokerage account, you'll need to fund it to purchase securities. Just like registering on the platform, this step is also relatively easy. However, the payment options available to you will depend on your broker. Generally, most online stock trading platforms permit bank transfers and debit card transactions. Some even allow investors to make deposits using e-wallets. Choose your preferred payment option and fund your brokerage account.
Search for Amazon Stocks and Place an Order
Once you've made deposits into your account, you can proceed to search for Amazon securities. Enter the stock symbol/ticker AMZN to locate the shares. Once you've done that, place your buy order. You can place a market order if you find the current valuation satisfactory. If not, a limit order would be your best option. If you place a market order, the transaction will go through, and you're good to go. If you opt for a limit order, the broker will only execute the deal after the stock price falls to the amount you set. If not, the bid will fall through.
Quickly, we'll walk you through the basics of registering and funding your brokerage account.
How to Register With an Online Broker
Generally, creating an account with an online broker involves filling in necessary personal details and submitting required documents. You'll need to provide personal information such as your name, date of birth, address, nationality, occupation, etcetera. You'll also have to submit duplicate copies of government-issued IDs, an Alien Certificate of Registration (for foreign citizens), a Tax Identification Number (TIN), and a recent billing statement.
How to Open a Demo Account
Several online trading platforms allow investors to sign up for demo accounts that simulate real-time trading situations. Usually, the broker funds this account with artificial funds that buyers can use to trade without risk. There are also different types of securities available on online trading demos. Usually, investors can use these accounts to practice their investment strategy and get used to stock market conditions.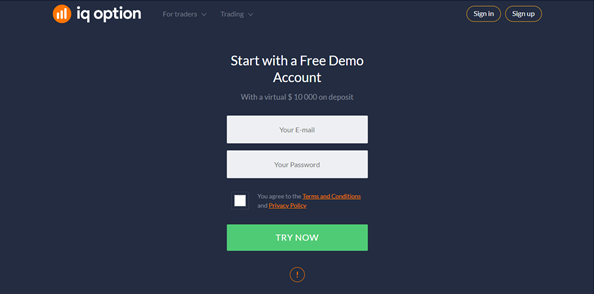 How to Create a Real Account
If you prefer to start with a real account, select your preferred broker and sign up by filling in the required details and submitting the necessary documents. With a real account, you'll be using actual funds rather than the makeshift money found in a demo. As such, there'll be increased risks.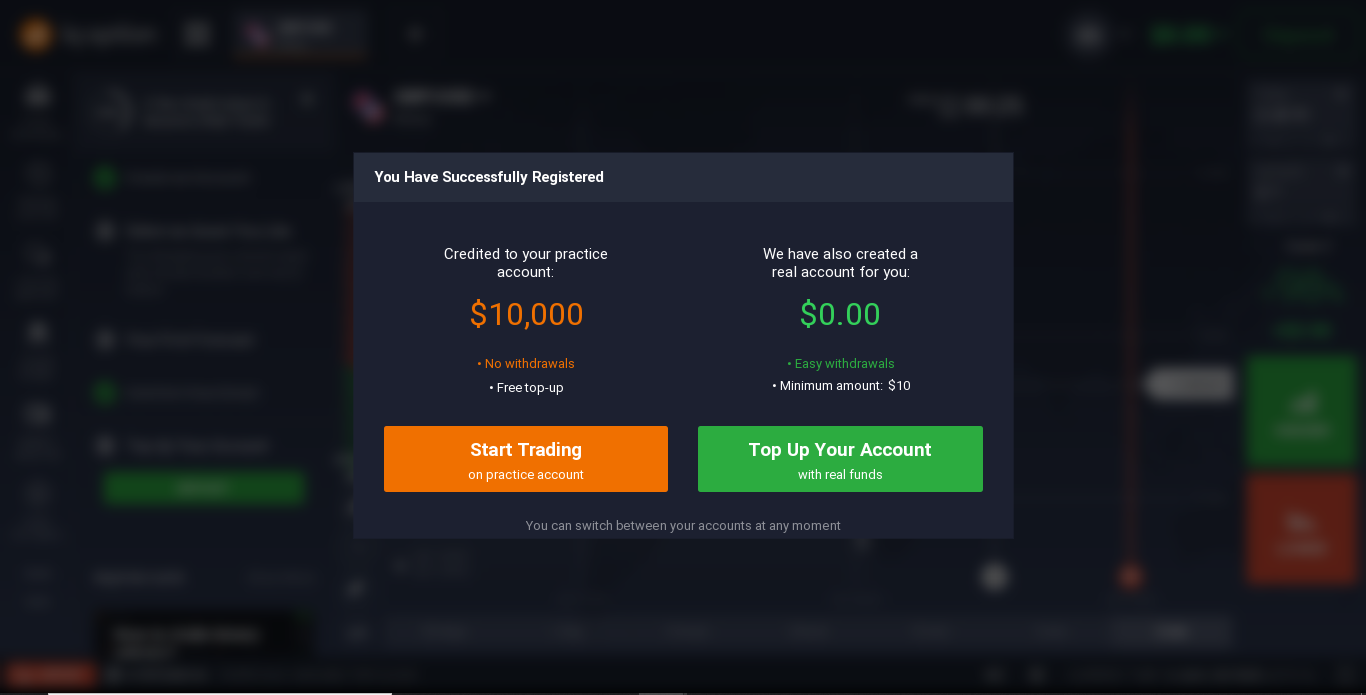 How to Fund a Deposit
Depending on your broker, you'll have different payment options to fund your account. Typically, popular methods include bank transfers, debit cards, and e-wallets. You could also decide to visit the brick-and-mortar office of the broker to make your deposit. However, online payment options are quicker and more convenient.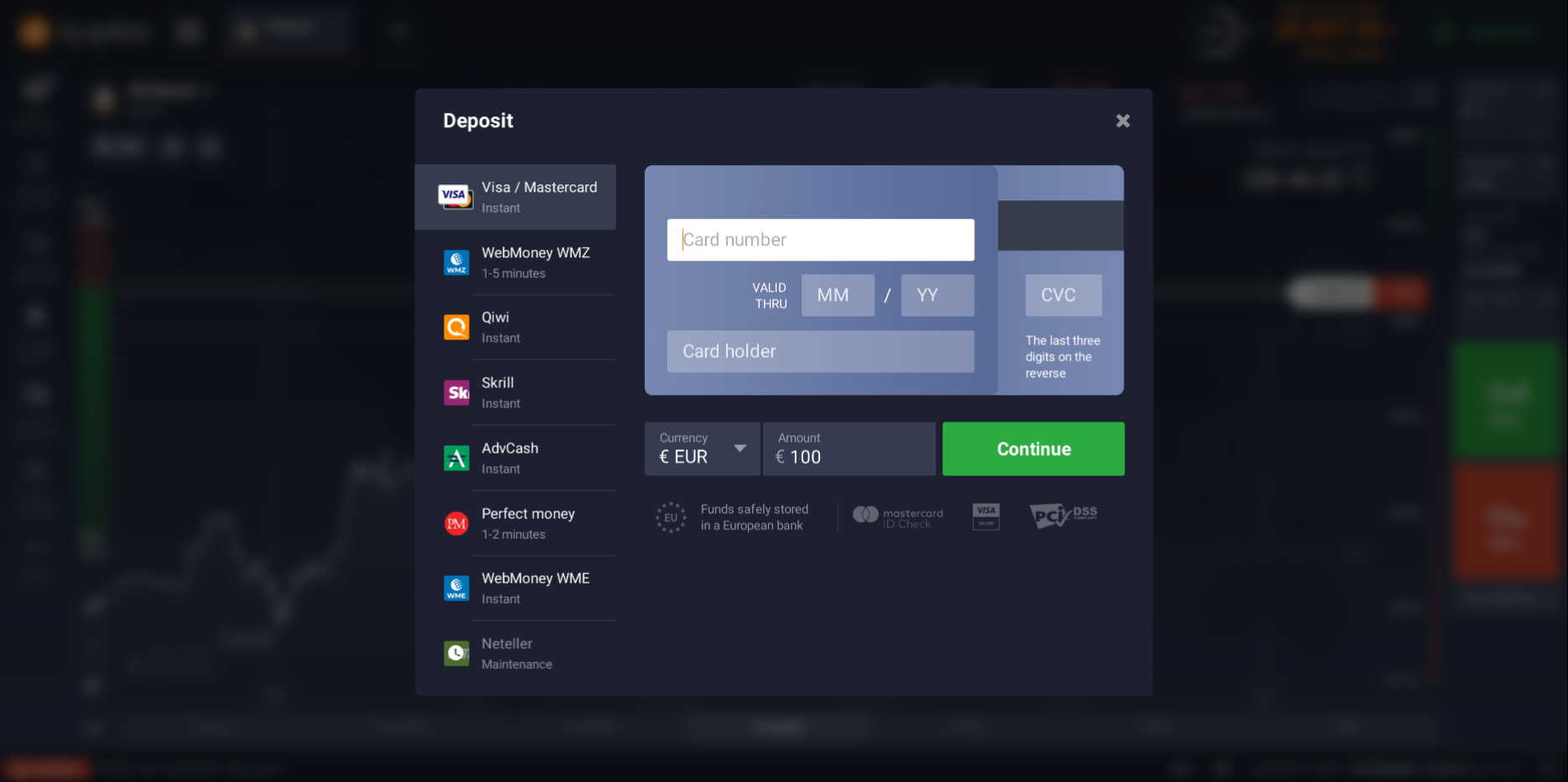 Minimum Deposit Amount
Several online brokers have a fixed amount you must pay into your account before you can begin trading. Depending on your choice, some platforms allow minimum deposits of 5,000 PHP to 1 million PHP.
How to Withdraw Money
You can withdraw any uninvested cash you have in your brokerage account through any of the means of deposit, including bank transfer, wire transfer, and e-wallets. Most brokerage platforms can even send you a cheque if that's what you prefer. However, this process could take up to 2 working days.
Security of Amazon Stock Investment
Every investor wants to know how safe their investments are, especially when it comes to stocks. Briefly, we'll answer some questions on the security of investing in Amazon shares.
How Safe Is It to Invest In Amazon Stocks?
While investors need to carry out due diligence before buying stocks, the financial market is very volatile and comes with many risks. There are no 100% guarantees for the long-term success of an investment.
In the case of Amazon, the company is one of the world's top growth stocks. Therefore, there is vast potential for continuous growth, especially in the wake of a digital revolution, thanks to the pandemic. In 2020 alone, the company achieved a $600 billion increase in its market capitalization.
However, certain crucial factors like increased competition, regulation/anti-trust concerns, cybercrime, imitation of business model, and economic uncertainties could threaten Amazon's growth. Since stocks are variable income securities, any of these elements could drastically affect your investment. Nonetheless, potential investors in AMZN stock can rely on the company's expert leadership/management, as it has shown its ability to navigate harsh market conditions in the past.
Is It Safe to Invest In Amazon Stocks Online?
Investors are well within their rights to question the safety of online stock trading. Cyber fraud is a growing threat in today's world. As such, it's crucial for investors to only trade with reputable brokerage platforms.
The best online brokers generally have operational licenses from top regulatory bodies in their respective nations. They also have online security systems and encryptions to protect user information. Furthermore, there should be customer protection policies to safeguard clients from cybercriminals.
Finally, there should be solid privacy policy guarantees that ensure that the broker does not share a user's account details with third-parties. These features help ensure that investors trade in a safe and secure online environment.
How to Safely Invest In Amazon Stocks Online
Like we've discussed throughout this article, the safest way to invest in Amazon stocks online is through a brokerage platform. However, ensure your broker trades in securities found on the Nasdaq exchange, as that's the primary stock market for purchasing AMZN shares. You should also certify that it is a reputable platform by carrying out due diligence.
Besides choosing a trusted broker, it's good practice to do adequate research on stocks and Amazon as a company to brace yourself for the financial market's risks. Some of the essential bits to consider are the company's qualitative and quantitative aspects, alongside fundamental and technical analysis. These details will enable you to make safe investment decisions.
Are My Amazon Stock Investments Protected?
Reputable brokers enable their customers to trade in highly-secure online environments through high-tech security systems and encryptions. As such, you have a maximum guarantee of protected investments.
FAQs
Where Can I Buy Amazon Stocks?
You can buy Amazon stocks on any online brokerage platform that trades securities found on the Nasdaq exchange. Once you register and fund your account, you're good to go.
How Much Does Amazon Stock Cost?
Currently, the price of Amazon on the Nasdaq stock quote is over $3,000.
How to Buy Amazon Stocks In the Philippines?
You can buy Amazon stocks in the Philippines by registering with an online broker. Once you've created your account, make a deposit and search for Amazon shares using the ticker AMZN. After locating the security, place either a market or limit order, depending on your preference.
What Happened to Amazon Stocks?
In 2020, Amazon stocks performed remarkably well, especially in the second and third quarters. The company's revenue was up by 40% from the previous year in the second quarter, while third-quarter results showed a 37% increase. Earnings-per-share for both quarters was also impressive, with the numbers standing at $10.30 and $12.37, respectively.

The pandemic played a crucial role in this growth and the switch to online shopping due to lockdowns worldwide. Another vital contributor to Amazon's success is the company's Amazon Web Services. AWS has grown steadily in the last few years. In 2020 alone, it generated over $10 billion in net sales, a first-time feat for the cloud computing service.

Why Did Amazon Stocks Drop?
Amazon suffered a dip in stock price at specific periods throughout the year. This drop was mostly because of operating costs due to the coronavirus pandemic. The company had to cater to its staff's safety, and there was also an increase in wages, as it employed 175,000 people.

Furthermore, the shift from brick-and-mortar retail facilities to online shopping also affected the company in the early days of the virus, as it struggled to meet the high demand. These factors led to a decrease in operating income and earnings-per-share.
Why Did Amazon Stocks Rise?
Amazon's stock price rose throughout the year due to the shift from brick-and-mortar retail to online shopping because of Covid-19. This move saw the company generate record figures in revenue for the second and third quarter of the year. Also, Amazon Web Services played a crucial role in its growth, as it achieved $10 billion in net sales for the first time.
SIMPLE AND RELIABLE
MONEY WITHDRAWAL