What is Phemex?
The mission of the exchange is to enable traders to effectively manage risk and trade with ease. All the main options for depositing and withdrawing funds are available on the exchange, including direct transfers from bank cards.
For beginners, the exchange offers a demo account, training guides with the possibility of earning cryptocurrency and a welcome bonus. There are investment solutions with payments up to 10% per annum. The site works quickly and stably, in addition to the browser version of the trading terminal, there is a mobile version.
The strengths of Phemex over its competitors are:
the ability to reduce spot trading commissions to 0%;
the minimum deposit is only 0.00000001 BTC (or equivalent);
demo accounts, free premium mode test;
x100 leverage available for contract trading;
investment programs with flexible and fixed deposits;
storage of funds by a cold method, a high level of data protection.
Another plus is that the Phemex exchange has introduced a referral program in which every user can participate. This requires only a confirmed (verified) account.Phemex derivatives trading platform does not set limits on the number of referrals, the user can invite as many as he wants. The company is considered young, but has already received many positive reviews and a good rating from traders. Users of this crypto exchange like legal security, relative anonymity and high liquidity of the platform.
Phemex derivatives trading is transparent and has no hidden fees.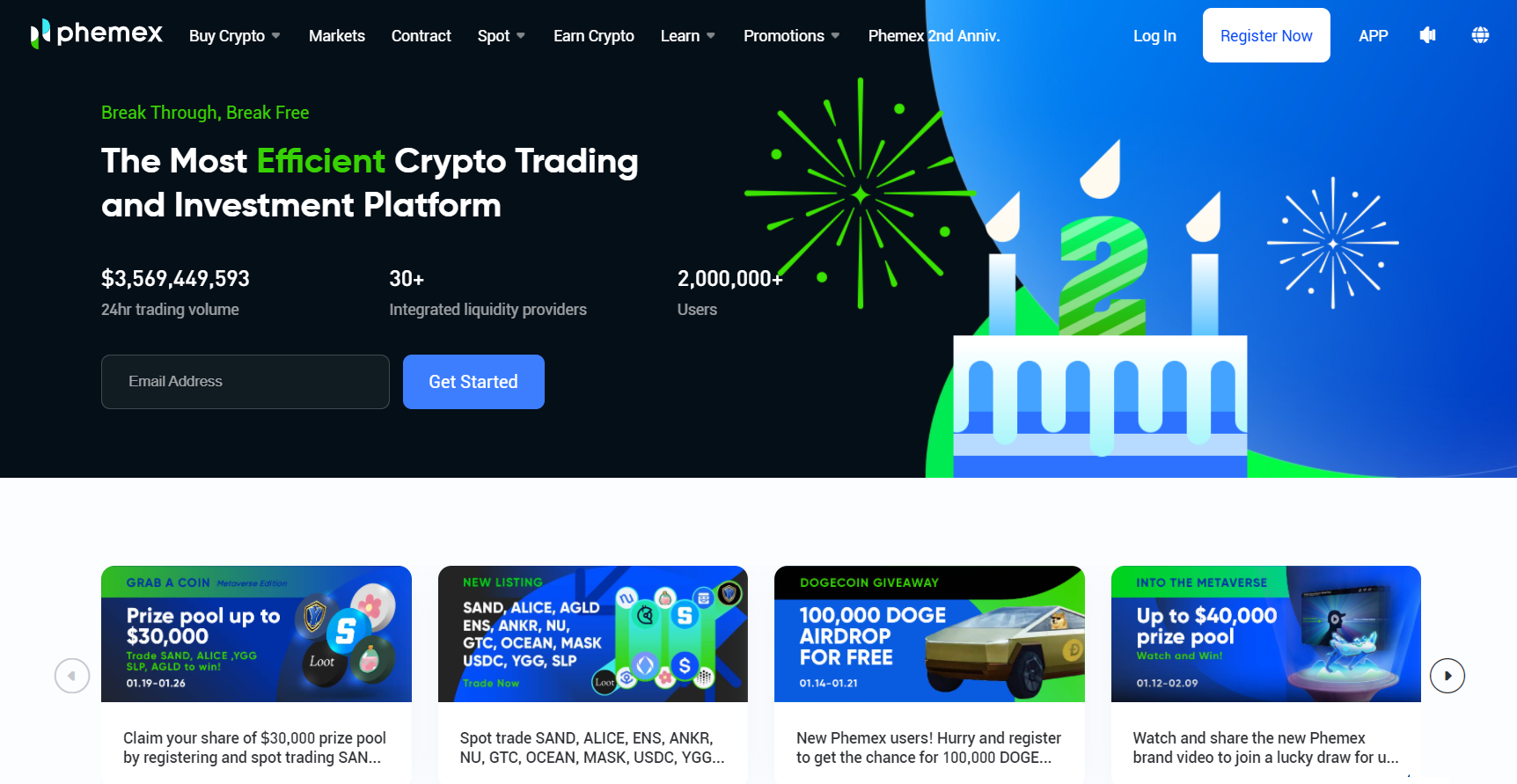 What are derivatives?
There are several types of instruments in the modern stock market. Stocks and bonds are the simplest of them all, but not the only one. In terms of trading volume, they have long been left behind by the so-called derivatives. These are contracts with deferred execution, under which the parties receive the right and / or obligation to buy, sell or exchange an asset on terms agreed in advance. What are they and why are they attractive?
A derivative (financial instrument) is a complex type of financial security that is established between two or more parties whose value is based on an agreed-upon underlying financial asset. Traders use derivatives to access certain markets and trade various assets. The most common underlying assets for derivatives are stocks, currencies, interest rates, and so on. The value of contracts depends on changes in the prices of the underlying asset.
Term nature is another feature that distinguishes derivatives. This means that the counterparties pay for them not at the conclusion of the contract, but in the future. Any derivative instrument has an expiration date - the day on which it must be executed. After that, the derivative loses its value and goes out of circulation.
A cryptocurrency derivative is an instrument that is traded on an exchange. Such contracts are futures or options. Their peculiarity lies in the fact that they have standard parameters. The exchange, as a regulator and guarantor of the execution of the terms of the transaction, establishes a specification for each instrument. It stipulates all the terms of the contract, in addition to its price. It is just the subject of the auction. Transactions on the exchange are impersonal, that is, the counterparties of derivatives are not known to each other. Most exchange-traded derivatives expire without the delivery of the real asset. Therefore, their market is often called speculative and compared to air trading. Many exchange derivatives do not initially involve delivery, that is, they are settlement derivatives.
Derivatives are an important component of the modern financial market. They are popular both with private fans of speculative transactions and with large investment investors who want to insure their capital. A lot of interesting strategies are built on the combination of the underlying asset and derivatives, which allow you to earn money in various market conditions.
Phemex cryptocurrency derivatives can be purchased by anyone, and if there is no experience, then you can use a demo account.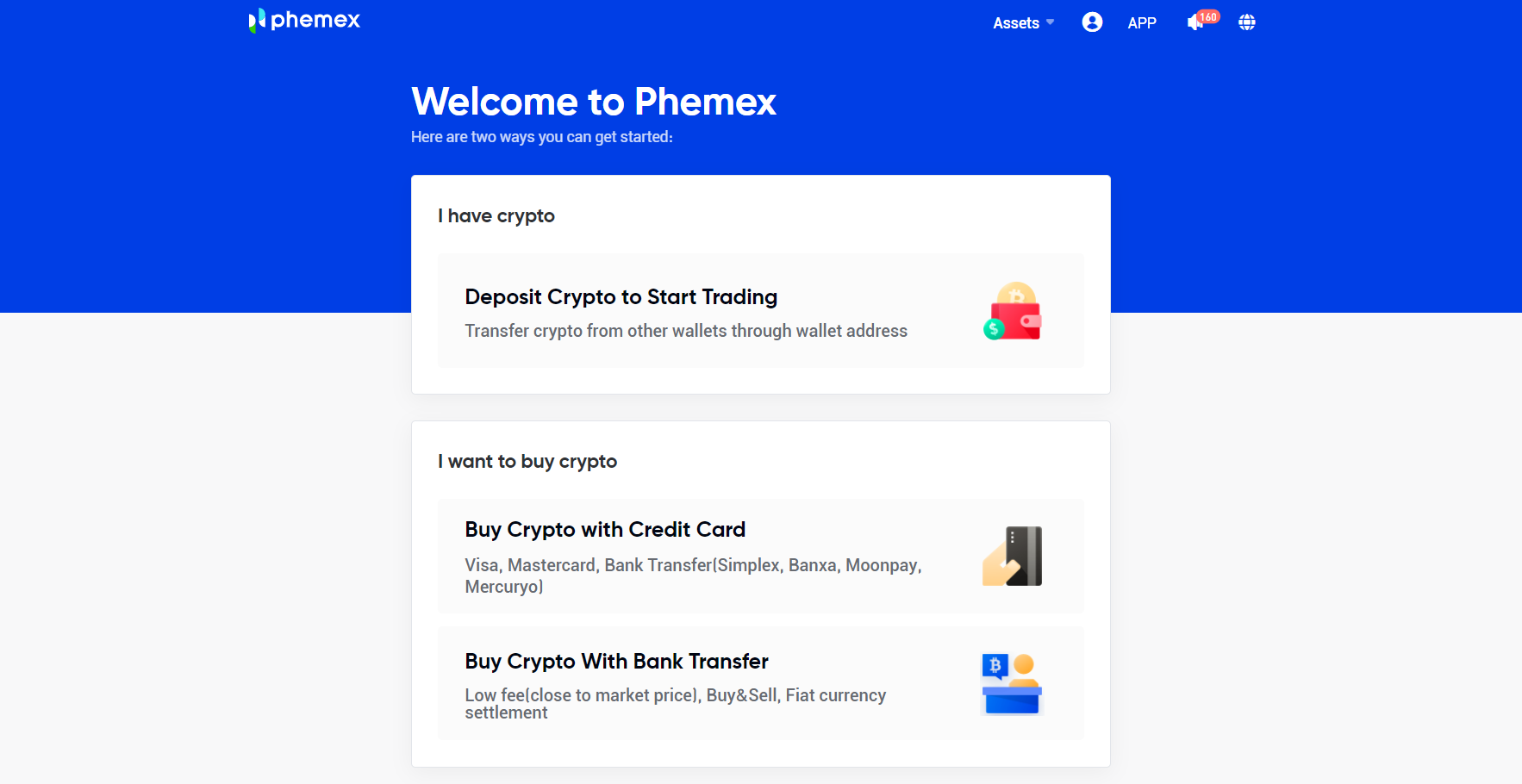 How does cryptocurrency derivatives trading work?
A cryptocurrency exchange is a resource that allows you to buy, sell and trade digital currency. For example, Phemex has a "Buy Cryptocurrency" page where you can select your desired cryptocurrency, amount, and payment method. Available options include bank cards, transfers, Apple Pay, etc. The most important part of this process is to correctly enter the address of your wallet, to which the purchased cryptocurrency will be credited. Remember that, despite the existence of different types of wallets, the most convenient option for trading is the built-in wallet. Just find the address of the desired crypto wallet in your account on the "Assets" page, copy it, and then paste it into the appropriate field.Phemex cryptocurrency derivatives trading on this exchange is carried out around the clock.
This platform also supports all types of trading, which makes the trading platform very versatile, stable and well suited for various types of traders, including institutional traders. Phemex crypto futures trading can also become an additional income.
How to register an account in the Phemex app?
To register a new Phemex account, follow these steps.
Download and open the Phemex app.
Click the Create an account button.
Enter your email address, password, and invitation code if you have one. Click the blue arrow button to continue.
Pass the security check.
Then a confirmation email and a code will be sent. Enter it in the next window that appears.
Everything is ready! At this point, you can choose whether you want to buy crypto, already have crypto, or skip these options to continue exploring the app.
NOTE: Passwords must be more than 8 characters long, including uppercase, lowercase, and numbers.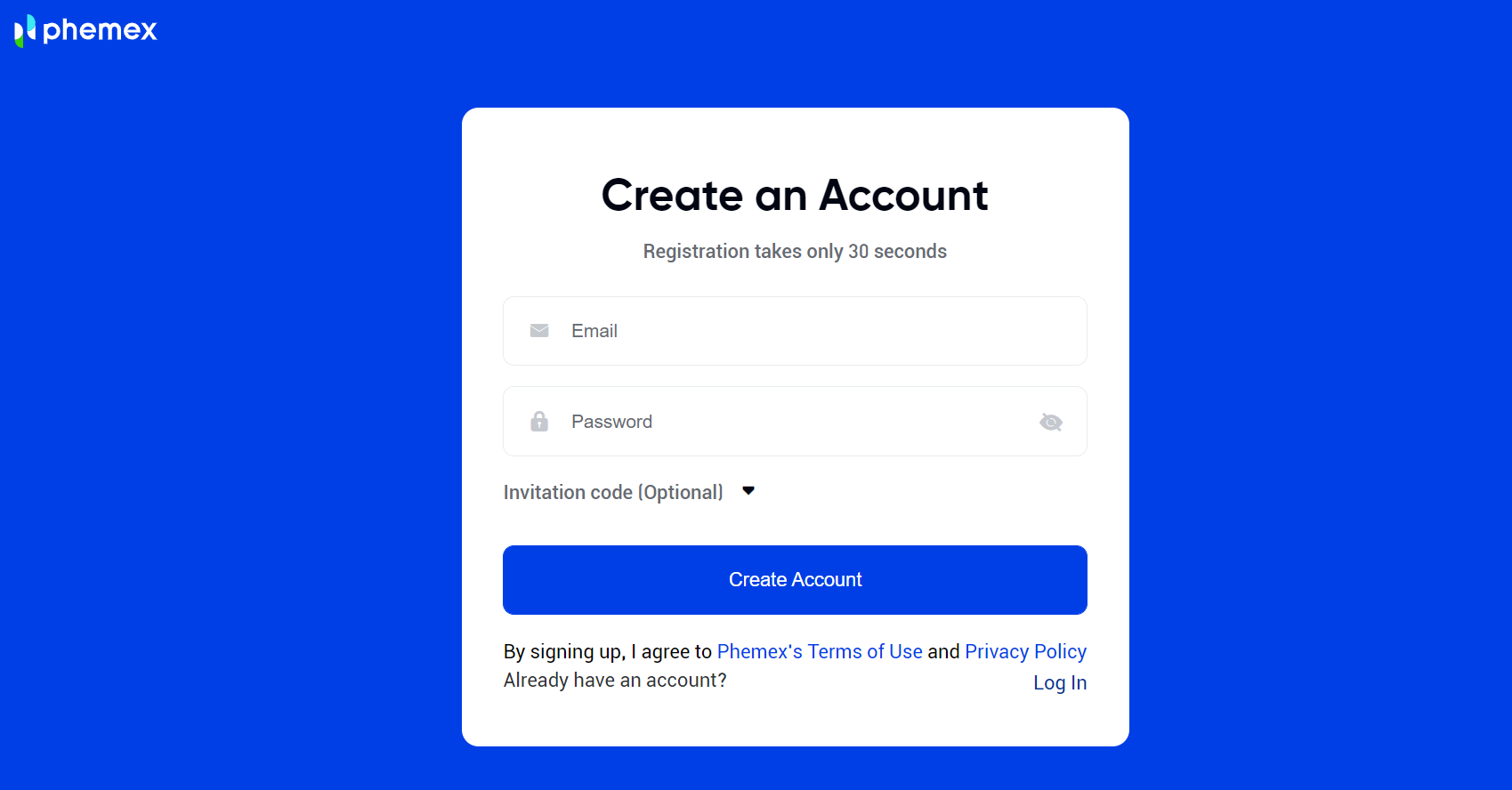 How to deposit through the Phemex app?
To deposit to Phemex account wallets, follow these steps:
Open the Phemex app and sign in to your account.
Click the "Deposit" button in the center of the main page. Alternatively, tap the Assets icon on the right side of the bottom navigation bar, and then tap the Deposit button at the top of the page.
Select the coin or token you wish to deposit.
The next page will display your wallet's deposit address and a QR code. Copy and paste the address or scan the QR code with a wallet containing your cryptocurrency. Follow your wallet or exchange's instructions to initiate a transfer/withdrawal to your Phemex wallet.
THE NOTE:
Some coins, such as USDT, have more than one compatible chain. You need to check and carefully select the correct chain. Failure to do so may result in permanent loss of your funds.
Some coins, such as XRP, require additional information such as a deposit note or tag. Failure to enter this information may result in loss.
Minimum deposit amount
The Phemex crypto exchange has one of the lowest minimum deposits. It is 0.00000001 BTC or equivalent in another cryptocurrency (token). This is convenient for beginners.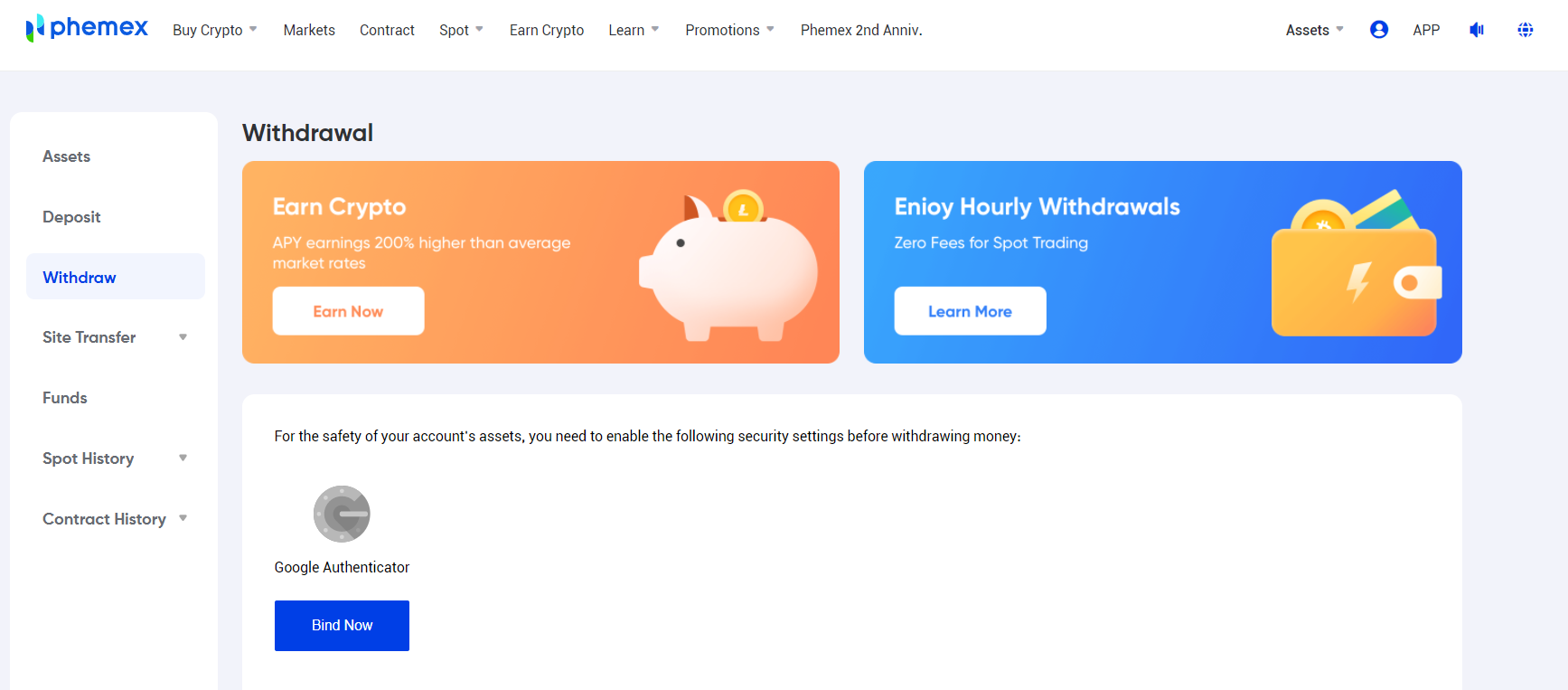 Phemex derivatives list
The Spot Market is another service offered by the Phemex exchange, through which you can trade (buy or sell) your cryptocurrency with other users. All transactions are carried out instantly. Because of the speed, they are also called spot trades. All spot markets are made up of buyers, sellers and the order book. Buyers enter the market with a specific bid price, that is, the maximum amount they are willing to spend. Sellers, on the contrary, enter the market with a certain offer price (ask), that is, the minimum amount for which they are willing to sell their asset. The order book is a list of all these prices.
Making money trading bitcoins involves buying an asset at a lower price and then selling it at a higher price. This is much easier said than done. Obviously, it is impossible to predict the future with 100% accuracy. However, one can make educated guesses based on some information advantage. By carefully and scrupulously following the news and studying all the factors that affect the price of Bitcoin, you can begin to recognize certain trends or patterns. Finding valid buy or sell signals is not easy, but with hard work it can be done.
On Phemex, you can earn income without storing crypto in your wallets. Operations with futures allow you to profit from predicting changes in quotes without buying the coins themselves. Futures is a contract according to which the seller undertakes to deliver the underlying asset to the buyer at a specified price and within a certain period of time.
Buy Phemex crypto futures in the Philippines and start earning today.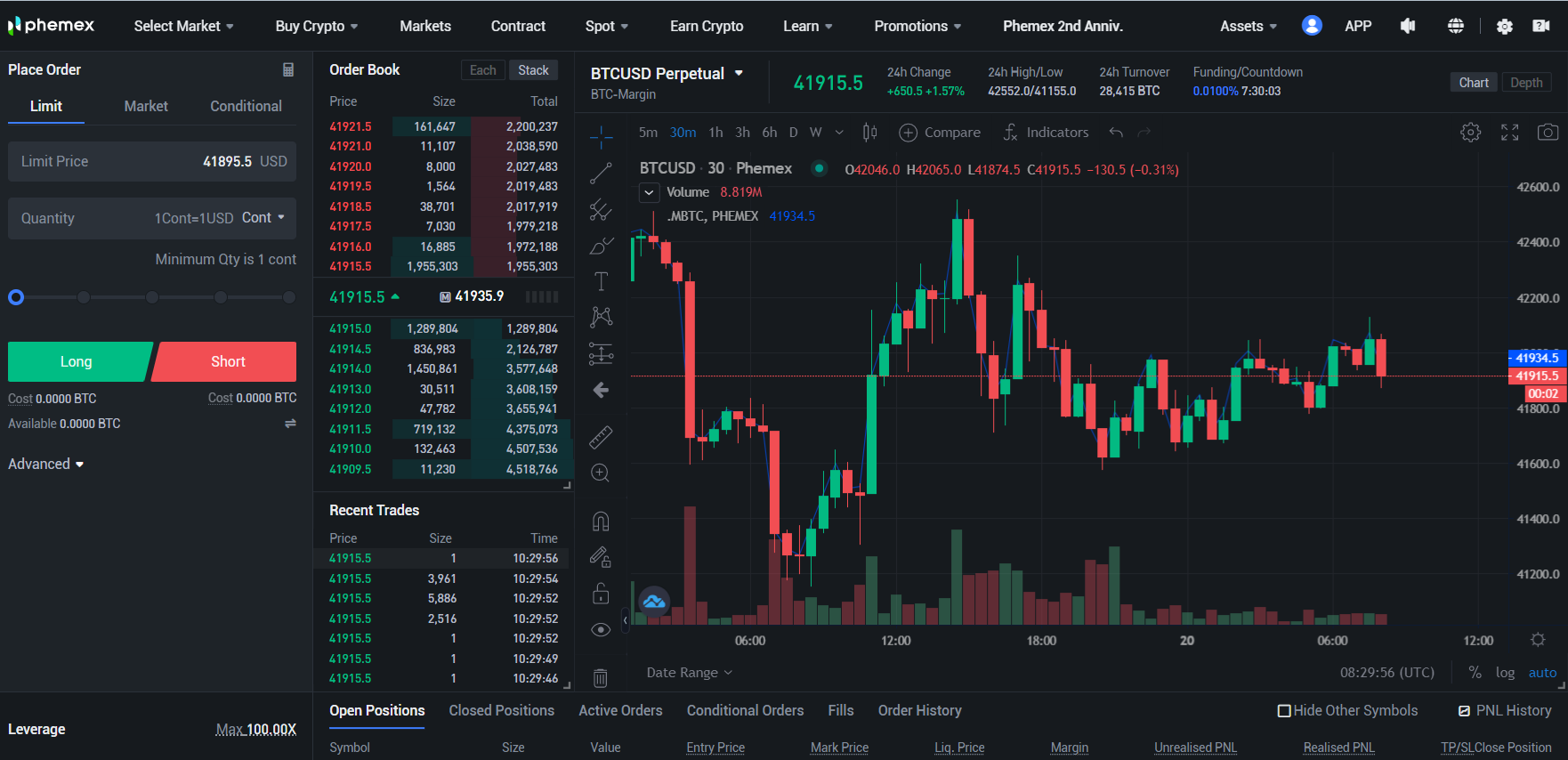 Phemex provides various perpetual contracts. Makers whose orders are placed on the Phemex order list receive discounts for their execution. Takers, who take orders from the list, pay a commission. Funding fees are charged or issued between long and short positions every 8 hours. Phemex is not changing any capital or overnight fees.
Another method worth mentioning is called arbitrage. There are many other exchanges besides Phemex. On each of them, the price of Bitcoin will often be slightly different. This is because the spot price of BTC on any given exchange depends on supply and demand. If there is an excess of sellers on the exchange, then the price will be lower, and if the exchange is overflowing with buyers, then the price will rise. Theoretically, you can find an exchange with a lower price, buy bitcoins there, and then sell them on an exchange with a higher price. In practice, it is almost impossible for a beginner to make an arbitrage deal. One of the first problems you will face is timing or choosing the right moment. Any profitable opportunities will be noticed by other market participants, some of which have sophisticated trading algorithms that automatically trade in their favor. A significant difference in price, as a rule, lasts only a moment. In addition, additional costs must be taken into account. Transfer and transaction fees may exceed the potential profit if you do it before others. However, the possibility of arbitrage transactions exists, and those with the right tools to do so can still benefit from them.
Finally, perhaps the best and easiest approach is to treat cryptocurrencies as a long-term investment. Learn the basics of the crypto project you are interested in and determine if it has serious value and potential for growth. When buying and simply holding promising cryptocurrencies, you do not need to constantly worry about prices or news. Just sell them when you reach the target profit that suits you.
Phemex derivatives in the Philippines are very popular as they generate good returns.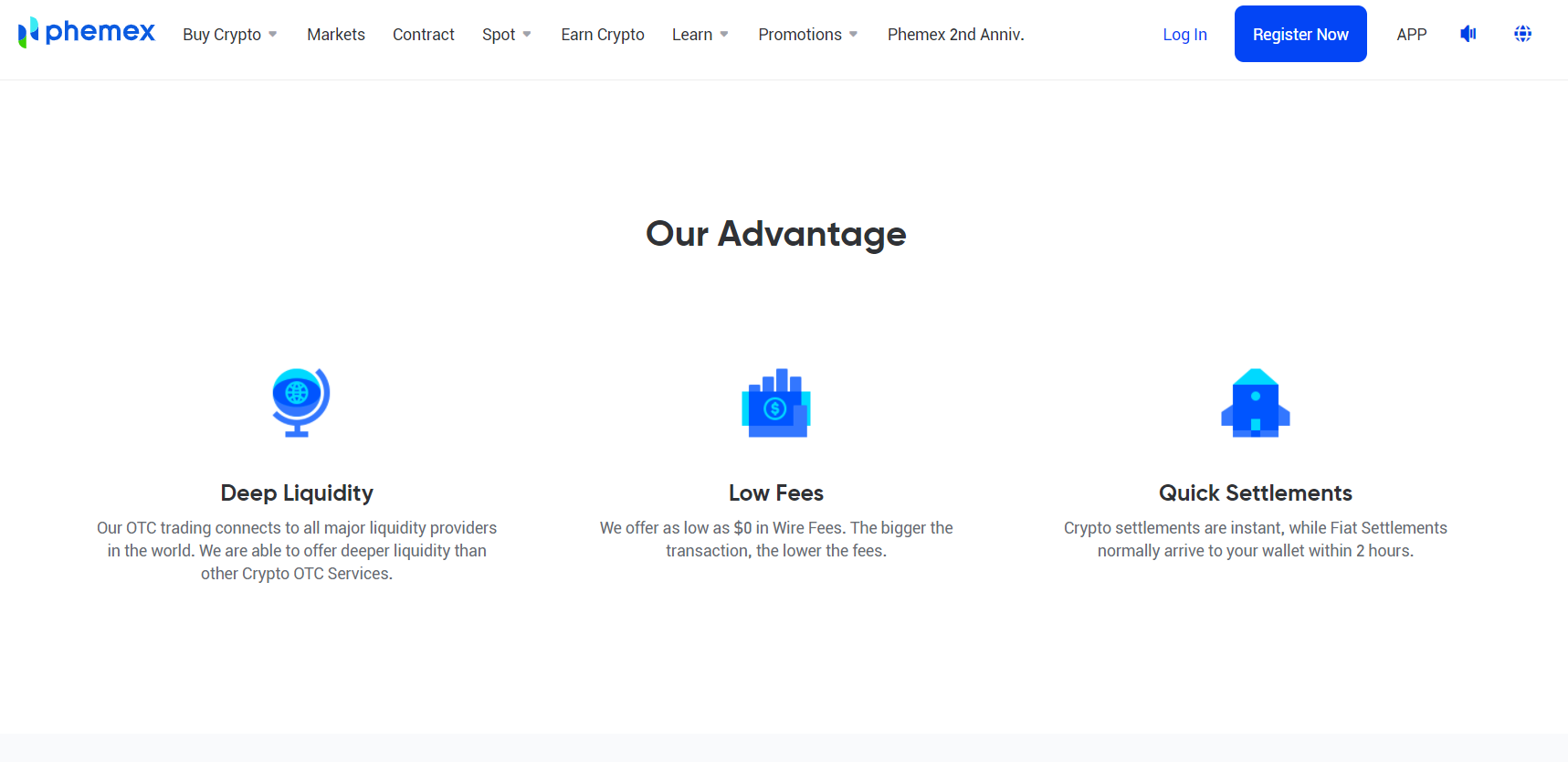 Conclusion
Phemex cryptocurrency derivatives trading platform offers one of the lowest fees on the market, even for regular accounts. Most popular cryptocurrencies and tokens are traded on the site, there is USD. The standard trading terminal is TradingView, a mobile application for iOS and Android. There is a referral program with benefits for both parties, investment solutions for passive income with flexible and fixed deposits. It is also a big plus that the exchange has a mobile application and, if necessary, you can always view information online if necessary. Phemex has a direct customer support line, as well as a page with frequently asked questions, complete with a help center. The platform allows users to contact the CEO directly on Telegram, which is, of course, a rather pleasant addition. The exchange works stably and transparently, and can be recommended for cooperation.
SIMPLE AND RELIABLE
MONEY WITHDRAWAL