What is Gate.io?
Gate.io is a cryptocurrency exchange based on the Chinese platform Bter.com.
Gate.io was launched in the fall of 2017. The platform is part of Gate Technology Inc, which is registered in Virginia, USA.
The Gate.io crypto exchange is rarely embroiled in scandals. In November 2018, hackers attacked her by hacking the StatCounter statistics collection application. There is no data on the damage caused. After the attack, the exchange took the necessary measures, and today it is considered one of the safest cryptocurrency platforms.
In September 2020, police raided the Chinese office of the Gate.io exchange. The investigation did not affect the work of the site. No charges have been officially filed.
Crypto exchanges are showing interest in IPOs but are cautious after the bad experience of listing Coinbase securities on NASDAQ.
Like any other platform, the Gate.io exchange has its disadvantages and advantages. The benefits generally include:
Good liquidity.
A large number of cryptocurrencies.
Convenient trading interface.
Many security settings.
Optional verification.
Low trading fees.
Mobile versions.
The main disadvantages are:
Lack of information about the license and owners.
Doesn't support fiat currencies.
In general, we can say that this is a fairly popular platform. It is very popular, also due to the huge number of tools - more than a thousand. A huge number of pairs allows you to make money on high volatility. New altcoins are also regularly added to the Gate.io derivatives trading platform.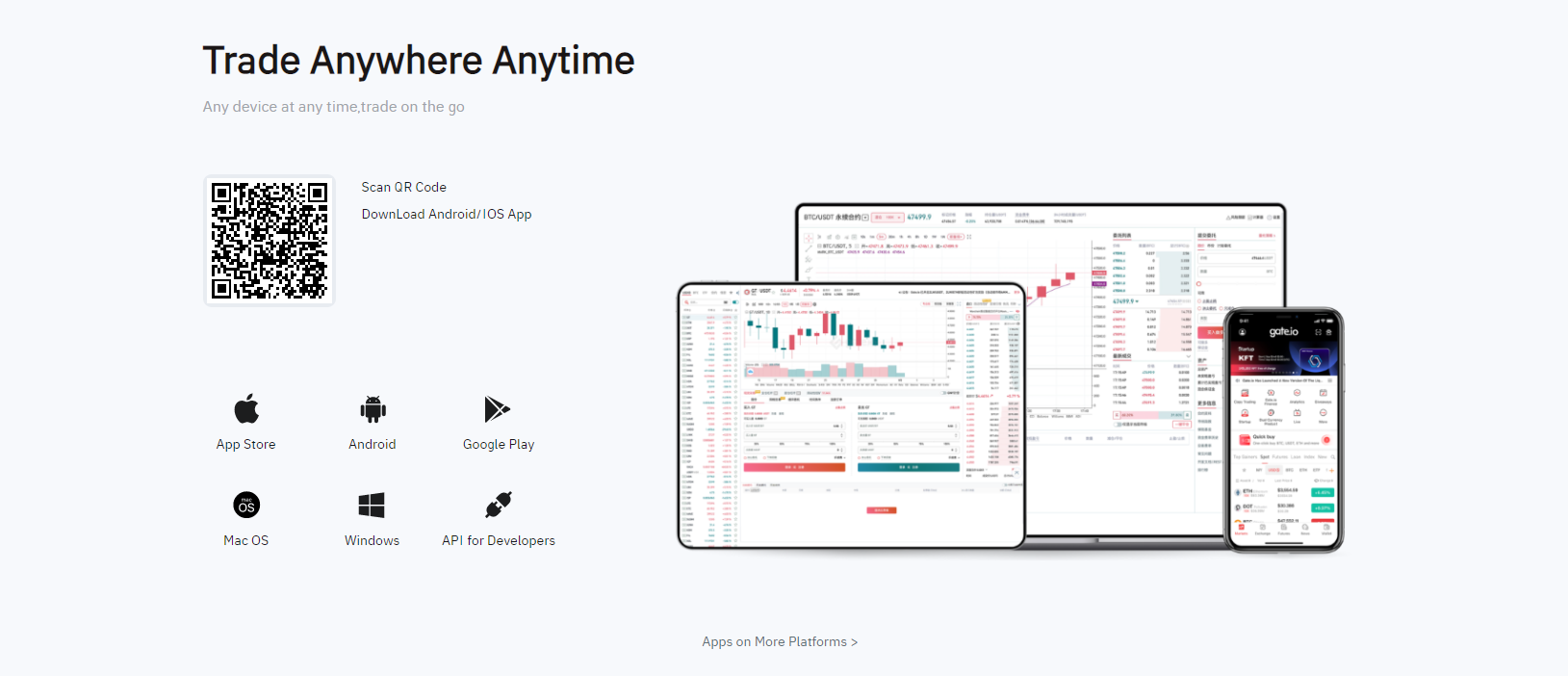 What are crypto derivatives?
A derivative is a security whose price and nature of the liability are closely related to the value of the underlying asset. Derivatives are often referred to as contracts because they describe the obligations of parties to comply with specific terms and conditions related to the transfer of an underlying asset.
There are two main types of derivatives on the cryptocurrency market:
Time liabilities (for example, futures);
Contingent liabilities (for example, options).
The value of a derivative is indirectly dependent on the fluctuations in the price of the underlying asset. Derivatives are commonly used to hedge open positions, reduce the impact of price fluctuations, and for speculation.
What is crypto derivatives exchange?
Currently, almost all popular platforms can be classified as crypto derivatives exchange. Against the background of the rapid growth in the popularity of derivatives, trading platforms have included these instruments in the list of supported ones. At the same time, platforms regularly add more and more new instruments.
Now the derivatives market belongs to the most active and most significant segment of the cryptocurrency market.
The derivatives market, futures contracts, or, as it is also called, the derivatives market is a very living organism. The derivatives market is considered to be more elastic. This is why many participants choose to specialize in derivatives. In this sector, you can quickly, clearly and without loss react to all changes.
In addition, derivatives offer great opportunities for combining technologies and instruments. At one time, it even became a new direction in the financial field. It received the name "financial engineering" and began to be actively used in asset management.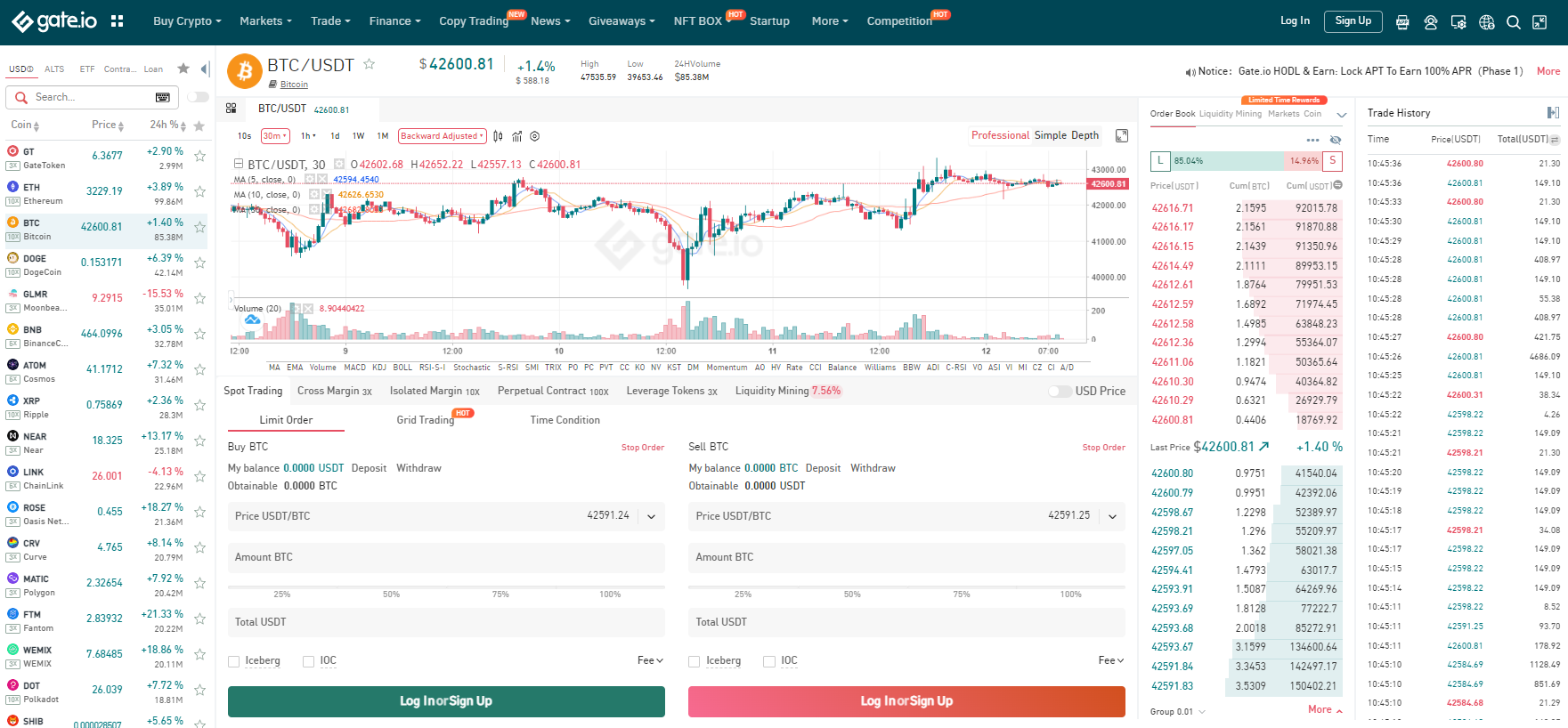 How to trade Gate.io derivatives in the Philippines?
To start trading on Gate.io derivatives in the Philippines, you need to open an account. This is not a complicated procedure and usually only takes a few minutes. Immediately after that, the trader gains access to all functions of the exchange and can trade on Gate.io derivatives in the Philippines.
How to register?
Registration on the Gate.io crypto exchange is standard. You need to specify - login, password (different passwords for logging into your account and withdrawing money) and email address.
Verification for trading and withdrawing money is not required, since the exchange does not work with fiat money, but for large players it may be required. This is necessary if you are withdrawing an amount exceeding $ 1000 from Gate.io derivatives trading platform.
How to register an account on the Gate.io crypto derivatives trading platform:
Click the Register button in the upper right corner on the main page of the Gate website;
Fill out the registration form: enter your name, email and password for further login to the system;
Read and accept the User Agreement;
Create a Fund Password (different from the login password and is used when making transactions or withdrawing funds);
After creating an account, a letter will be sent to your specified e-mail. Follow the link in the email to complete the registration process.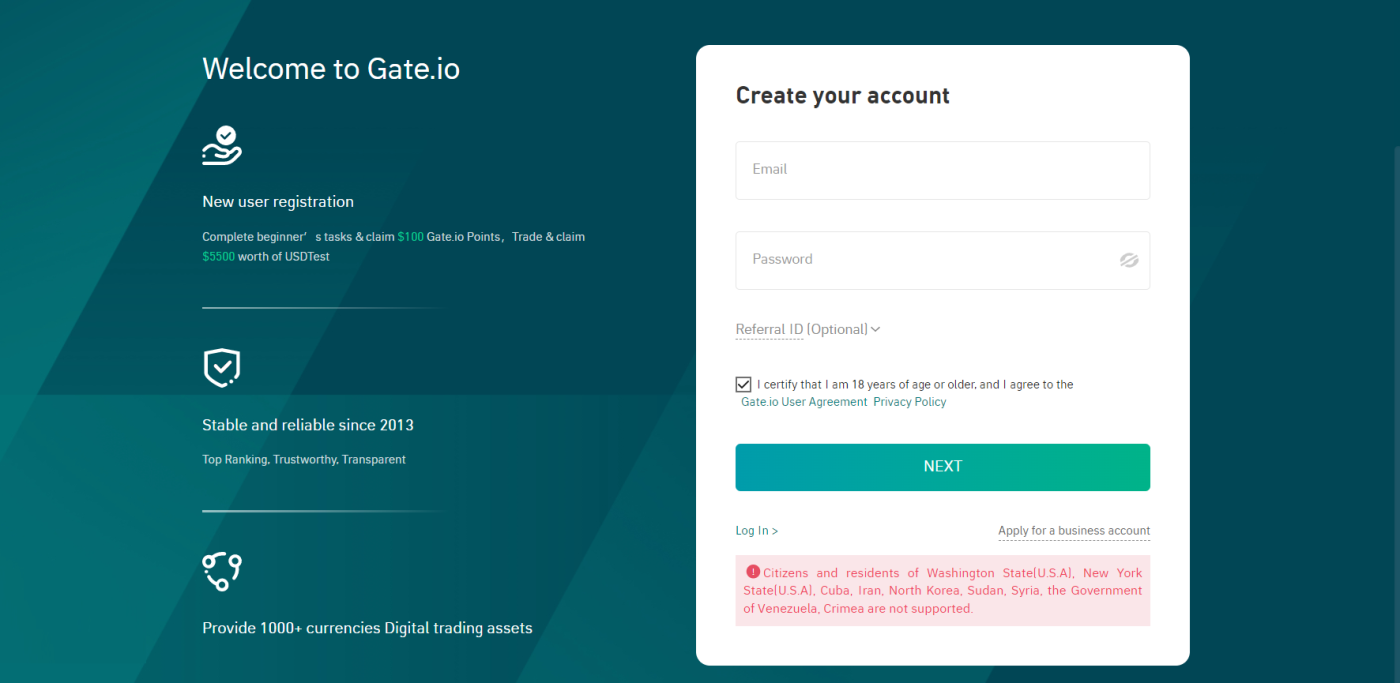 After logging into your account, a phishing warning appears on the screen and provides a list of the platform's official sites and related services.
Phishing is a type of internet attack often used to steal user data, including login credentials and credit card numbers. It happens when an attacker tricks a victim into opening an email or text message.
To protect the confidential data and funds of its customers, the system must ensure that the users who are trying to access that data are who they say they are.
2FA is an effective way of protecting against many cybercriminal threats (phishing, brute-force attacks, using credentials, etc.) that target passwords and user accounts.
Two-factor authentication (2FA) is an additional step added to the login process, such as sending a code to your phone or scanning your fingerprint, which helps verify your identity.
How to replenish a deposit?
To start trading on Gate.io cryptocurrency derivatives in the Philippines, you need to fund your account.
Like many other exchanges, the Gate.io derivatives trading platform does not work directly with fiat money. You can replenish your trading account only with cryptocurrency. The current list of supported coins is always presented on the project website.
To fund an account on Gate.io cryptocurrency derivatives trading platform, you need to do the following:
In the Wallet section → the Deposit tab;
In the drop-down list, select the coin you are interested in, get and copy the unique deposit address and transfer funds from another exchange or wallet where you store your cryptocurrency.
As you can see, the process of replenishing an account at Gate.io is very simple. After your funds are credited, you can immediately start trading on Gate.io cryptocurrency derivatives in the Philippines.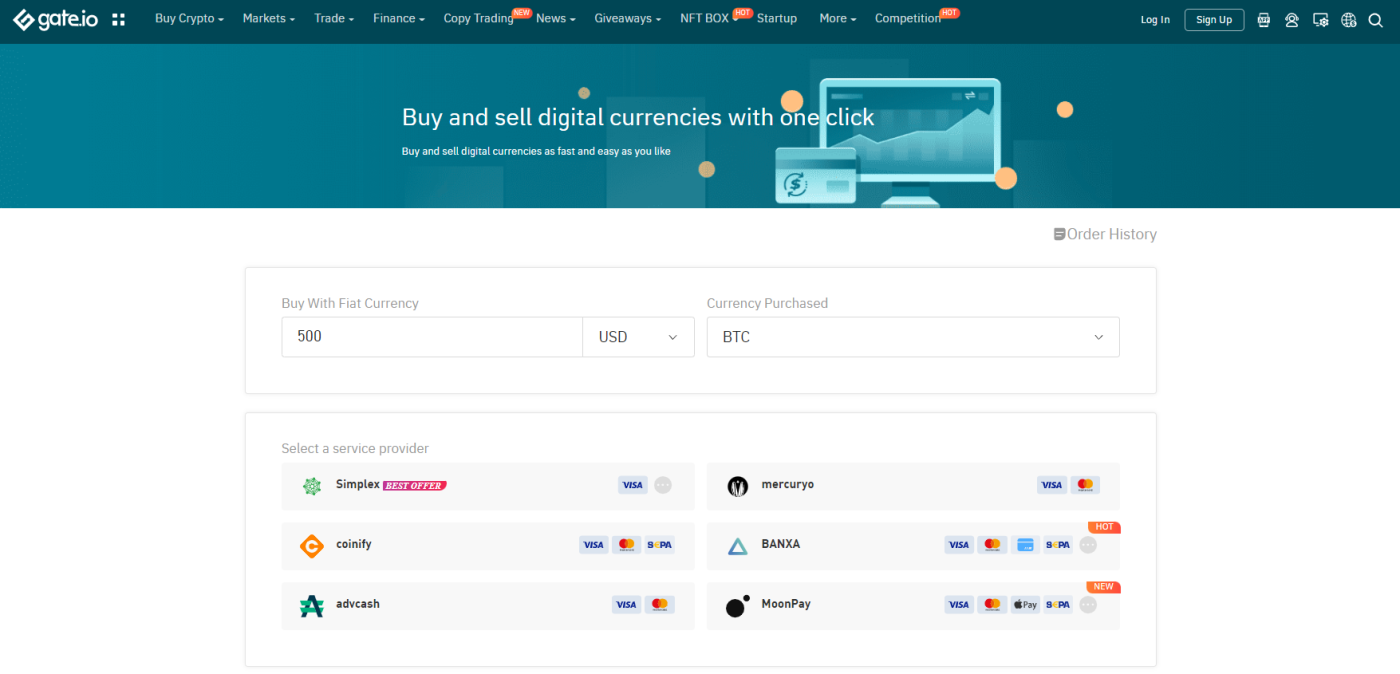 How to withdraw money?
If trading on the Gate.io cryptocurrency derivatives trading platform has been successful for you, then you can withdraw profits from your trading account.
To do this, you must perform the following steps:
Select a coin for withdrawal → Wallet address to which you will withdraw cryptocurrency;
Enter the amount of cryptocurrency → Fund password → Confirmation code from email → Send request. The minimum and maximum number of coins that you can withdraw will be indicated next to the amount input line.
Exchange users can send cryptocurrencies to each other through the internal settlement code - Gatecode.
Gate.io derivatives list
Gate.io cryptocurrency derivatives trading brings together a huge number of cryptocurrencies in one place. When you open the Trade tab, on the left you see a list of traded cryptocurrencies, and on the right you can view the current order book, prices in markets around the world and information on the selected currency.
Place a limit order, try basic or professional trading, set time limits for your trades - in each category you can buy or sell, depending on the needs of your portfolio. You get great trading opportunities with Gate.io crypto derivatives in the Philippines.
It's also worth noting that Gate.io supports ETF trading. Recently, more and more investors are using exchange-traded funds (ETFs) to create diversified portfolios.
An ETF is an index fund and investors can buy a share of such a fund.
A cryptocurrency ETF is a fund whose strategy is to manage a portfolio of cryptocurrencies. By buying shares in ETFs, investors gain access to cryptocurrencies without the associated costs and risk of direct ownership.
As you can see, you can not only trade Gate.io crypto derivatives in the Philippines, but also buy ETFs.
Also on Gate.io there are many different types of derivatives that you will not find on other platforms.

The Derivatives section on Gate contains 4 subsections:
Cryptocurrency futures are financial instruments and a form of agreement that allows traders to buy an asset on a specified date in the future at a price set at the time of the transaction. Crypto futures provide the ability to profit from the volatility and price movement of a coin without actually owning the coin.
Delivery or deliverable futures are paid after the due date. In other words, the seller provides the cryptocurrency at a predetermined price at a specific time, and the buyer guarantees payment.
CBBC (Callable Bull Bear Contracts) is a structured product whose price movement is closely related to the performance of the underlying asset. Typically, it has a predetermined expiration date and strike price. CBBC is a highly volatile and risky instrument and can increase both profits and losses. Therefore, make your investment decisions with caution.
Warrant is a type of derivative that gives the right, but not the obligation, to buy or sell assets at a specified price at a specified time, usually at a price below market. Warrants that give the right to buy are known as a count Warrant, and to sell are called a put Warrant.
How does Gate.io crypto derivatives trading work?
The functionality of Gate.io is quite convenient and varied. There are all the necessary tools for trading.
The Gate trading terminal looks standard and depends on the trading mode. Clients have access to the classic and professional versions of the interface.
The terminal consists of the following sections:
List of coins;
A candlestick chart that can be changed to a linear one;
Order book;
Trading history;
Buy / Sell order form.
The following types of orders are available on the Gate cryptocurrency exchange:
Limit order to buy an asset at a specific price - the order will be executed only at this price or better;
A stop order is a type of pending order to buy or sell in the future at a level above or below the current price;
A market order is a request made by an investor to buy or sell an asset at the best possible price;
An iceberg order is a large order that is divided into small orders: visible in the order book and hidden parts;
Hidden order - a limit order hidden from the order book. This type of order is similar to an iceberg order with the difference that the hidden segments are so small that they practically do not affect market rates;
Post-only Order - the type of limit order that is displayed in the order book, but does not coincide with previously existing orders;
A conditional order will be executed or activated in the market only if certain criteria are met;
An Immediate-or-Cancel Order is a buy or sell order that must be executed immediately. Any part of an IOC order that cannot be executed immediately will be canceled.
As you can see, the platform offers a very wide range of orders. All of this creates a good trading environment for Gate.io crypto derivatives in the Philippines.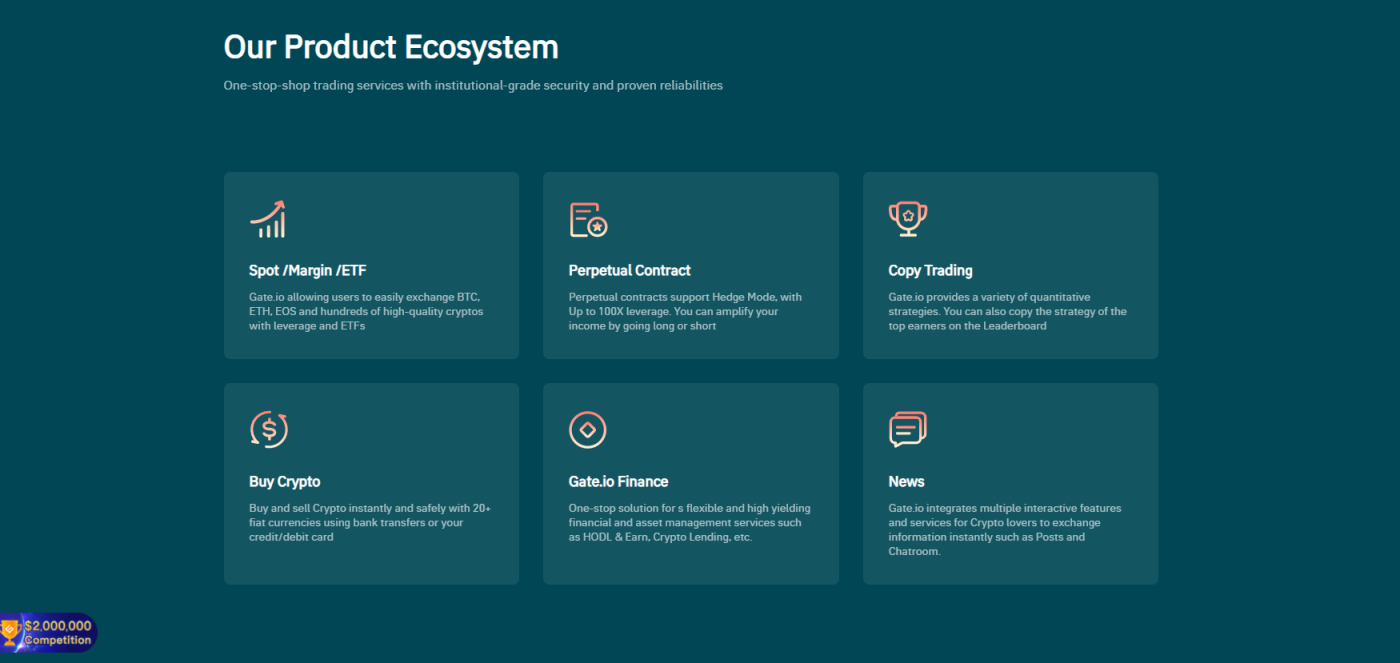 Alternatives to Gate.io cryptocurrency derivatives
There are many exchanges on the market today that offer cryptocurrency derivatives. But Gate.io stands out favorably against competitors with a large selection of tools and a convenient and functional interface. Also, many are attracted by the security of the trading platform. She has not been seen in major burglary scandals.
But if for some reason this platform does not suit you or you do not like Gate.io crypto derivatives trading, you can choose a more convenient platform from a huge list. The convenience of the trading platform is one of the important elements of successful investment and trading.
SIMPLE AND RELIABLE
MONEY WITHDRAWAL