What is Coin Tiger?
CoinTiger derivatives in the Philippines are very popular right now. Let's take a look at what the CoinTiger exchange is.
CoinTiger derivatives trading platform is a centralized cryptocurrency exchange based in Singapore. It was launched in December 2017. This exchange offers trading in various trading pairs at very attractive commissions. The CoinTiger website is available in Simplified Chinese, English, Russian, Korean, and Vietnamese.
This exchange has a very impressive number of users, over 1.8 million users. These users are over 40 different countries. Not only Asia, but also North America, Africa and Europe.
Supported cryptocurrencies.
The exchange offers trading in over 100 different cryptocurrencies and has over 150 trading pairs. The platform is also available as a mobile app for any traders who would prefer it. CoinTiger crypto futures trading can be done anywhere and anytime thanks to the mobile app.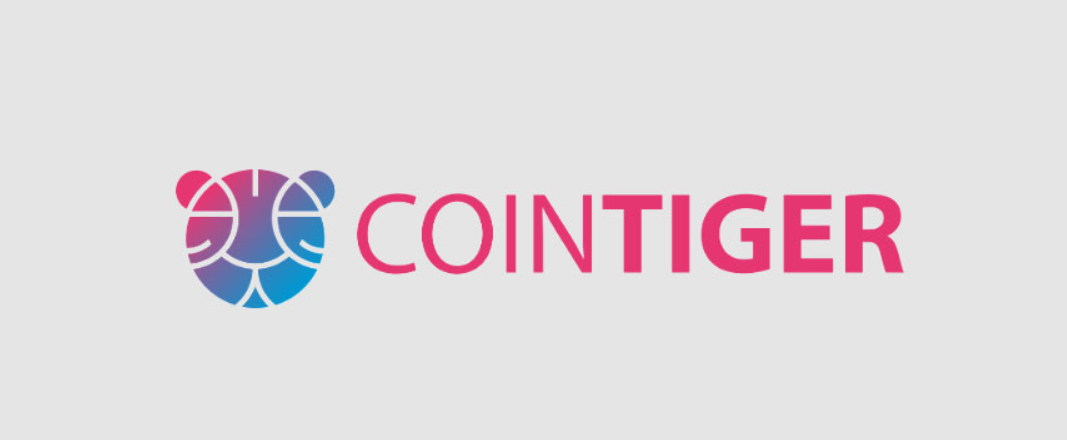 CoinTiger Trading Review
Different exchanges have different views on trading. It is up to you to determine which type of trading suits you best. What the views usually have in common is that they all show the order book, or at least part of the order book, the price chart of the selected cryptocurrency, and the order history. They usually also have boxes to buy and sell.
Before choosing an exchange, try looking at the trading view to see if it suits you.
Building an ecosystem with BitShares
Since its launch, CoinTiger has been developing the BitShares ecosystem. Among other things, he launched the BitCNY market and joined the SPRING fund to boost the liquidity of BitCNY and BTS. CoinTiger has grown into the largest exchange in terms of BitCNY trading volume and has been adopted by many new users because of this.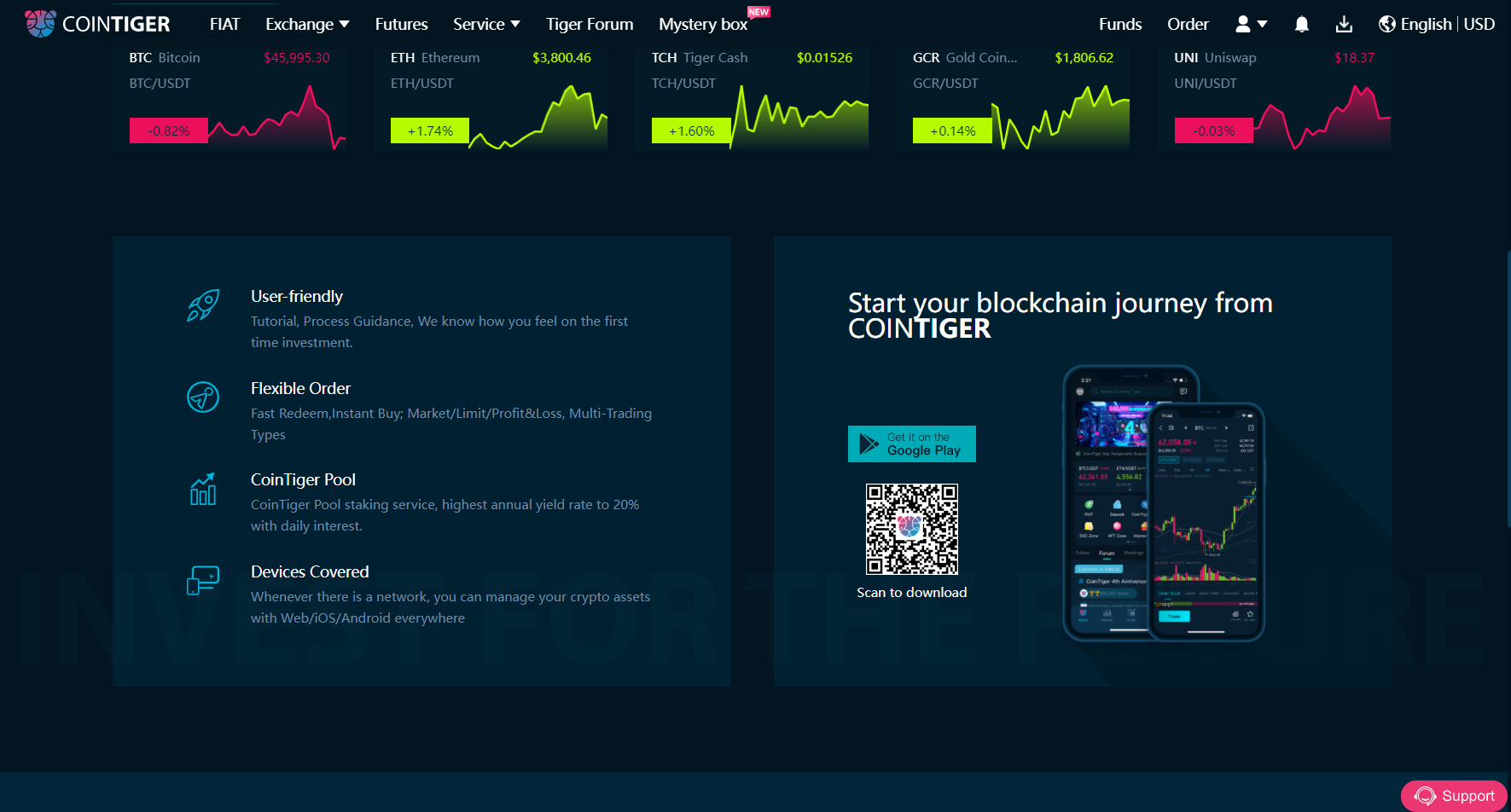 Ecosystem Fund
In April 2018, CoinTiger launched its own ecosystem fund that specializes in blockchain stock and token investments and has invested in Tier 1 projects including Perlin, RSK, BKBT, Mytoken, Lianyixia, Carry, Carblock, and Cocos BCX. Ecosystem Fund currently focuses on early-stage blockchain investments, investment banking, project consulting and incubation and has expanded its presence in more than ten countries in North America, Southeast Asia and Europe.
Coin Tiger Labs
CoinTiger Labs is committed to serving blockchain projects throughout their life cycle and assisting blockchain projects with deep incubation and full range of services such as consulting, strategic planning, compliance support, token model development, financial advisory, liquidity management, and marketing and exploitation. management. It will grow with blockchain entrepreneurs, helping them create value and explore the new future of the blockchain economy. So far, CoinTiger Labs has incubated well-known projects such as TCT, BCG, and MockingBot.

Commission CoinTiger
CoinTiger Trading Fees
CoinTiger cryptocurrency derivatives trading platform charges different fees from takers and makers. Takers pay 0.15% while producers only have to pay 0.08%. Accordingly, makers receive a discount on trading fees of almost 50%.
Both 0.15% for takers and 0.08% for makers are very favorable rates. Typically, the average commission for trading on an exchange is around 0.25%.
CoinTiger Withdrawal Fee
What do withdrawal fees look like then? Maybe CoinTiger is one of those exchanges that have very low trading fees but make up for it by charging high withdrawal fees? No, rather the opposite. CoinTiger only charges 0.0005 BTC when withdrawing BTC. This is a very competitive rate from a global point of view, specifically for Singapore. Most other crypto exchanges based in Singapore charge higher withdrawal fees.
Deposit Methods
CoinTiger is an "entry-level exchange", which means that you can purchase your first cryptocurrencies on this exchange with fiat currency (such as USD or RMB). Both a bank transfer and a deposit from a credit or debit card are possible. This, of course, can be very helpful for new cryptocurrency investors.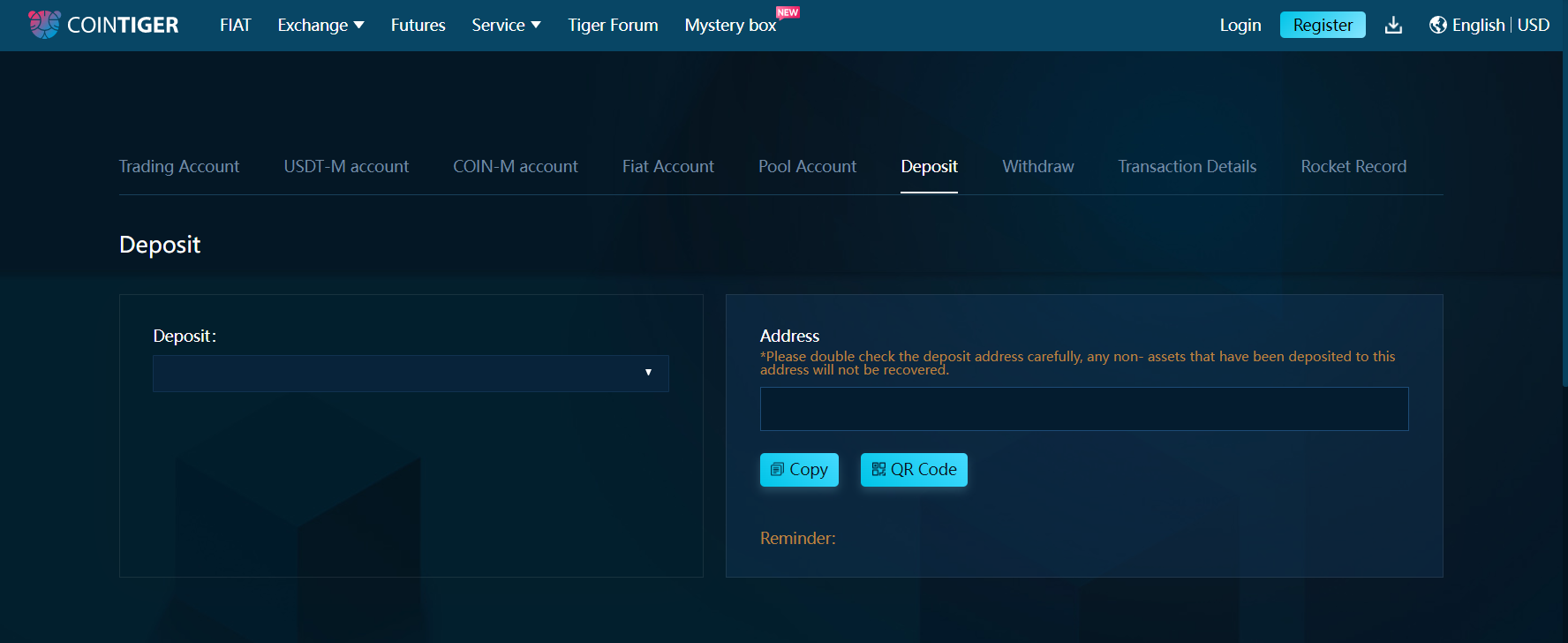 CoinTiger Security
CoinTiger has entered into agreements with many partners in the field of smart contract auditing, as well as network security. These partners include Chaitin Tech, SECBIT, KNOWNSEC.COM, Lianan.org and John Wick Security Lab. All these measures are designed to protect the crypto assets of platform users.
Start trading CoinTiger cryptocurrency derivatives and you will succeed!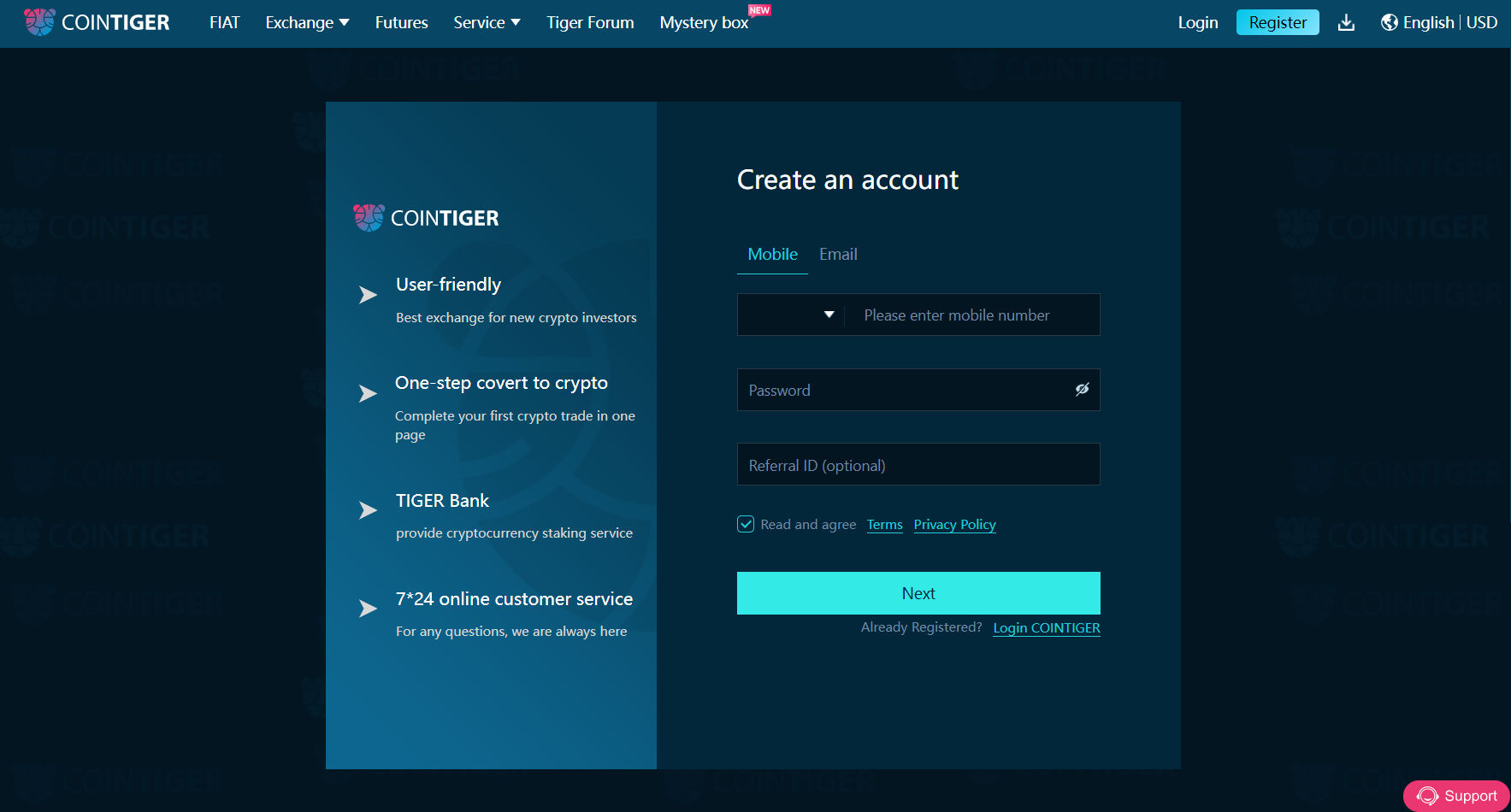 What are derivatives?
The cryptocurrency market can be divided into spot trading and trading in derivatives, or derivative financial instruments. Let's look at what cryptocurrency derivatives are and how they can be used.
A derivative or derivative financial instrument is defined as a financial contract between two or more parties that wish to buy or sell an underlying asset at a set price in the future. The cost of the contract will be determined by changes in the price of the underlying asset. Derivative contracts can have almost anything as an underlying asset: conventional currencies, cryptocurrencies, commodities, bonds, stocks, market indices and interest rates. Derivatives can be sold in two ways: through exchanges or through a consumer-to-consumer (C2C) system. The latter method has its own differences related to legal regulation and trade. In the crypto industry, derivative financial instruments are becoming more and more popular, especially futures contracts for bitcoin.
Types of Cryptocurrency Derivatives
Cryptocurrencies are a highly speculative market with large price fluctuations occurring on a daily basis. Naturally, traders seek to benefit from these fluctuations. Using crypto derivatives, traders can speculate on the future price of bitcoin or other altcoins and make a profit if their predictions turn out to be correct. There are various types of crypto derivatives.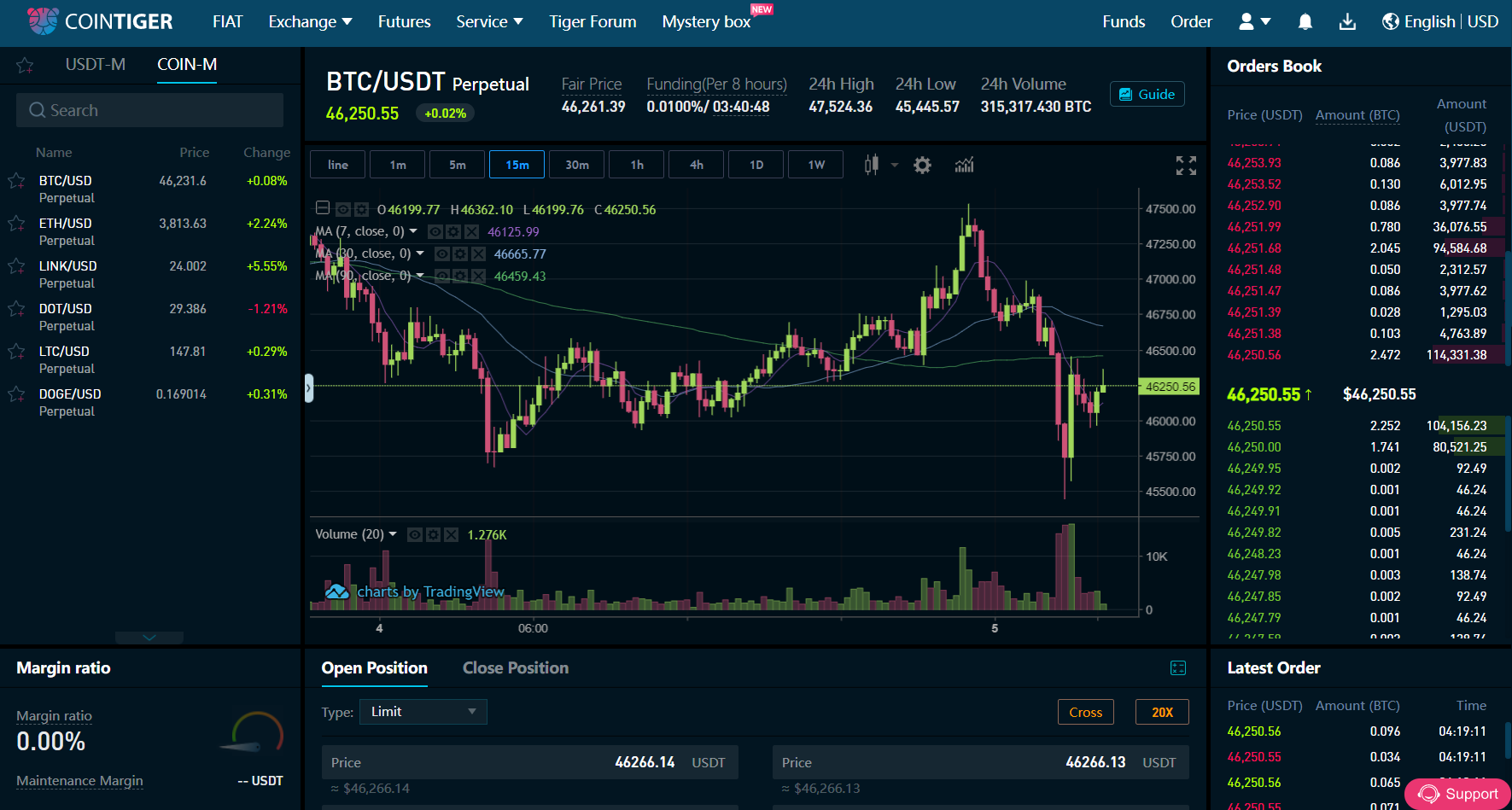 Futures contracts
A futures contract is a financial contract between two or more parties in which the underlying asset (in our case, a cryptocurrency) is sold or bought at a certain date in the future, at a price set at the time of the contract.
A futures contract allows investors to hedge their positions and reduce the risk of unpredictable market fluctuations, which is necessary for investors given the volatility of cryptocurrencies. Thus, by signing a contract that directly sets the price of the underlying cryptocurrency, traders can reduce risk by trading bitcoin and altcoin futures.
The first bitcoin futures were offered by the Chicago Mercantile Exchange (CME) and the Chicago Board Options Exchange (CBOE) in December 2017. The Chicago Mercantile Exchange (CME) is now the largest derivatives exchange in the world, managing over 20% of all derivatives trading globally.
CoinTiger crypto futures in the Philippines is a very good choice.
CFD (contract for difference)
CFD is an agreement based on the underlying cryptocurrency, which enters into an agreement for the payment to the owner of the difference between the price of the underlying asset at the beginning of the contract and the price at the end of the contract. When you open a CFD, you are speculating on whether the price of a cryptocurrency will rise or fall. When the contract is closed, if your price predictions turn out to be wrong, you will incur high losses, as this is a leveraged product.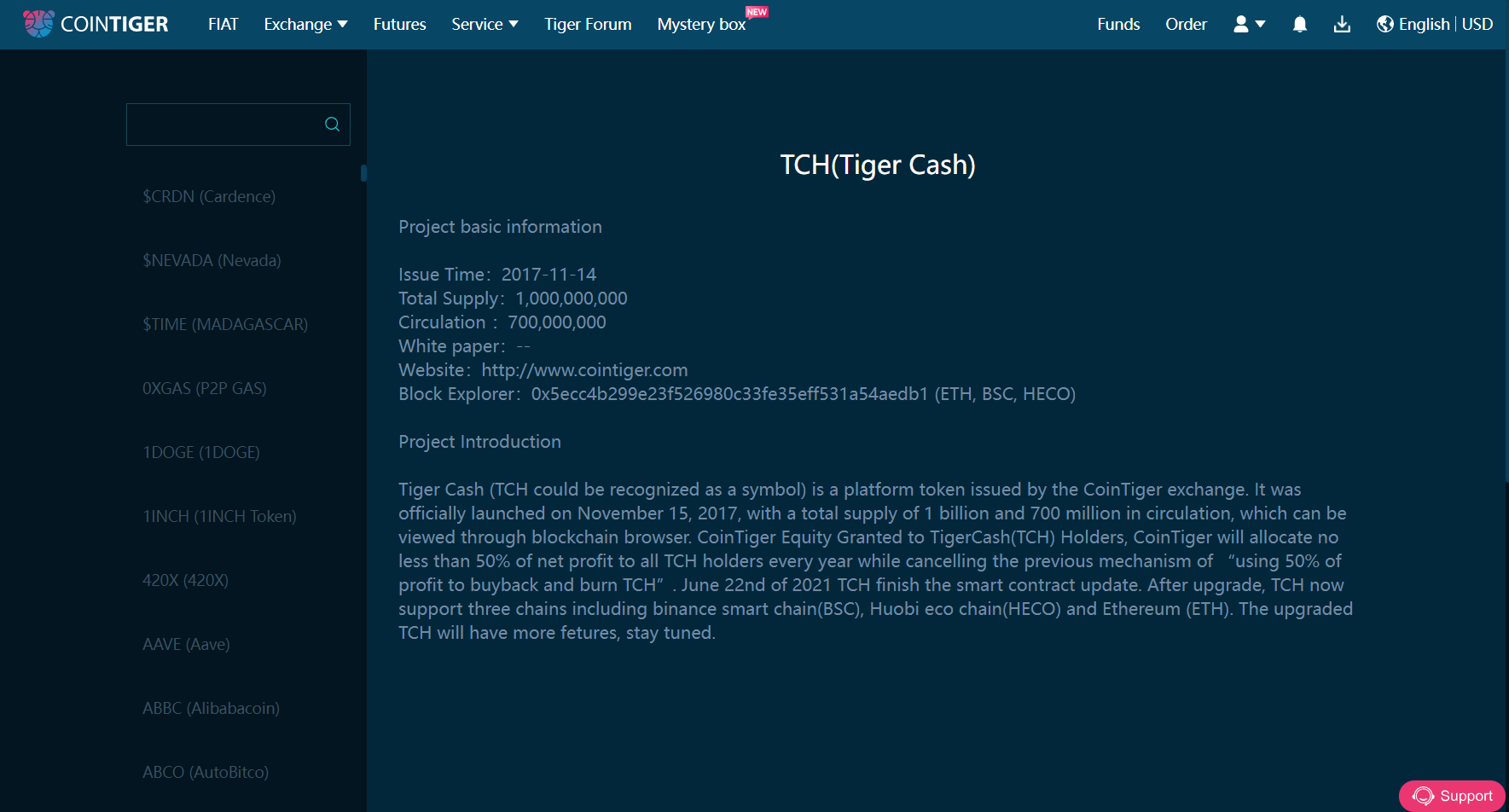 ETF (Exchange Traded Funds)
An ETF is a derivative contract that tracks changes in the price of one cryptocurrency or a group of cryptocurrencies. Traders can diversify their portfolio with ETFs without actually buying or owning assets that are tracked by said ETF.
Swaps
Swaps are a type of crypto derivatives that allow parties to exchange cash flows from two different financial assets. For example, at some time one party may switch the indefinite movement of funds, for example, a floating interest rate, to a definite movement - a fixed interest rate. The swap can be carried out both with interest rates and with the base currency.
Swap contracts are not traded on the stock exchange, they are usually concluded between the two parties in a private manner through the mediation of an investment banker.
Options
An option contract is an asymmetric derivative that imposes an obligation on one party and the other party makes a decision later when the option expires. That is, one party is obligated to either buy or sell later, while the other party has the option to decline to buy or sell. Of course, the one who makes the choice must pay a premium for the privilege. Options come in two forms: "call option" and "put option." A call option gives you the right but not the obligation to buy the cryptocurrency at a later date at a given price, while a put option gives you the right but not the obligation to sell something at a later date at a given price. Consequently, the contract has 4 options, and the contract owner can choose to take a long or short option-put or call option position.
Disadvantages of trading crypto derivatives
All trading strategies based on price fluctuations carry a certain degree of risk. As in the case of spot trading, volatility is the main factor affecting the result.
Cryptocurrency prices can rise or fall sharply, and whenever someone decides to trade on margin using high leverage, losses in case of loss are many times over.
Another problem for crypto derivatives is the legal aspect. When it comes to futures on cryptocurrencies and other types of derivatives based on cryptocurrencies, we see that legislation and regulations in different countries are approaching.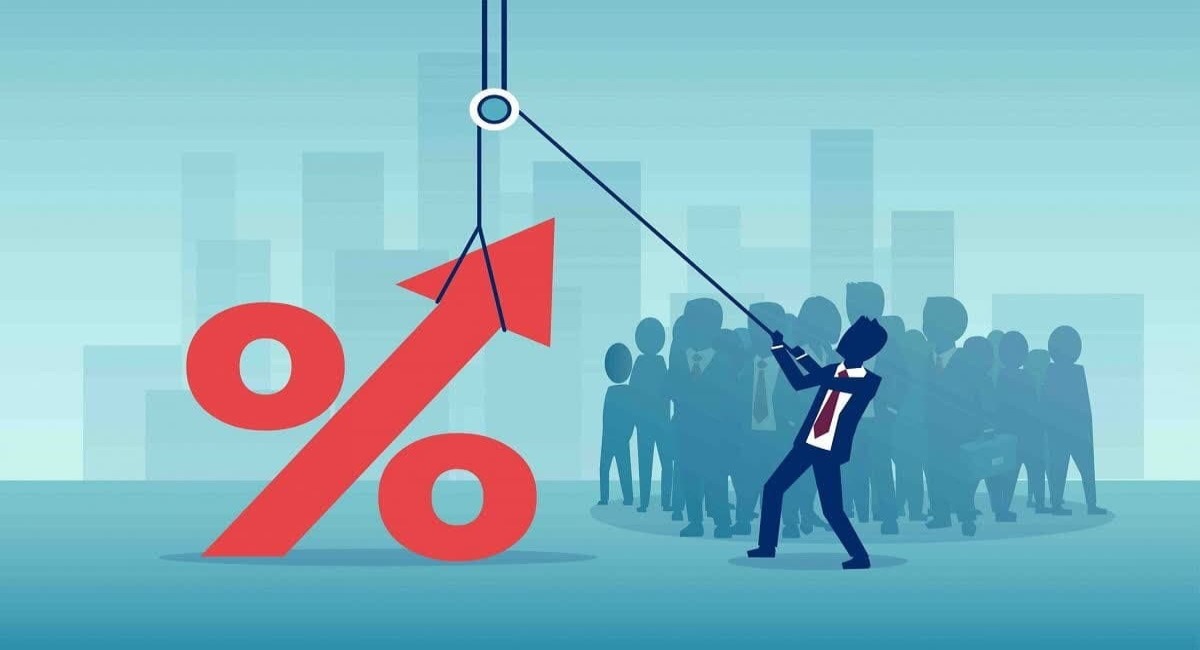 Conclusion
Crypto derivatives can be a very profitable way to gain access to the digital asset market, but first-time traders should first gain an understanding of trading and investing before entering into any of these financial contracts.
Best of luck in CoinTiger cryptocurrency derivatives trading!
SIMPLE AND RELIABLE
MONEY WITHDRAWAL