AscendEX (Bitmax)
Previously, cryptocurrency trading was not so popular. But today more and more traders and investors are getting involved in the cryptocurrency space.
Cryptocurrency is now an important risk hedging tool with a low level of exposure to major markets. Traders need a reliable platform with a full set of tools for earning money, and one of these platforms is AscendEX (Bitmax). Its uniqueness lies in the fact that it can be successfully used by both professionals and beginners.
AscendEX (Bitmax) is a fairly young innovative exchange that has managed to gather a lot of investors around it.
AscendEX offers a wide range of options for anyone who wants to dive into the world of cryptocurrencies. The user of the exchange has at his disposal both traditional trading tools, a wide range of which distinguishes AscendEX from a number of platforms for trading crypto-currencies, and completely new products with which earnings in the crypto-currency market can be made semi-automatic, and eventually even passive. We are talking about tools from the DeFi field, which has experienced large-scale development.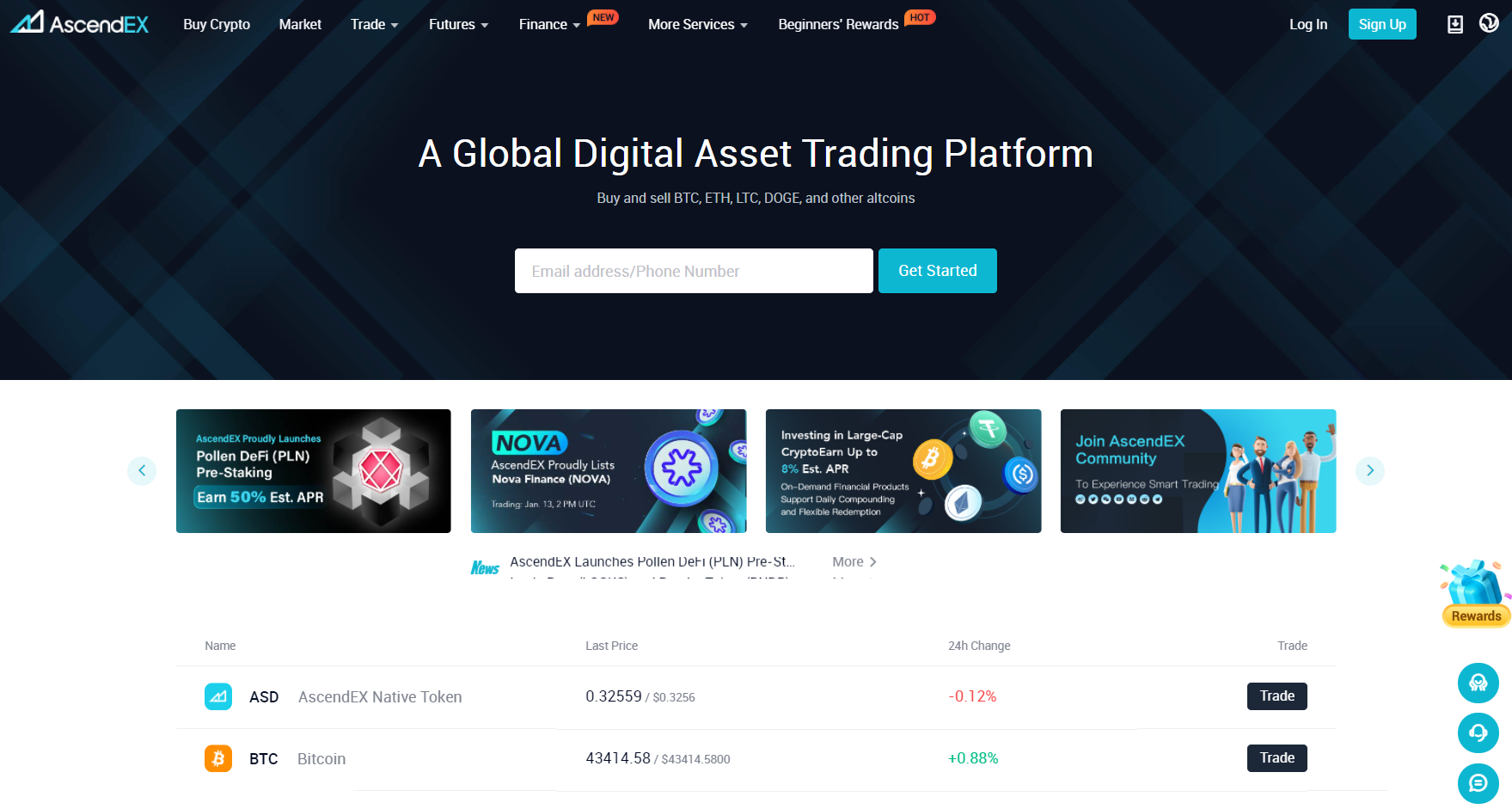 Foundation of the exchange
The history of AscendEX dates back to 2018. Then the BitMax exchange was founded and launched. BitMax almost immediately established itself as a very interesting and profitable platform, as the exchange team has a real talent for selecting projects for the initial offering of tokens. IEOs here were quick, clear and beneficial for everyone - projects raised funds for development, and users received tokens, from the sale of which they later had significant benefits.
Under the BitMax brand, the trading platform successfully operated until March 2021.
In March 2021, it was decided to rebrand, which was followed by a number of changes and additions to the AscendEX toolkit.
The complex of AscendEX exchange products for earning on cryptocurrencies includes two trading rooms - standard and professional. Thus, novice traders can limit unnecessary functions, while professionals, on the contrary, take advantage of advanced features where they are required.
Trading on AscendEX takes place in the TradingView terminal, which is familiar to most exchange users, thanks to which you can start trading immediately after registration, without wasting time studying the interface.
The listing of the exchange contains all significant coins and tokens, the number of which is constantly replenished after the next listing on the platform. Traders can take advantage of the margin and futures trading feature, with AscendEX leverage being generous compared to other offerings on the market: x25 and x100 respectively. Commissions for trading on AscendEX are not high, and they can still be further reduced depending on the volume, as well as the use of special tools. However, even for entry-level AscendEX fees are extremely low.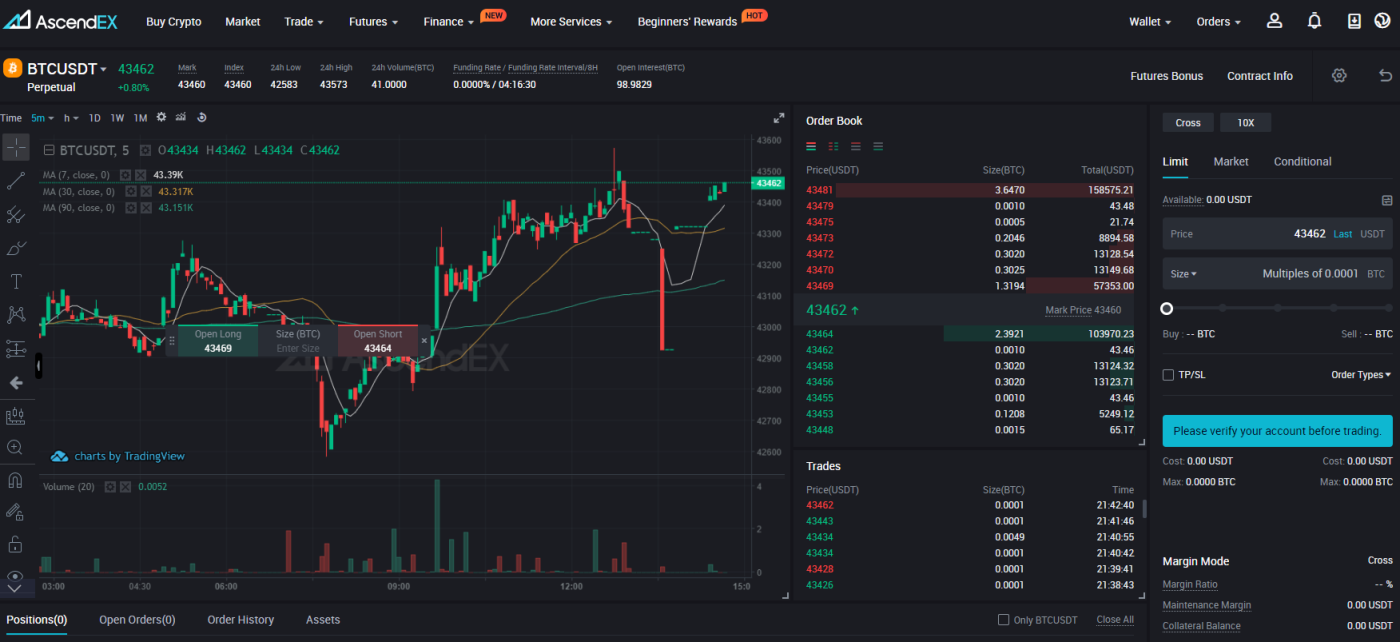 AscendEX Security (Bitmax)
AscendEX (Bitmax) cryptocurrency derivatives trading comes with standard security measures.
AscendEX uses all standard methods when logging into an account, in particular, mandatory two-factor verification, as well as a combination of hot and cold storage of money, which allows you to use funds without delay and at the same time remain calm for them (the bulk is in cold storage , which excludes the access of malefactors to other people's money).
Anonymous trading is possible on the platform, which seems to be a plus for some traders, however, in order to fully use all the features of AscendEX, you need to pass verification.
ASD Token
ASD (BTMX) is a functional utility token native to AscendEX. ASD (BTMX) token holders are eligible for a higher VIP level and lower transaction fees. ASD (BTMX) can be used in investment products to receive daily rewards, in Point Card to receive a margin discount, and in the AscendEX auction.

What are cryptocurrency derivatives?
By themselves, derivatives are one of the oldest forms of financial contracts in the world, but they have only recently been used in the cryptocurrency market and are still unfamiliar to many.
Cryptocurrency derivatives are financial contracts that give the participants in the transaction certain rights and obligations regarding digital assets.
Derivative assets of cryptocurrencies most often mean futures, which oblige users to conclude a deal in the future according to the conditions predetermined in the contract.
Of course, futures are not the only option for digital asset derivatives. But it is important to note that all derivatives have no direct value on their own. The value of derivative assets is based only on expectations about how the price of a digital asset will change in the future. It also allows you to profit from fluctuations in the cryptocurrency market without owning the digital assets themselves.
Why Use AscendEX (Bitmax) Cryptocurrency Derivatives?
AscendEX (Bitmax) cryptocurrency derivatives help in hedging risks when trading and investing in cryptocurrencies. This is one of the best tools when you need to protect against sharp price fluctuations. In this case, the fixed price in the contract allows you to mitigate the risks.
AscendEX (Bitmax) derivatives in the Philippines are also a useful tool for making speculative profits. Experts even attribute a significant increase in the cost of cryptocurrencies in recent years to the emergence of various derivative assets based on cryptocurrencies. The issuance of derivatives for cryptocurrencies is a kind of global recognition of digital assets.
The creation of derivatives has also made it easier to use digital assets. Cryptocurrencies have become a completely new form of money that has no alternatives. And far from everyone still knows how to buy cryptocurrencies, where and how to safely store them.
Cryptocurrency derivatives AscendEX (Bitmax) allow you to earn on cryptocurrencies without actually owning them.
That is, in order to make a profit, an investor or trader does not need to create a cryptocurrency wallet, replenish it, or be able to make a transaction to another address. It is enough to know what a derivative is and how it works.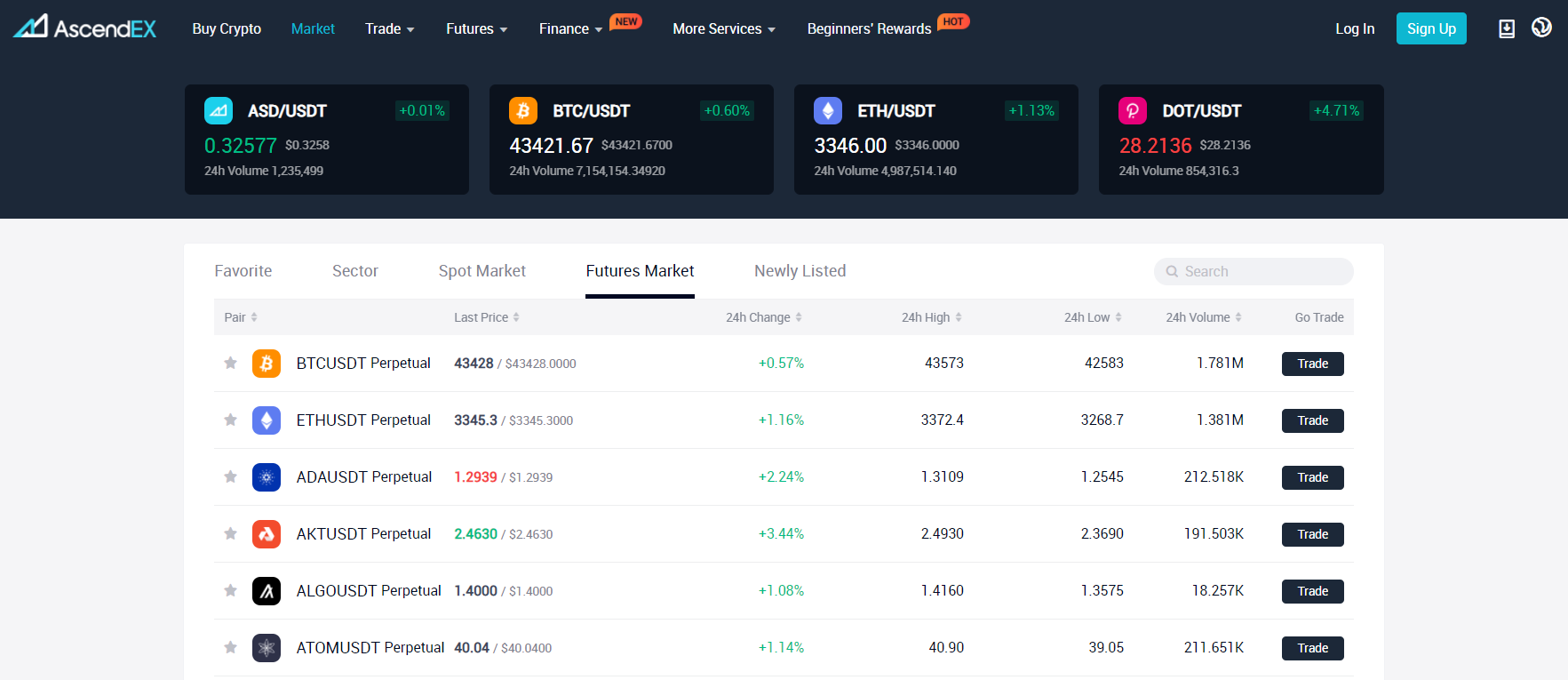 Copy Trading Derivatives
AscendEX (Bitmax) derivatives trading can be carried out by copying transactions of popular traders on the exchange.
AscendEX Derivative Copy Trading (Bitmax) is an innovative AscendEX feature that allows users to purchase a subscription to some of the top traders on the exchange and then mimic (copy) their trades.
User accounts will follow the instructions of a professional trader, which means that transactions, derivatives trading on AscendEX (Bitmax) cryptocurrency will be executed in the same way as theirs.
Copy trading is ideal for users who may lack confidence in day trading and want to follow someone more experienced to capitalize on potential profits. All information about traders can be seen on the web page where you can view their monthly income, monthly profit (loss), futures assets and subscription price.
Staking on AscendEX (Bitmax)
One of the types of additional passive income on the AscendEX cryptocurrency exchange is staking (accrual interest on a deposit). Income depends on the token and the period of placement.
Staking ASD allows you to lock your assets in this token in order to receive rewards at a variable interest rate. There is no minimum amount of ASD required to stake, just as there is no blocking period to participate in staking. The last feature distinguishes AscendEX from all other platforms that provide the opportunity to earn money on staking. The fact is that usually, in order to participate in staking, assets need to be blocked for a certain time, and before unlocking, wait until the process is completed. This often results in quite impressive losses, since profitable farming itself involves the rapid movement of assets from one protocol to another.
On AscendEX, users can redeem placed ASDs at any time. Moreover, staking tokens can be used as collateral for margin and futures trading, which gives an incredible scope for the free choice of a trader who is well versed in the DeFi market agenda. When using an ASD staking quota in a margin account, a discount is applied as collateral for margin trading. Allocation of daily staking earnings ASD automatically repays interest on margin debt.

Crypto futures trading AscendEX (Bitmax)
At the moment, the most popular cryptocurrency derivatives are futures, and their trading volumes are constantly increasing.
AscendEX (Bitmax) crypto futures trading follows certain principles:
First you need to register on the AscendEX (Bitmax) cryptocurrency derivatives trading platform, which has the functionality for trading various derivatives. In most cases, derivatives trading and leverage is conducted on a separate platform.
Then you should replenish the exchange account.
Next, you should conduct a deep fundamental and technical analysis of the market. This will help to predict the future movement of value and take an advantageous position in the market.
The final stage is the expiration of the contract, that is, the process of ending the circulation on the exchange market of a standard futures exchange contract. On the day of expiration, futures obligations are fulfilled, that is, offsets are made between the participants in the transaction by paying the difference in prices, or the underlying asset is delivered.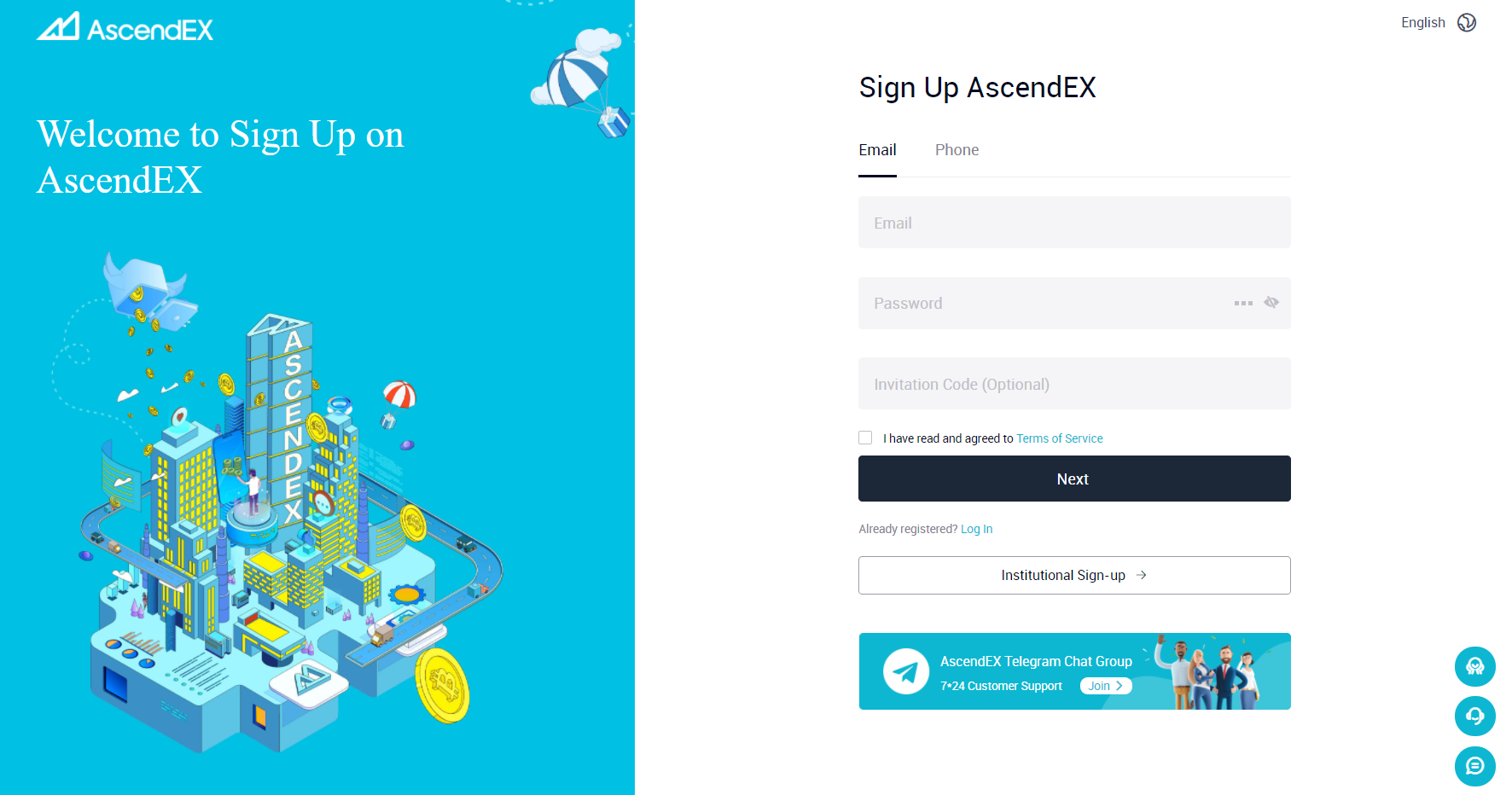 Today, there are many trading platforms that offer trading in AscendEX (Bitmax) crypto futures in the Philippines, options and other derivative assets. At the moment, AscendEX (Bitmax) is the best choice, which offers its users a number of advantages.
Among the advantages of AscendEX (Bitmax) are the following:
many different services and leverage to choose from
additional income with a referral program and staking
a large number of digital assets available for trading
a number of exclusive lists of alternative coins
user-friendly interface
flexible mobile application for convenience on the go
lots of attractive staking and yield options to earn more from your cryptocurrency
Try trading on AscendEX (Bitmax) today and see for yourself all the benefits of this AscendEX (Bitmax) derivatives trading platform!
SIMPLE AND RELIABLE
MONEY WITHDRAWAL